SINGAPORE – Local heritage tea brand, The 1872 Clipper Tea Co. is taking you on a gastronomic journey with their concoction of uniquely blended teas at their newest store in Jewel Changi Airport. Explore the speciality tea retailer's new and exclusive tea bar menu and enjoy a variety of tea blends inspired by the unique ways the iconic beverage is enjoyed all over the world.
Speciality Tea Bar – Travel Inspired Menu
With years of experience as a global tea supplier, The 1872 Clipper Tea Co. possesses a strong vertically integrated tea supply chain – working with the finest tea plantations and their own master tea blends with over 100 years of combined experience to develop and craft each special blend. From selection to packaging, every process is carefully crafted and consistently carried out to achieve the highest quality of tea blends for consumers. 1872 Clipper Tea Co. takes pride in its unsurpassable freshness achieved through the brand's strong supply chain integration which ensures the highest quality packaging and speed in transporting the tea from its Sri Lankan tea gardens to its Singapore stores. 
Bringing only the finest to the table, The 1872 Clipper Tea Co. proudly presents five exclusive blends from flavours bold to delicate – Chelsea, Kowloon, 101, Shibuya and Nuwara at its first takeaway concept in Singapore. Inspired by milk teas consumed around the world, you can choose to savour the exclusive blend straight (i.e. black) or a magical medley of flavours in its intended milky delight. Individually brewed upon ordering, your visit to our Jewel outlet will surely guaran-tea you a speciality tea experience! 
Here's your travel itinerary with The 1872 Clipper Tea Co.:
Take a walk around the streets of London and enjoy the carefree ambience with a cup of Chelsea. Savour this 1872 Clipper brew that has a hint of fresh citrus and a rich robust finish that lingers in your throat. 
Reminisce your trips to Hong Kong with a taste of Kowloon. Its traditional taste is infused with contemporary tangy and fruity notes, evoking memories of your time in Kowloon – a place with a curious mix of cultures, old and new.
Take flight to the land of bubble tea with 101. Inspired by Taiwan's iconic brown sugar bubble tea, 101 is a medley of delightful flavours. Distinct to what the Taiwanese love, expect a bold burnt caramel flavour, with a subtle aftertaste of honey and apricot. 
Experience autumn in Tokyo with Shibuya. A sip of Shibuya will bring you down memory lane – admire the city painted in crimson and gold with a soothing blend of clear honey and smokey oak notes.
For a palate-coating tinge sweetness, get the most subtle flavour on the menu – Nuwara. Inspired by the hill city of Sri Lanka, Nuwara Eliya, Nuwara is light in colour and delicate in taste, naturally sweet with a pleasant mellow floral note. 
You can choose to drink your custom blend straight or add a dash of fresh or oat milk with your preference on the sweetness level. You can also bring the 1872 Clipper blends to a different dimension of texture and flavours with the new classic toppings – White Konjac Pearls or Brown Sugar Pearls, launching exclusively at the Jewel outlet.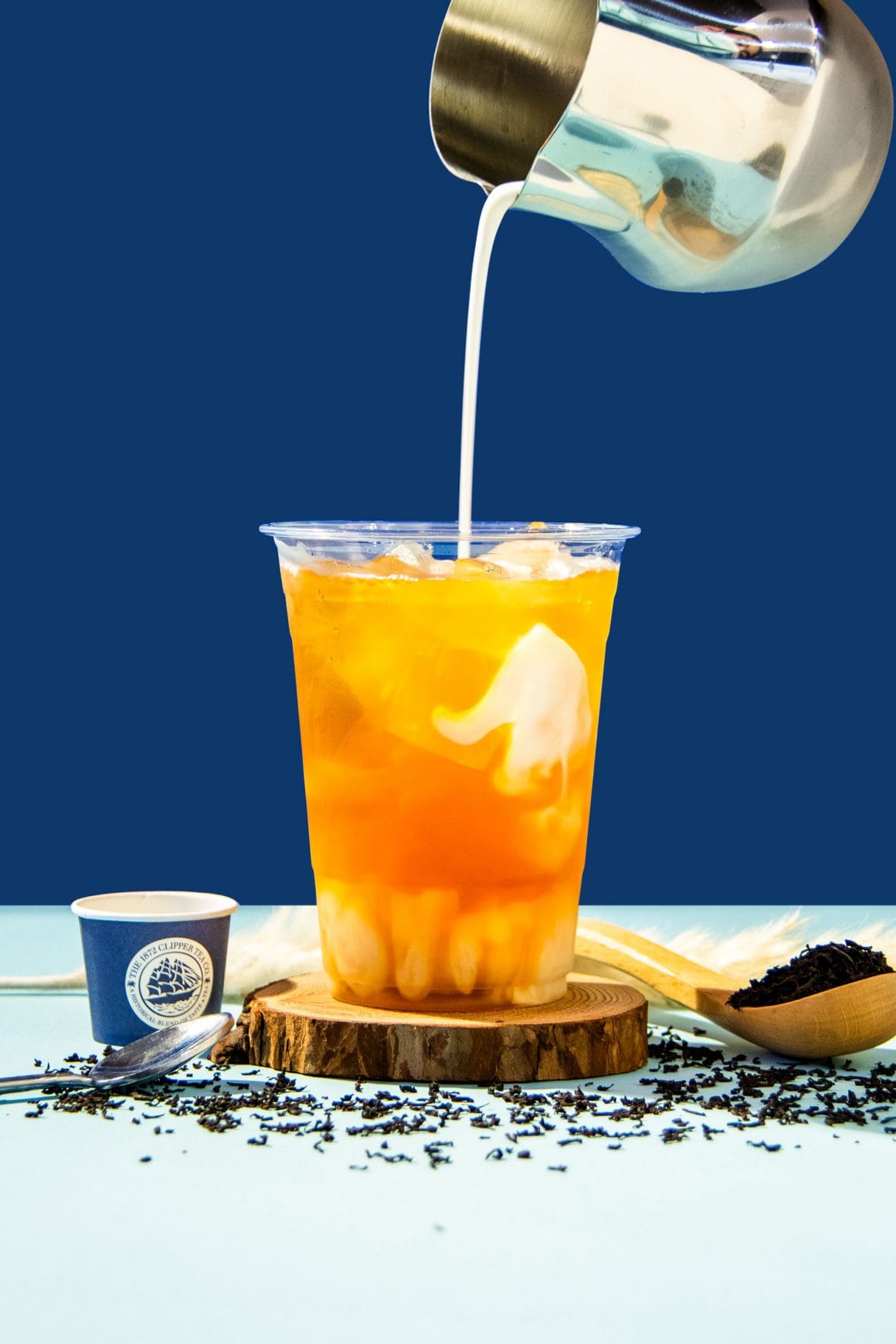 Made to brew custom blends one at a time for each customer, the slow drip technique with the Marco SP9 – Automated Pour-Over Coffee Brewed, typically used for coffee, was used to extract the best flavours from the unique tea blends.  This helps to unlock the distinct flavour profiles of the tea through a measured nine-part extraction process, allowing each tea leaves' robust fragrance to be extracted in full glory. Be introduced to a world of tea simply brewed to perfection! 
Quench your thirst for knowledge with The 1872 Clipper Tea Co. and chat up with the friendly staff to learn more about the tea culture from around the world. Be sure to kickstart your tea-riffic journey right here at Jewel Changi Airport with the 1872 Clipper Tea Co.!
78 Airport Blvd., #01-255, Singapore 819666