Singapore – There is something about eating by the river that help puts the dining mood into a slower pace. Situated right next to the Singapore River is George Town Tze Char & Craft beer, a brand new alfresco restaurant specialising in traditional Penang favorites and delectable seafood.
Start dinner with Crios Torrontes 2019 (Mendoza, Argentina) @$12 per glass and Canadian fresh oysters($1 promotional price) cheap as they are, the oysters were a little underwhelming but as a product or nature no fault of the chef. The white wine was crisp and easy to drink without being overly dry.
Bar Bites
Beer pairing with the food might be a good choice here, firstly the restaurant is selling Singapore's Leading Craft Beer; Brewlander Brewery. For $18, you'll get 4 x 150ml of each Brewlander; Love, Respect, Hope and Peace. RESPECT, was my personal favourite. a dark ale with ABV 5.8% with hits of strong coffee and malt. Smooth on the top notes and velvety with a bittersweet aftertaste on the endnotes. Most importantly, the dishes here such as Penang Thai Style Squid($15) and the Pumpkin Prawns($20) complements the beers – tapas style.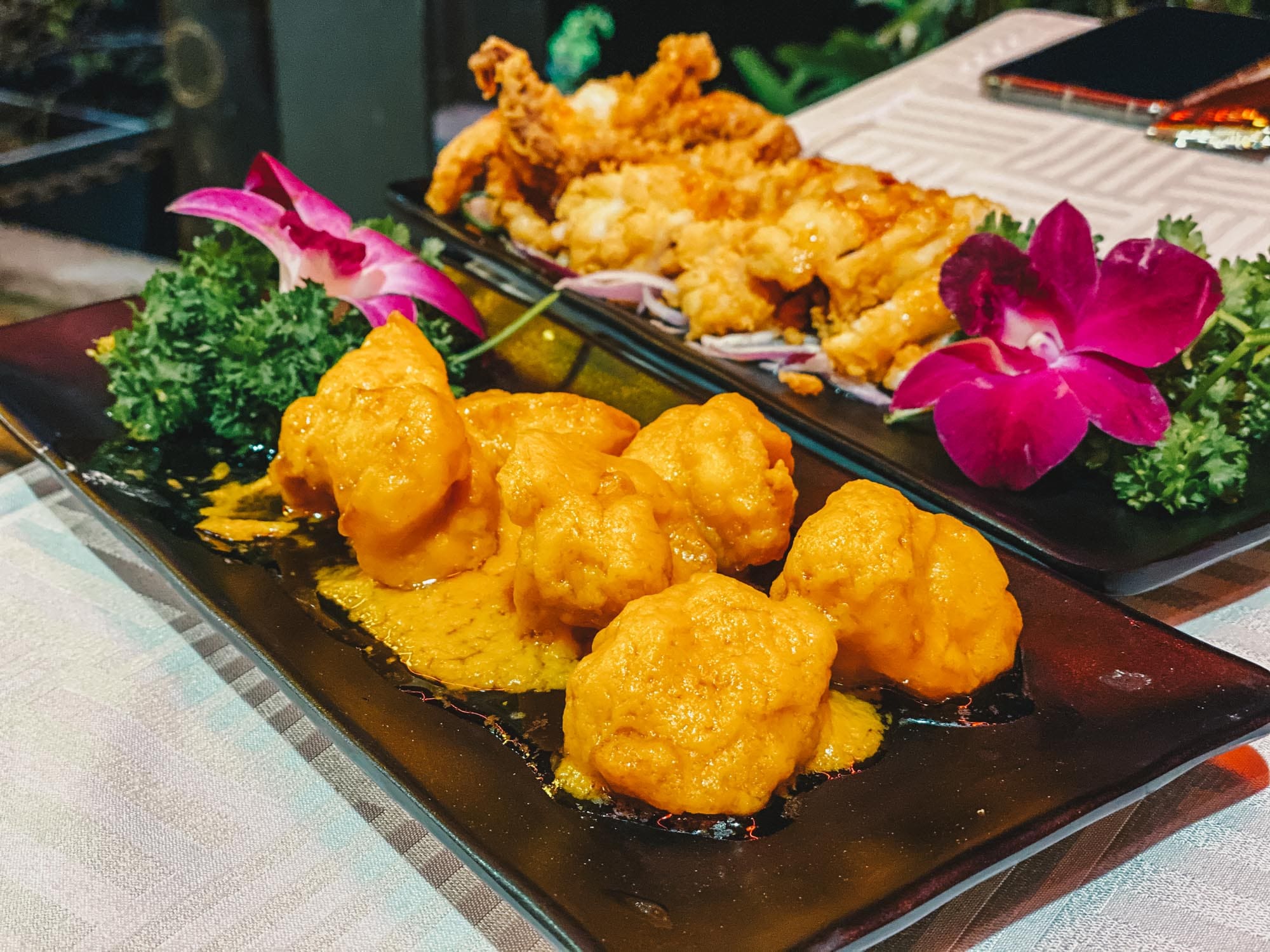 The lines of a starter and main are starting to blur as we started on the Rendang Beef Cubes($18) which was tender and bursting with rendang spices, this would be a good dish paired with rice since the sauce packs a punch. The Kungfu Pork Ribs($18) Is another option if you need more finger food for sharing. The ribs were encased within a sweet and savoury glaze. For more depth of flavour, eat it with the pickled onion.
Mains
For something more unique order the signature Thai Style Curry Fish Head($28). The unique blend of spices and flavours that are India, Thai and Chinese. The generous fish head portion is good for sharing and exhumes a good balance of savoury, spiciness and sourness.
The chilli crab($28 for 400G) was on the painful spectrum to eat. Boy, they did not spare the chilli that went into the sauce, the burn was constant and lingered long after the first mouthful. The crab was fresh and sweet but I would have liked the heat dialed down.
Noodles
If you are a carb lover a must order would be the XO signature Hor Fun($12++) The silky smooth hor fun had 'wok hei', the sauce brought everything together with a nice saltness from the XO. Plus points to the thick slices of fresh fish.
GIN
To end the night try some Rojak GIN or Chendol GIN. The unique GIN is make right in Singapore from Compendium. We found the Rojak Gin to be a little more interesting than the Chendol one. Have a taste of both and let us know what you think.
If you're already swayed by this review, I suggest you make reservations early. During our visit, many of the tables were clearly taken up. The other thing you don't have to worry about is feeling like you're shortchanged and overcharged —appetite and wallet-wise at least. Overall the dishes are pocket-friendly and a great place to chill out with friends in the evening.
81 Boat Quay, Singapore 049869
Daily 12pm to 11pm
Contact: 6535 6277
For bookings: Whatsapp 96823826
https://george-town-tze-char-and-craft-beer-boat-quay.business.site
This was an invited tasting, though all opinions expressed are our own.