Singapore – Located in the tranquil neighbourhood of stevens road near Novotel Singapore on Stevens and Mercure Singapore on Stevens is Winestone. As we entered the orange lit restaurant, we loved the high ceilings and feeling of openness dotted with interesting paintings. A modern-European restaurant, late-night bar and wine retail store, this place offers plenty.
Winestone is embarking on an immersive journey this Christmas partnering with four local makers. Featuring cocktails from Dannon Har, Chief mixologist from Section D, June Chen, lead designer from Floral Mikelle, Jas Rehand, founder at A Poet's Terroir and Leon Hay, owner of Singapore's goat farm.
New Tastes
We tried the Winestone 4-course festive menu and found that the quality of food to be top-notch, lets take a look.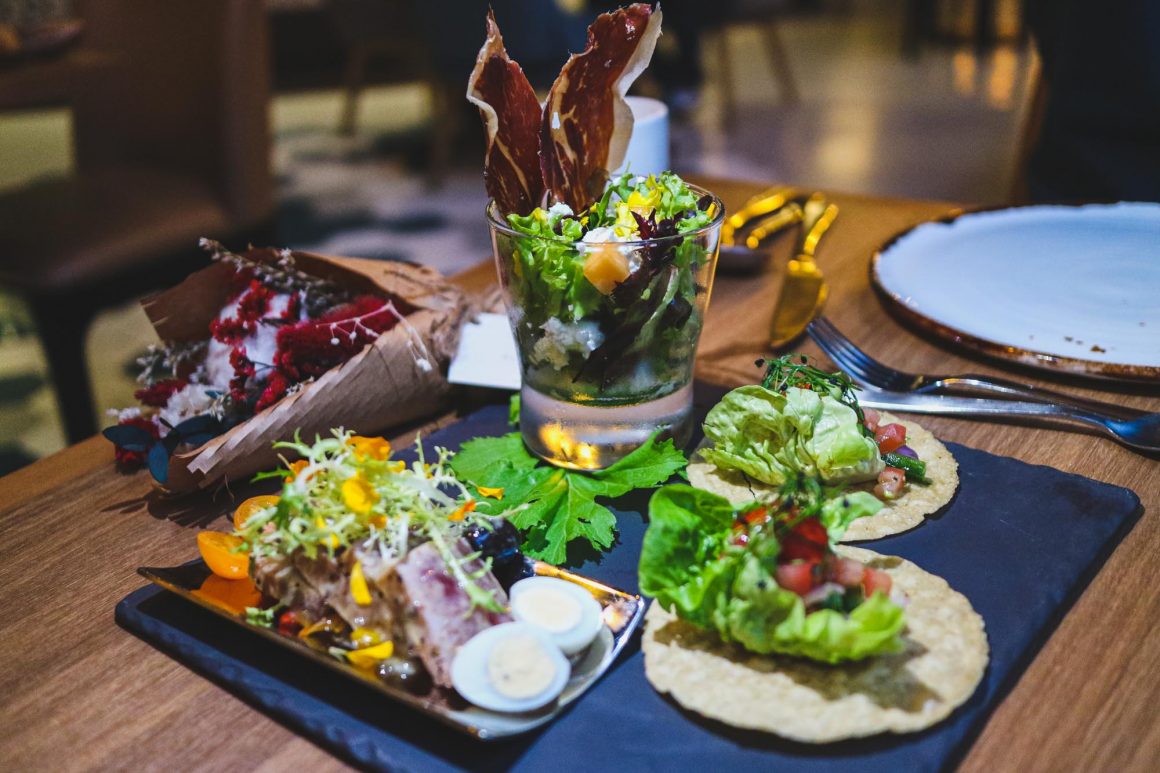 The Chilito Salad was packed with Mexican flavours sitting on a taco topped with tangy Salsa. A good opener for the milder Pepper Tuna Salad which was fresh and dressed up with plenty of microgreens and edible flowers, The Goat's Cheese Salad was interesting and is a deconstructed take on the Italian rock melon pickle with prosciutto ham
Mains
The Seafood Bisque is packed with umami with a lobster knuckle and a hit of truffle for good measure. This soup certainly warmed our stomachs for the mains
MS2 Ribeye with mushroom, Fricassee, Bearnaise, was cooked to perfection and the meat was seasoned perfectly. For non-beef eaters, you can go for the Fresh Sea Perch with sun-dried tomatoes and fennel salad. The delicate fish was tender with crispy skin and the fennel salad went really well with a crunchy element.
The Free Tange Organic Chicken with ugly potatoes was really well seasoned and really juicy on the inside. Barbecued Iberico Pork Ribs were fall off the bone tender and the sticky sweet Quince glazed made our mouth water.
Deserts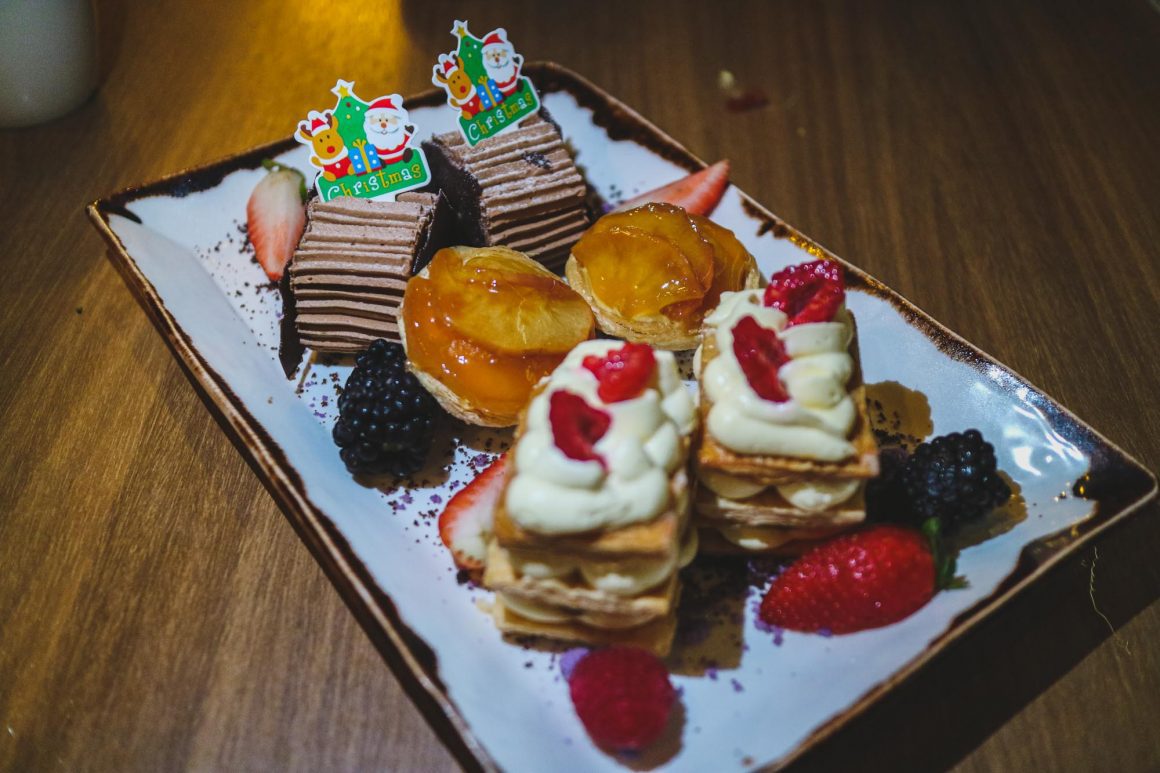 Mille Feuille – Traditional puff pastry layered with Madagascar Vanilla Cream
Apple Croustillant – Apple Cinnamon, raisins served in a crumble
Molten Chocolate Log Cake- Valrhona Guanaja with Vanilla Ice cream
Cocktails
We loved the Festive Cocktails by Dannon Har, Section D Bar. All of them were really yummy but we would really recommend the warm hugs which a quite a unique drink, being warm. If you like something more creamy go for the Santa Mudslide
A Berry Christmas – wheat beer, spice syrup $20

Candy Rush – peppermint vodka, lemon, Cointreau, prosecco, candy cane $23

Taste the Snow – gin, heavy cream, vanilla ice cream $18

Santa's Mudslide – cognac, coffee liquor, bailey's Irish cream, heavy cream, chocolate shavings $28

Warm Hugs – dark rum, spiced syrup, butter, cinnamon $20
Buffet for Christmas and New Year
Those looking to eat your fill can enjoy a la carte buffet brunch on Christmas Day and New Year's Day with favourites such as Boston lobster, snow crab, Hokkaido scallops, blue water prawns, fin de Claire oysters, and beef tenderloin. Chef's carving station will be included with roasted baby lamb for Christmas Day and US prime rib of beef for New Year's Day.
On Thanksgiving Day, Winestone will be organising a 4-course dinner, with all profits for APSN, a social service agency that provides special education and job opportunities for individuals in our community with mild intellectual disabilities (IQ 50-70)
Discover Local: Goat's Milk by Winestone's culinary team
Goat's Cheese Salad – prosciutto, fresh goat's milk ricotta, rock melon pickle $35

Cod with Goat's Milk Espuma – cod, goat's milk yoghurt, mint, olive oil $42

Vodka Goatini – vodka, goat's milk, shaken and served $16
Christmas Wine Hampers – A gift for the holidays by June Chen, Floral Mikelle
Elegant Blanc $140
A rosé and white wine packed in a modern chic red bag paired with winter wonderland in tones of elegance – white, silver and gold. Free delivery included.

Hecht and Bannier Languedoc Rosé Languedoc, France

Famille Perrin Luberon Blanc, Rhone Valley, France


Merrily Rouge $270
Six bottles of wine consisting of a sparkling, a rosé, two reds and two whites decked in blessings of red, green and brown, gifting features Christmas classics suited for a warm homely celebration. Free delivery included.


Rothbury Estate Sparkling Cuvee, Hunter Valley, Australia

Hecht and Bannier Languedoc Rose Languedoc, France

Terre Forti Trebbiano Chardonnay, Emilia Romagna, Italy

Terre Forti Sangiovese Rubicone, Italy

Baron Philippe de Rothschild, Cabernet Sauvignon, Maipo, Chile

Baron Philippe de Rothschild, Sauvignon Blanc, Maipo, Chile
The Art of Taste – An experience To Explore by Jas Rehan, A Poet's Terroir
An artistic experience of tasting and painting your wine

A visual journey of wine and art as we take you through the wine tasting experience

Explore it on a colour filled canvas, along with a 3-course lunch

Priced at $220 per person, seats are exclusive and limited

Available on 26 November, 27 November, 4 December and 5 December 2021
New Rituals
Winestone's innovative and creative offerings are timely in ushering the festive season and equally the restaurant is also celebrating the recent achievement in securing Singapore Environment Council's (SEC) Eco F&B certification. This certification was awarded in recognition of the restaurant's efforts in sustainability. It scored over 70% on environmental performance in its management of energy, water and waste practices evidenced by strong leadership support through rewarding staff who participate and take action to go green!
Winestone
30 Stevens Road, #01-09, Singapore 257840
Operational Hours
Sunday to Thursdays, 12:00 noon – 10:00 pm
Fridays to Saturdays, 12:00 noon – 10:30 pm
Closed every Monday
This was an invited tasting, though all opinions expressed are our own.