Singapore – Japanese cuisine is a top favourate among Singaporeans and with an ever pursuit of quality we see more and more restaurants providing freshly flown fish direct from Japan. Helmed by Chef Hirai, TEN Sushi is the ideal place to relish Japanese cuisine, Japanese sake, wines, beers and whiskies in a relaxed, hip and airy environment. If you have not read, our previous visit to TEN was a pleasant one with good quality ingredients. 
Sakoshi Oysters from Hyogo Prefecture – 6 pieces $34++, 12 pieces $60++
Pricy as they are, one bite into these plump gems reviews a slightly salty, briny, and full flavour of the ocean. The texture is fairly smooth, without being slimy. Perfect with a sip of sake.
"RAINBOW" 6 kinds of Seafood Rolls – $28
We were impressed with the amount of Ikura and there was even Umi that came with the 6 seafood rolls. A generous piece of fish sitting on a roll of vingery rice with avocado in the centre. Perfect with each bite minus the parley(Sorry not a fan)
Omakase Sushi (12 pieces) – $49++
If the presentation and impressing a date is important choose the Omakase Sushi comprising Maguro (Tuna), Hamachi (Yellowtail), Salmon (Sake), Hirame (Flounder), Saba (Mackerel), Hotate (Scallop), Amaebi (Sweet Shrimp), Tako (Octopus), Ika (Squid), Tamago (Egg), Unagi (Eel) and more.
Assorted Sashimi "Ten Special" – $58++
If you love sashimi, you'll be captivated by the divine flavours of our Assorted Sashimi "TEN Special" ($58) featuring the freshest ocean catch. Just look at the thick cuts of fish! We felt that this was really good value for the portion and freshness of each element. Surprise on the plate came from the Saba sashimi, it was sweet and savoury. Plus points on the use of real Wasabi and no fake green horseradish here.
From 18 to 30 November, enjoy 6 pieces of complimentary fresh oysters with the purchase of 1 bottle of 'I Love Sushi' Sake. We would highly recommend this sweet Sake for its complex flavours Note: Irukra and Umi not included with Oysters
No MSG Special Ramen (Fish & Pork Soup)
-Ramen – $12.80++
-Ramen and Egg – $14.80++
-Ramen and Pork Char Siu – $17.80++
-Ramen and Pork Char Siu & Egg – $19.80++
We really liked the new Menu Item, each item from the Char Siu, bamboo shoots to the egg are really marinated well and has a burst of umami flavour. Yes, my fellow Singaporeans I know you like robust broths that are "Gao" but the fish mix in this soup brings a lighter and more subtle sweetness to the overall dish so it is good if you view it from another perspective.
Other promotions
Enjoy 1-for-1 for our Omakase Sushi (6 pieces at $29++) every Monday in November.
From 18 to 30 November, savour Salmon Roll (6 pieces at $6) and Salmon Sashimi (6 pieces at $6).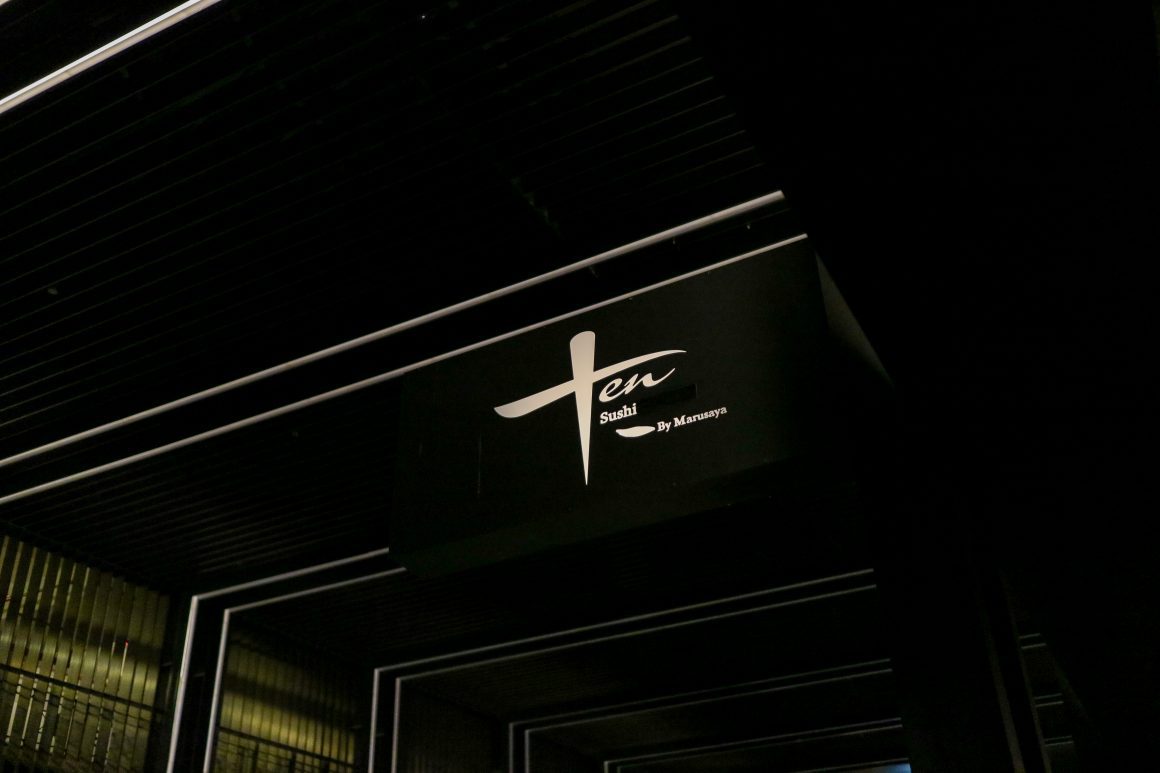 TEN Sushi
60 Robertson Quay, #01-09,
Singapore 238252.
Operating hours
12pm to 2.30pm (last order 2pm) for lunch (on Fridays, Saturdays and Sundays)
4.30pm to 10.30pm (last order 9.45pm) on Mondays to Sundays for dinner.
For reservations, please call 6735 0383.
This was an invited tasting, though all opinions expressed are our own.