SINGAPORE – Brand NEW European Restaurant & Bar, La Belle Epoque (which means 'the golden age' in French) opens its doors in the heart of Singapore's vibrant dining belt, Boat Quay on 3 February 2022.
Helmed by dynamic, creative and passionate Chef Firdauz Nasir, La Belle Epoque specialises in contemporary European cuisine using fresh ingredients seasoned with natural herbs. Chef Firdauz, who has garnered a wealth of experience over the past 15 years under the tutelage of Master Chefs such as Chef Kentaro Torii, Chef Jeffrie Siew, Chef Christopher Millar and the late Chef Eng Su (Owner of the Coconut Club Singapore & Belimbeng Superstar), enjoys creating culinary masterpieces using old-school techniques and herbs that he grows in his very own herb garden. To enhance your dining experience, pair the innovative creations with unique concoctions by their very own bartender, Andy.
Here are some of the dishes that we got to try out from the Valentine's Day Menu, available at $88++ / couple.
Whet your appetite with a repertoire of delightful creations from Chef's Garden selection including Hummus Taco- $10 (smoked chickpea mashed and blended with tahini, lemon juice and garlic served in corn taco shell, roasted capsicum, romaine lettuce and pickled shallots) and Watermelon Tartare – $10 (smoked watermelon cubes, pickled shallots, spearmint, pomegranates, pear cubes, Japanese cucumber cubes, yuzu dressing served with watercress salad). As both of us do not take watermelon, therefore the one your see below is without watermelon. Still, the taste is great!
The Ocean Catch is not to be missed if you are a seafood aficionado. Savour the delightful flavours of the Tuna Steak -$18 (pan-seared yellowfin tuna served with Chimichurri sauce, sun-dried tomatoes and smashed peas) and Oyster & Iberico -$26 (3 pieces oysters lightly torched, topped with crispy Iberico ham, tomato salsa and Avruga caviar). The crispy Iberico really enhanced the overall flavour and it's one of my favourite dish for the night.
Relish the natural, wholesome flavours from the farm-to-table selection such as Poulet -$14 (roasted chicken served with purple pommes potato, braised and grilled purple cabbage and sun-dried tomatoes). The chicken is so well cooked that the meat is tender, while the skin still remain crispy. For the Valentine's Day menu, we got to try the Tournedos Rossini (keto)Filet Mignon served with seared foie gras & truffle red wine Port sauce too.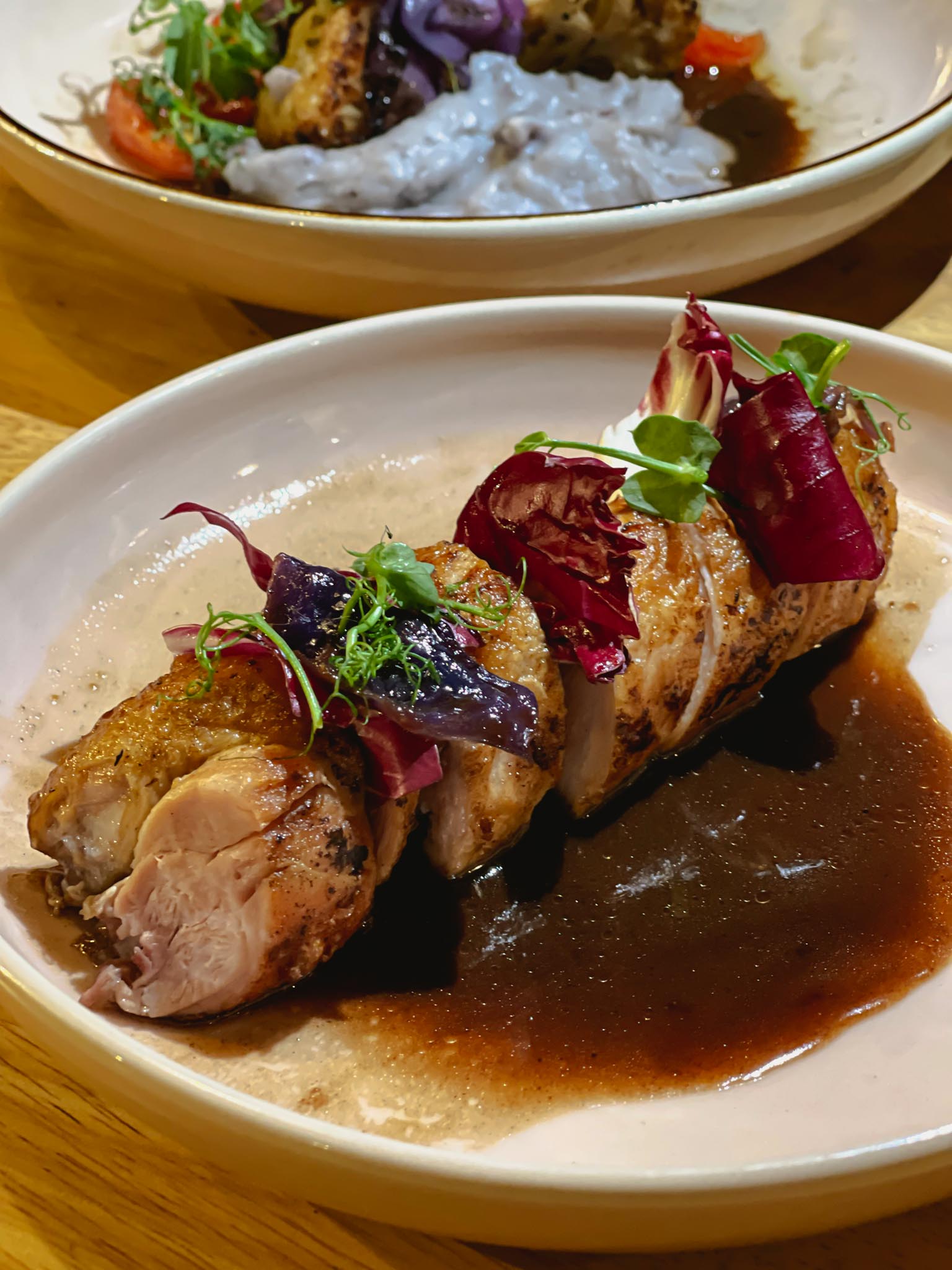 Another highlight is the Fresh Focaccia Sourdough and Herb Butter ($7). The sourdough is specially prepared by Chef Firdauz to give a burst of umami flavours. The Lamb Parma Aged 3 months old ($8) is another noteworthy creation that is prepared by smoking and air-drying with the restaurant's special chiller. Though we know that we shouldn't consume too much carbs, but it is so good that finished the whole plate.
Pair your meal with our signature refreshing Signature Cocktails at $20++ including Swirly Highball, which is available in gold, silver and even pink, Passionfruit Tropika, Butterscotch Sgroppino, the recommended Jamon Boulevardier using Iberico washed whiskey and more. Wine lovers can enjoy a diverse selection of grape varietals from various European regions, from Spanish Sauvignon Blanc, Italian sweet wines to the popular Bordeaux and Burgundy wines in France.
Bring your meal to a sweet finale with Chef's specially curated sweet treats such as the Chocolate Mousse – $10 (pure dark chocolate mousse served with orange segments) that is so rich and chocolatey, and La Prunelle De Mes Yeux (The Apple of My Eye) Heart shaped tarte tatin served with Madagascar vanilla gelato where there is an interaction that you need to work together with your partner in order to eat this dish. Try it!
The overall experience that we had was great, and it stands out from the rest of the option available as most of the restaurants along the stretch are selling seafood BBQ. I would definitely revisit again, perhaps on a afternoon for some coffee and dessert.
LaBelle Epoque
63 Boat Quay Singapore 049851
For reservations, please call 6732 1687 or email info@lberestaurant.com
This was an invited tasting, though all opinions expressed are our own.