Singapore – I will openly admit that I am lazy and will not travel to far off locations to queue for hawker food no matter how famous the stall is. Thanks to a newly open Hawkers' Street right in the heart of Orchard, my cravings can now be satisfied in one location. If you have been to Changi Airport Terminal 2, you would have noticed the universal dining concept lead by Select group. Let's take a look at the offerings!
Nam Sing Hokkien Mee(From $6 onwards), is a crowd favourite from the Old Airport Road Food Centre. Mr Ng Hock Wah still whips up plates of these delicious noodles at the age of 73. We loved the seafood flavour of the wet style noodles. The dish was satisfying and hit the spot with a dash of lime and surprising no sambal. Yes, you get cut red chillies with this dish instead.
Beach Road Scissors-Cut Curry Rice(From $4.90 onwards) should be an open secret to all the curry rice lovers out there. We too fell in love with it when we first visited the store with the thick black braised sauce, crispy pork chops and tender cabbage. We found the standard similar but a lot less messy, someone get me another bowl of curry please!
Ann Chin Popiah began as a humble pushcart in 1968 and was awarded the Michelin plate in 2019. This was the first time that we tried it and we sincerely enjoyed the traditional flavours that mellowed really well together. They provide a low-carb version that is without lard and pork, for other options, try the Fried Yam Roll at $2 or Kueh Pie Tee – 4 for $4. This is a clear winner that is top on our list!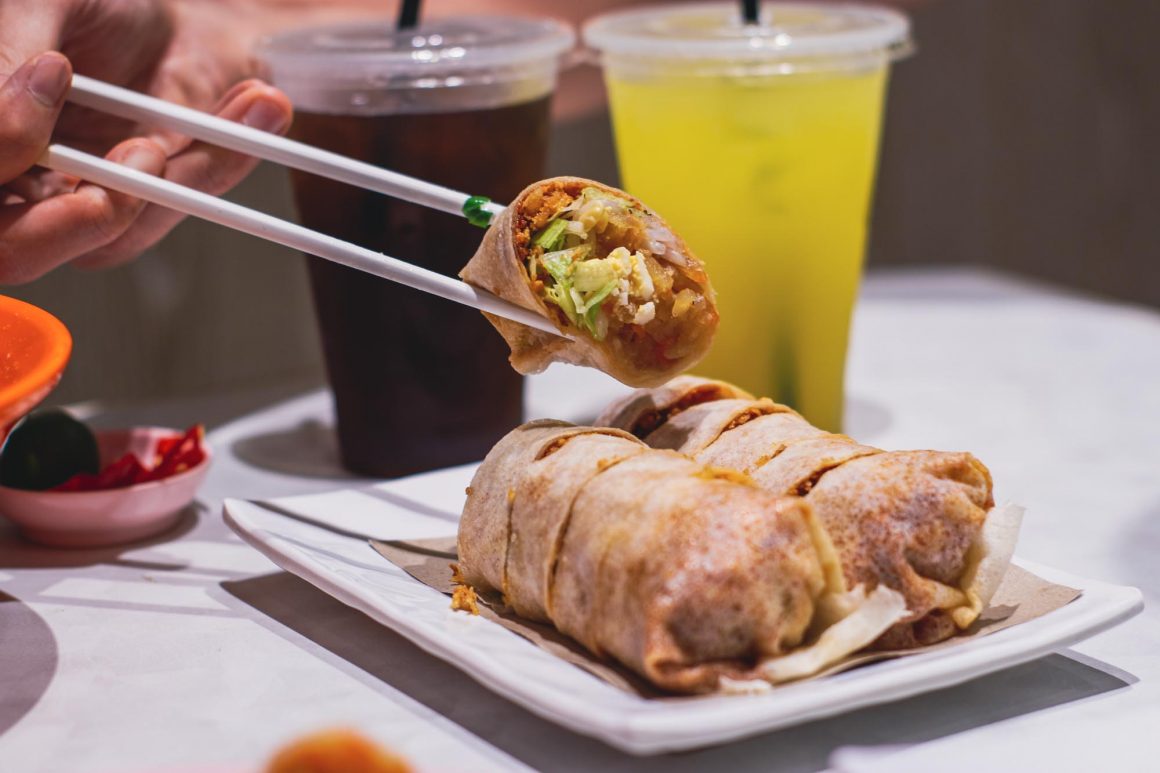 Famous Eunos Bak Chor Mee(From $5) was a hearty bowl of soup noodles filled with minced meat, dumplings and pork meatballs. The dumplings were a miss for us, as we felt that it lack seasoning. The Soup was the star of the dish packed with umami, fried garlic and a great option for a rainy day. There is a dry option as well or just go for the meatball soup at $5.
King of Fried Rice(From $4.55) has been sprouting out all over the island, founded by former Jumbo Chef Lester Li, the signature egg fried rice is fluffy and fragrant without being too oily. The pork was cooked perfectly making it tender and juicy. If pork is not your thing you can choose the shrimp option at $6.90, or Mala, Tom yum or crab meat. Warning the chilli really packs a punch so use sparingly.
Jian Bo Shui Kweh(From $3.20) was another stall that we have not tried before, the steamed cakes were soft yet had a slight bite to the outer layer. The Chye poh or pickled radish with chill packed with hits of dried shrimp make the simple dish really delectable.
Hawkers' Street
Opening Hours
8:00 am – 10:00 pm:
Drinks stall / Ann Chin Popiah / Jian Bo Shui Kueh /Famous Eunos Bak Chor Mee
10.30 am – 10:00 pm:
Nam Sing Hokkien Mee / King of Fried Rice / Beach Road Curry Rice
(Last order: 9.30pm)
2 Orchard Turn, #B4-66 ION Orchard, Singapore 238801
Contact (65) 6887 8300
Email: universal-dining@select.com.sg
This was an invited tasting, though all opinions expressed are our own.