SINGAPORE – Talk about getting a beer and Brewerkz may be a common name that is commonly thrown up but no one really goes there for dinner right? It is a place for wings, fries and maybe a slider or two or maybe the place you go to after the proper dinner. Well, this meal has changed our minds completely(more of this to come)
This brand new 200 seater restaurant features a swanky new bar with 20 bar taps pouring award-winning craft beer at the Orchard Rendezvous Hotel outlet. The place offers a cosy yet convivial interior and relaxed alfresco seating.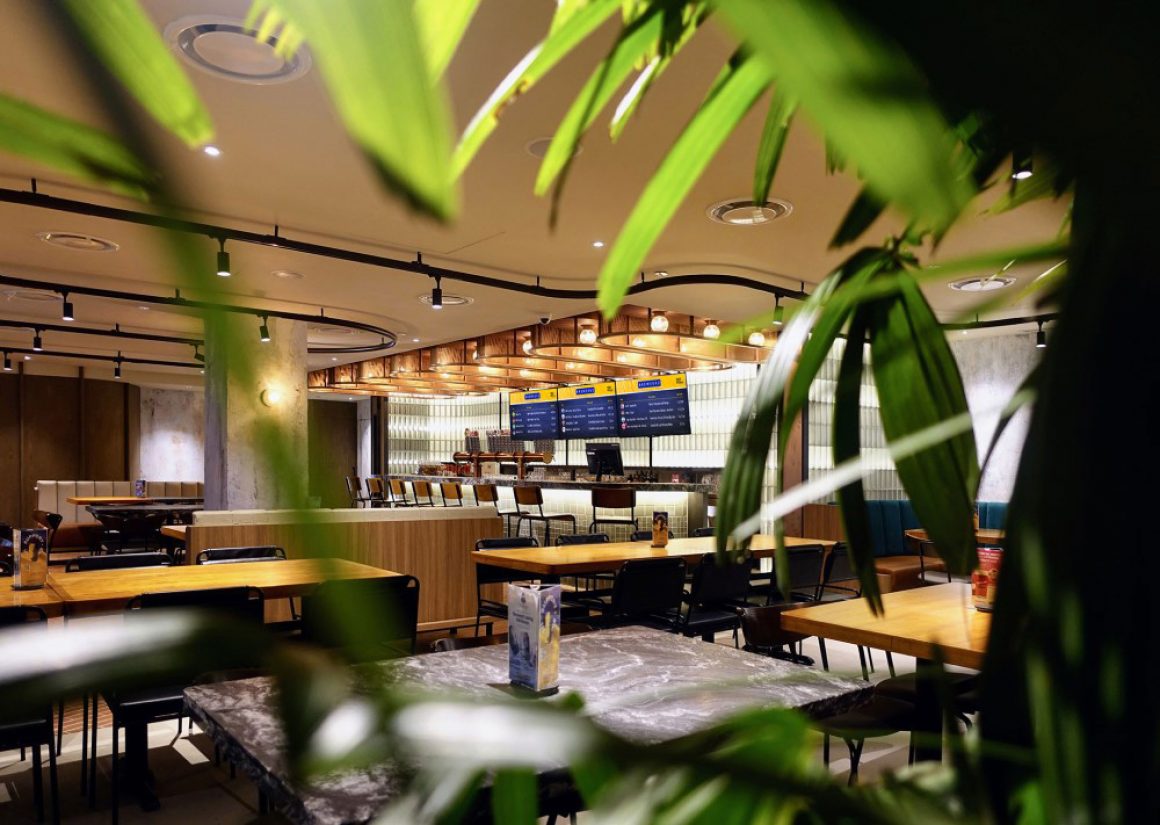 Appetiser
We started with the 7-herbed Crab Cake(SGD 28++) the blue swimmer crab was fresh and the quinoa with local herbs brought layered flavours but the bomb was the Assam dip. This local twist is bold and adventurous infused with a rich heritage.
Truffle Cheese Croquettes(SGD 14++) Cheese lovers would love this irresistible fried Gouda cheese dipped into truffle honey with truffle mayo. Very rich, tasty, dense, and a great side to start off the evening.
Triple Garlic Pork Ribeye(SGD 18++) was my personal favourite starter with Garlic teriyaki sauce, garlic chips, black garlic jam and refreshing pickled cucumber to cut through the thickness. The umami favour is strong and the pork was cooked perfectly.
Mains
CACIO E PEPE with PAN-ROASTED QUAIL(SGD 28++) The lovely Homemade cheese pasta came with red kampot pepper, parmigiano reggiano, lemon was interesting with a texture like the Chinese Ee Mian. The very European Quail was tender and fall off the bone and had a good crisp browning on the surface.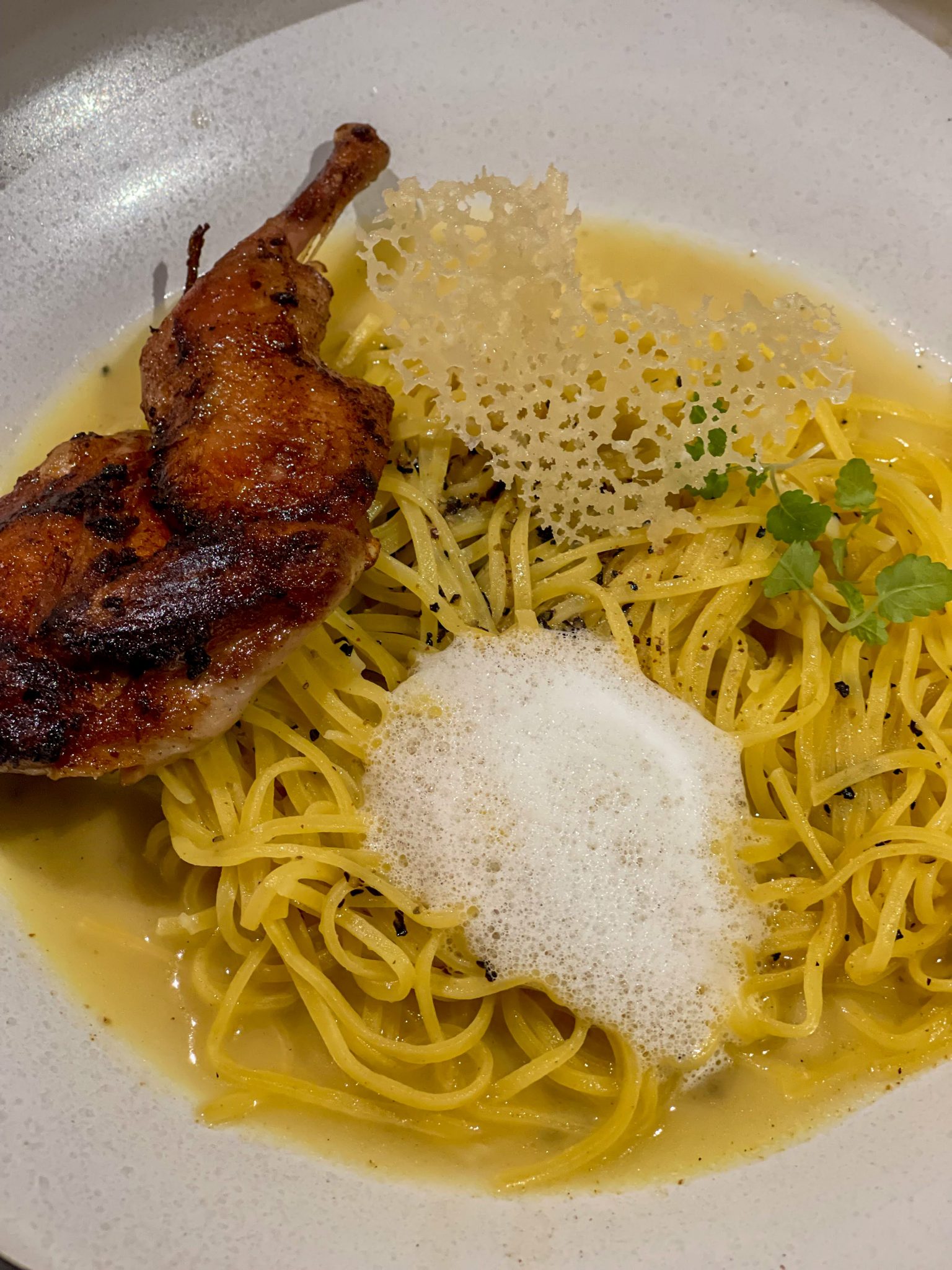 MANGROVE RED SNAPPER(SGD 30++) is a joy to eat with interesting Seaweed butter, dashi beurre blanc, napa cabbage, and sakura shrimp. The napa cabbage was tender and soaked up alot of the dashi beurre blanc making it packed full of flavour. The delicate fish was cooked to perfection with the seaweed butter giving it another layer of flavour.
CHARCOAL GRILLED WAGYU RIBEYE (300g) Aus wagyu (MBS 4-5)(SGD 62++)
Never had Wagyu at Brewerkz ? This came as a surprise as I would dare say that it would hold its own against other high-end restaurants. Served with balsamic mixed greens, confit potatoes, stout butter, and red wine sauce, the melt in the mouth rib eye was highly satisfying but the potatoes are also the star on the plate, buttery and soft, chef Seow has certainly put much thought into each ingredient.
Deserts
The must order on the menu would be the NAOMI(SGD 16++) for those who prefer their desert less on the sugary side, the raspberry lychee entremet, sorrel granite, juniper parfait, and berries fit the bill. This is not only a very pretty dessert but one that is fun to eat. The sorrel granite(Green parts) are like icy pop rocks that dance on your tongue with each mouth. The sourness is balanced with the sweetness from the lychee entremet.
CEMPEDAK CREME BRULEE(SGD 16++) was very intense with real Cempedak chutney, burnt cream, and caramelised sugar. A nice dessert for sharing if you got a big group.
HAZELNUT CHOCOLATE TART(SGD 14++) is perfect for the chocolate lovers with Caramel, rum & raisin ice cream, spent grains earl grey crumble. The rum in the ice cream was really strong and it goes well with the craft beers as well. PS: if you got the stomach try the OATMEAL STOUT BEERAMISU(SGD 14++) With oatmeal stout, baileys and espresso as well. This was another one of their classic desserts.
In Summary
Brewerkz's strategy in revamping its menu is a resounding success lead by Chef Seow Tzi Qin and challenges the conventional notion that beer places only serves mediocre food. As the saying goes " the proof of the pudding is in the eating" and the food has levelled up to the same quality as top-end restaurants.
Brewerkz @ Orchard Rendezvous
1 Tanglin Road
#01-08 Orchard Rendezvous Hotel
Singapore 247905
Tel: (65) 9012 6154 (Call or WhatsApp Us)

Operation Hours:
All days: 12PM – 12AM
This was an invited tasting, though all opinions expressed are our own.