SINGAPORE – Exciting changes are underway at National Gallery Singapore. The museum is progressively rolling out a range of improvements to make visits to the
Gallery even more welcoming, guided, and personalised. Whether visitors choose to pre-plan or drop by for a spontaneous visit, a variety of new self-service options are available to guide them. With the Gallery completing its renovation works in the Basement Concourse, visitors can start their journey with an introductory art experience before exploring the rest of the Gallery.
Free Art Encounters at the Basement for All
The museum has reinvigorated its Basement Concourse, transforming the venue into a more accessible and inclusive art space with free art activities and experiences. Visitors can look forward to:
Getting up close to a variety of large-scale artworks at the new Spine Hall and Imagination Gallery
Innovative art and tech prototypes at the Y-Lab Showcase
A line-up of artworks and multi-disciplinary, multi-generational programmes that will be refreshed frequently to inspire all with art every time
Greater accessibility with the upcoming Calm Room, which will cater to the needs of neurodiverse visitors
The basement concourse is open and free for all visitors, including non-Singaporeans, to enjoy. It joins the ArchiGallery, Keppel Centre for Art Education, Ng Teng Fong Roof Garden Gallery and Gallery's Children's Biennale as part of a range of spaces free for everyone to explore.
Welcoming and Guided
Planned or spontaneous visits to the Gallery will be made simpler and easier. For visitors who prefer a spontaneous visit, they can look forward to several new self-service digital options to spark inspiration for their day. From this month, visitors who enter via the Coleman Entrance will be greeted by new Arrival Landmarks that introduce the Gallery's latest exhibitions and programmes. New Safe Entry podiums also ensure a quick check-in for visitors.
Visitors can skip the queue when they book their Gallery passes online and print them at the Gallery Pass Dispensers by scanning their confirmation QR code.
They can also tap into the upcoming self-service Digital Kiosks, located at key access points around the Gallery. Visitors can browse through different exhibitions and programmes, purchase, and print their Gallery Passes through the kiosks. Visitors can also look forward to using the Activity Pillar to source for inspiration for their visit. The activity pillar will showcase ongoing programmes, exhibitions, and tours at a glance to help visitors plan their day better.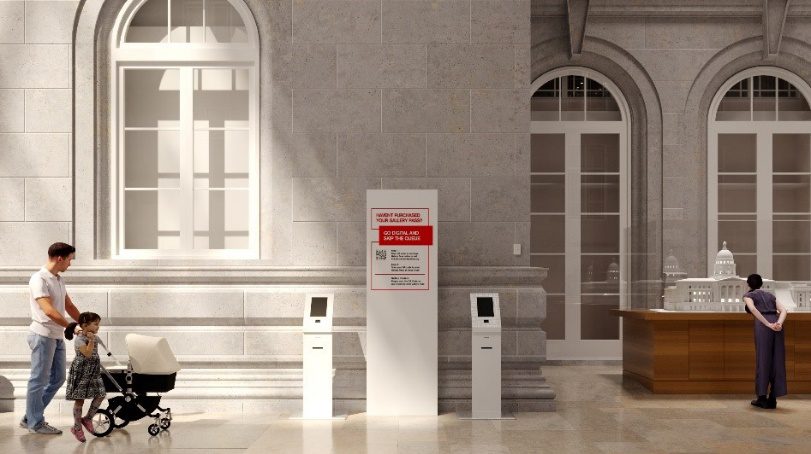 The self-service Digital Kiosks and Activity Pillar are slated to be installed by Q1 of 2022. The Gallery's Visitor Services Counters remain open and roving concierges will be on hand to provide further assistance for visitors that prefer the human touch.
More information on the Gallery's new visitor experience will be shared in due time on the website.