Dashi Master Marusaya, has introduced a brand new lunch set for those we are fans of Japanese food. We were highly impressed by the quality of the Shabu options based on our last visit.
The new lunch menu feature highlights such as Marusaya Udon Set Lunch, Dashi Shabu Set Lunch, Hot Toban Set Lunch and Shokado Bento. The interesting part about the set lunches if that you can select your own sides! talk about choice.
Dashi Shabu Set Lunch
We also tried the Dashi Shabu Set lunch with it's iconic Dashi Shabu broth is prepared meticulously with Marusaya's signature all-natural Dashi (Japanese broth) and loved the melt in your mouth texture of the pork. The Dashi stock was so good we could not help but finish the soup.
Dashi is the foundation of Japanese cuisine and is prepared from an amalgamation of two ingredients: kombu and dried bonito flakes. Meticulously prepared using '2-year old Dried Bonito' from Kagoshima and 'Natural Rishiri Kelp' from Hokkaido.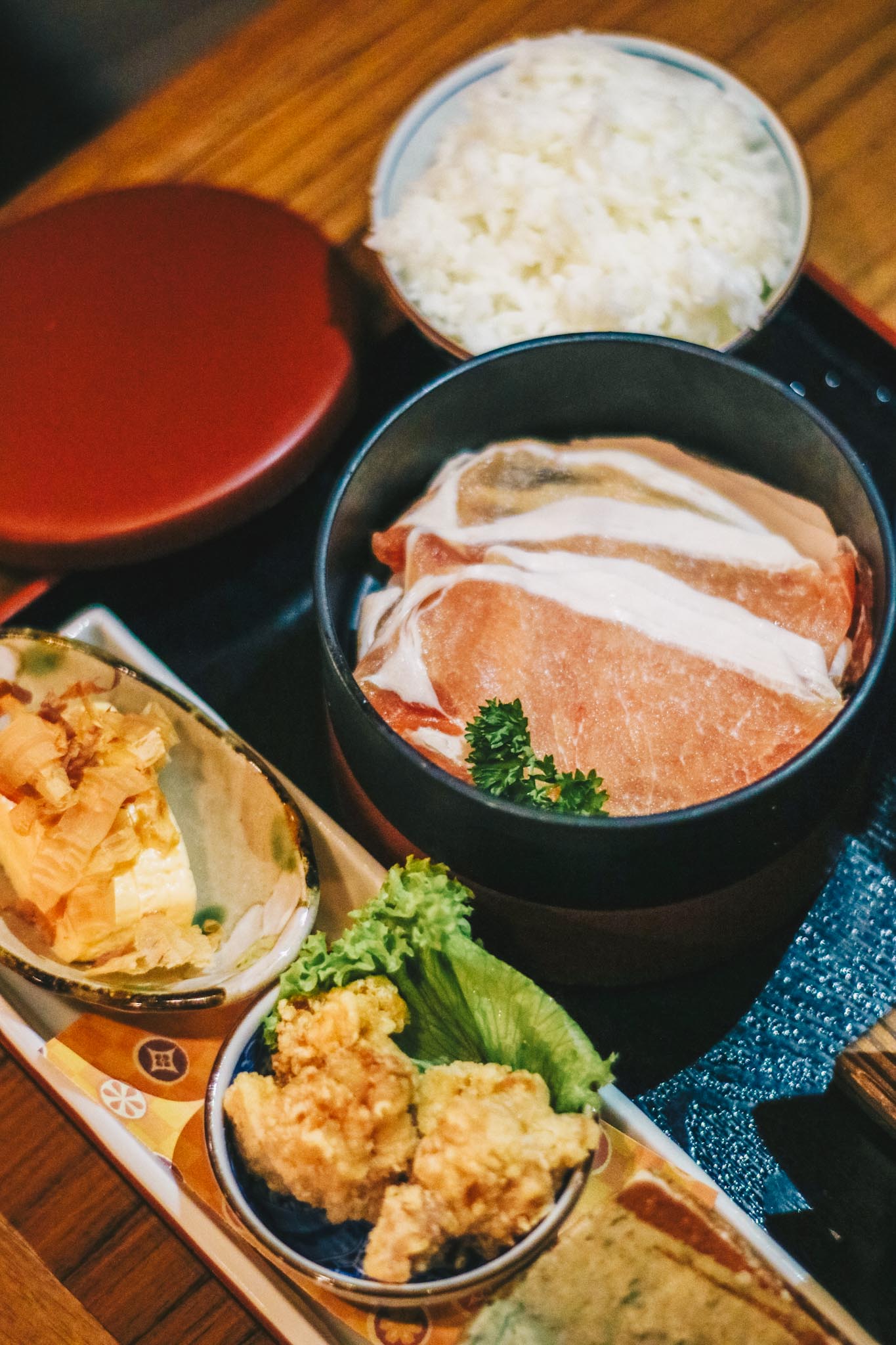 We got the Hokkaido Pork Shabu Set ($28++) but you can also choose a selection including Wagyu Shabu Set($48++), US Angus Beef Shabu Set ($38++). All sets include a choice of 3 side dishes (select from dashimaki egg, edamame, ohitashi -Japanese spinach salad with dashi, nanbanzuke – Japanese fish dish, Hijiki seaweed, fried chicken,California roll and matcha cake) and dashi miso soup.
Shokado Bento Box($58++)
If you are feeling famished this exquisite bento comes with everything thrown in. The chawanmushi (Japanese steamed egg) was light, fluffy and standard textbook Japanese quality. The two kinds of sashimi were sashimi was fresh and melted in our mouth, if you ever had that choking feeling from eating weirdly luminous green "wasabi"(actually it is mustard) you would be glad to know that they use the real stuff here which compliments the sashimi perfectly.
The tempura had a light coating of batter which was not overly hard. I personally loved the grilled fish which was cooked just right and had a good balance of savoury and sweetness.
The meat changes on an ongoing basis, the one that was served was a beef sukiyaki style with braised daikon radish. The rice bowl that came with the meal was actually a mini Salmon and Ikura don. You also get a small udon (hot) and a pudding dessert to end the meal with.
In addition to the above set lunches, Dashi Master Marusaya also offers an enticing selection of à la carte creations including Half Dried Bonito Jerky ($15++), Japanese Tomato Salad with Dashi Sauce ($15++), Salmon and Avocado Caesar Salad ($20++), Hokkaido Pork Shabu Salad ($22++), Assorted Tempura ($20++), Salmon and Avocado Roll ($24++) and more.
Dashi Master Marusaya
86 Robertson Quay, #01-01,
Robertson Blue Singapore,
Singapore 238245.
The restaurant is open from 12:00 pm to 2.30 pm for lunch and from 5:00 pm to 10.30 pm for dinner.
On Saturdays, Sundays and Public Holidays, it is open from 12:00 pm to 10.30 pm.
For reservations, please call 6732 0383 or email info@marusaya.sg
This was an invited tasting, though all opinions expressed are our own.