OK.. Now all the FANS of Aaron Yan 炎亚轮, SCREAM!!!! i know your idol is coming to singapore this coming friday right? and you gals (or guys if there's any) are dying to see him in person right?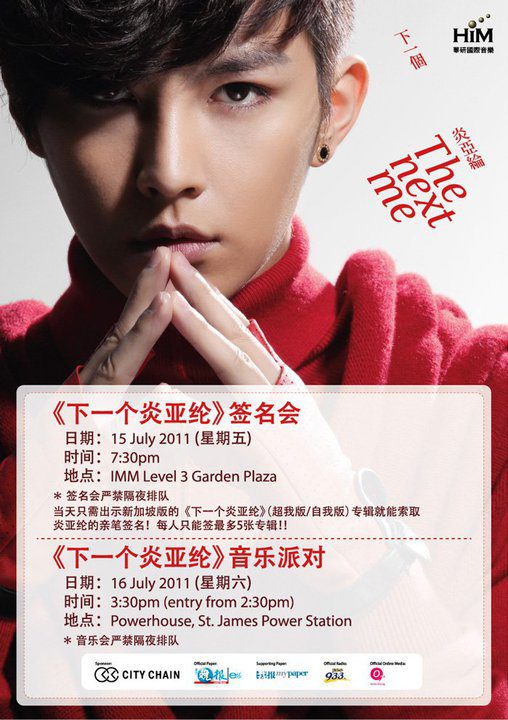 Firstly, if you wanna catch a glimpse of him or welcome him to singapore, you can head down to Changi Airport Terminal1 , this friday (15th July) at 1.15pm as he will be arriving singapore on that day. Oh~ and his flight is CI753. *Take note ah~ dun say i never share ok!*
The second venue where you will get to see him will be at his autograph session on the very same day, 15th July (Fri), 7.30pm at IMM Level 3 Garden Plaza. PLEASE MAKE SURE YOU ARE HOLDING TO THE SINGAPORE VERSION 新加坡版 (indicated by a sticker on the album) as ONLY SINGAPORE VERSION  is allowed for this autograph session. So you dun happily bring a non SG version, spent one whole afternoon queuing up and ended up unable to go on stage to get his autograph. This announcement was MADE everywhere so no excuses ok! If not, you can purchase the album directly from the cd booth over there on that day 😉
OKOK~enough said! 讲重点!
I'm giving away 3 PAIRS OF TICKETS  worth $60 to Aaron Yan 《下一个炎亚纶》音乐派对 Music Showcase!
So what do you need to do ? Simple! *ps : my contest always very simple one la~
1) Like the facebook page of Singapore HIM International Music
2) Follow Singapore HIM International Music on twitter.
3) If you are nice enough, love reading my blog, can like my Darren Bloggie facebook page here or follow me on twitter here.
4) Lastly, drop me an email at darren862@gmail.com with your Name, Contacts and tell me why you should win this pair of tickets.
Simple right?
Contest will end tomorrow 14th July 2011 at 12:00pm NOON and winners will be notified on that  day through emails. Please make sure that you are able to collect your tickets on this coming Friday at IMM from 4pm onwards.
GOOD LUCK Everyone! 😉
************************************************************
Congratulations to the following winners!
You've won yourself a pair of tickets to the Aaron Yan 《下一个炎亚纶》音乐派对 Music Showcase!
Leon , Wanfang , Pang Qi En
Details for ticket collection will be emailed to you shortly.
Thank you for your participation!
************************************************************