Lantern sets depicting the fantastical will adorn Gardens by the Bay this Mid-Autumn Festival. Based on the theme "Autumn of Fantasies"(奇幻之秋), these marvellous lantern sets depict a diversity of worlds unfettered by reality, from mythical creatures to larger-than-life flora and fauna. Adding to the atmosphere is a bustling marketplace at the Supertree Grove, where visitors can enjoy cultural performances, a food street, and a showcase of traditional Chinese crafts.
Spectacular Lantern Sets Inspired by the Fantastical
Visitors can look forward to large-scale Lantern Displays (巨型灯展) with the theme, Autumn of Fantasies
(奇幻之秋). Making its debut this year is Leaping over the Dragon's Gate (鱼跃龙门), the widest lantern set to date at Gardens by the Bay measuring 70m across, which floats on Dragonfly Lake and depicts the legend of the carp transforming into a dragon.
Other lanterns include the elegant pairing of The Phoenix and the Peony (凤凰戏牡丹); the Sandersonia Arch (宫灯百合), which is lined with Sandersonia-shaped lanterns; and Sky Lantern Dreams (巨型天灯), a series of 8m-tall sky lanterns that create the longest lantern-lined pathway at the Gardens to date.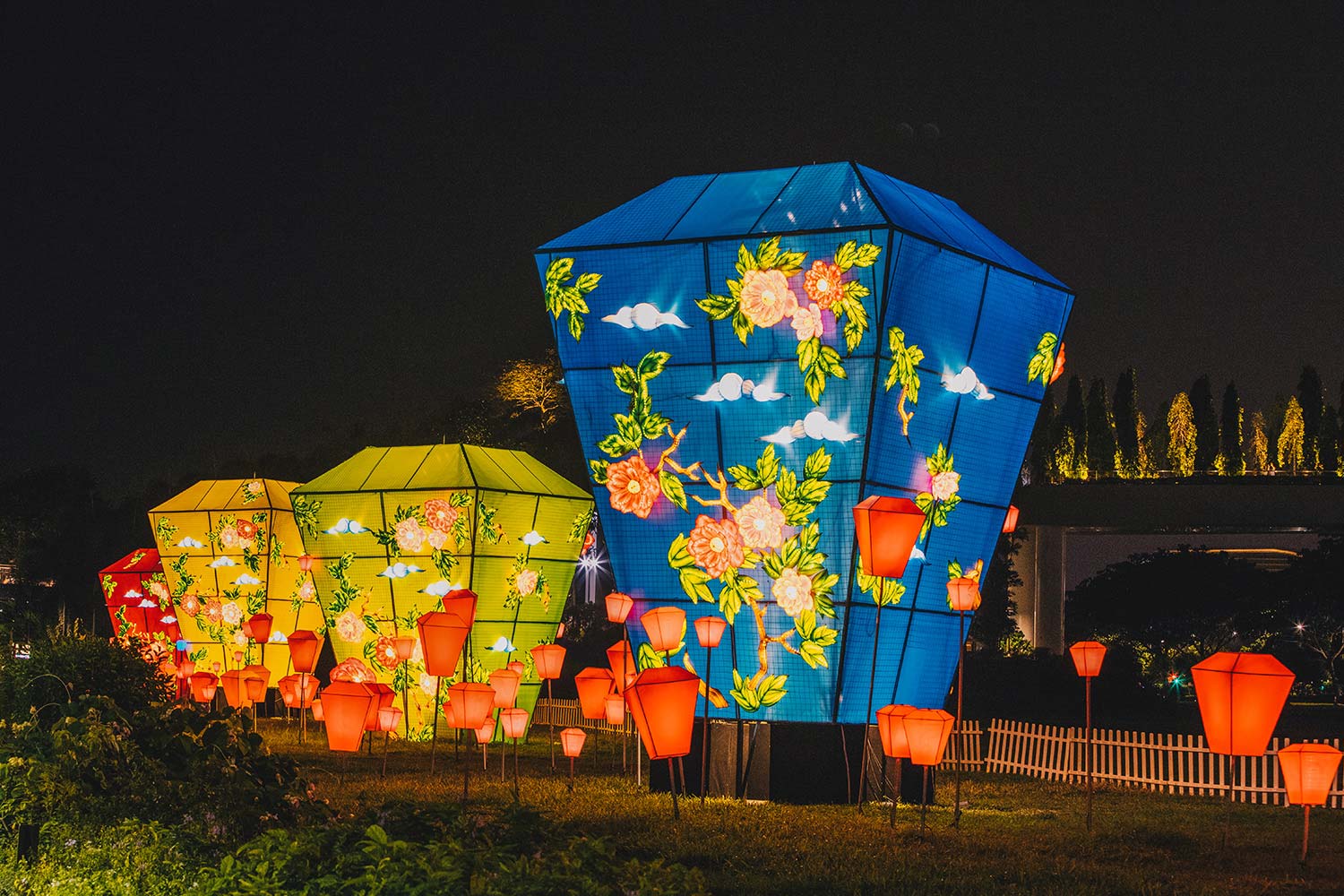 Also on display are 1,000 lanterns at Colonnade of Lights (灯廊). These lanterns are hand-painted by beneficiaries from various social service organisations, residents from Limbang and individuals from the Gardens' Friends of the Gardens membership programme.
For the first time, visitors can also make a wish at Golden Wishing Tree (许愿树) or Wish upon a Floating Lotus (许愿灯).
Mid-Autumn @ Gardens by the Bay 2018
6 Sep – 24 Sep
6:00pm – 10:00pm (Mon to Thu)
6:00pm – 11:00pm (Fri to Sun)
Gardens by the Bay
Programmes are free unless otherwise indicated. For information and updates, visit www.gardensbythebay.com.sg/midautumn/