Stroll into the "Giant Revolving Lantern" (巨型走马灯) at Gardens by the Bay this Mid-Autumn! Visitors can enjoy an immersive experience of the legend of Chang E and Hou Yi under the Supertrees at the Supertree Grove.
It is a reinterpretation of the traditional "Zou Ma Deng", or "trotting horse lamp", where heat from a candle causes paper cuttings hanging within the lamp to rotate, casting moving shadows on the outer panels.
Spanning across 30 metres and with inner panels measuring 4.5 metre high, this revolving lantern at Gardens by the Bay will rotate and tell the story of Chang E and Hou Yi through artwork inspired by Chinese shadow puppetry as Chinese instrumental music plays in the background.
The "Giant Revolving Lantern" is one of the 14 lantern sets that will light up the Gardens during Mid-Autumn Festival 2019. This year's festival is themed "Legacies" (传承) and will run from August 30 to September 15.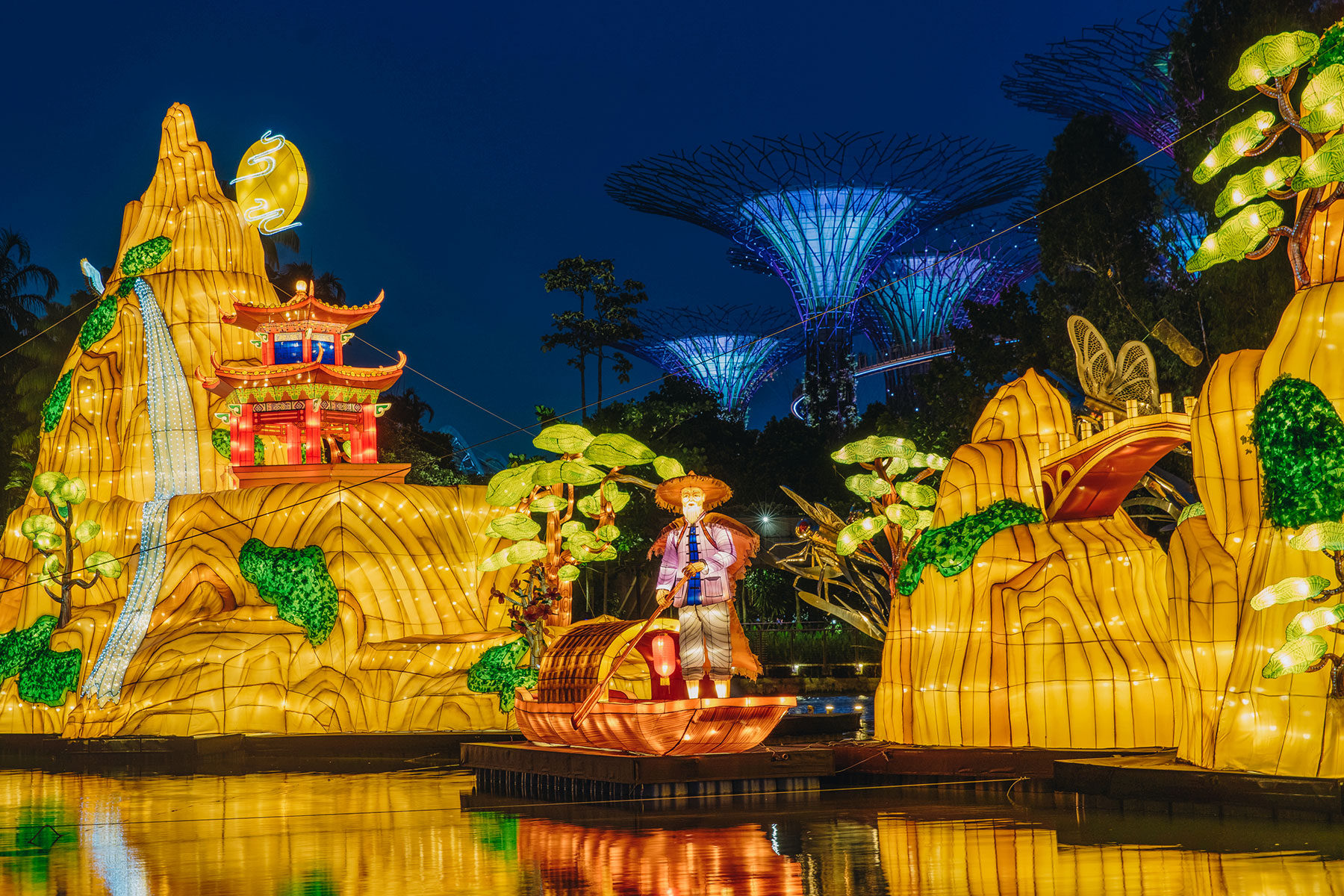 Other lantern sets of note include "Water Colours" (山明水秀), which brings to life a Chinese landscape painting, and "Martial Arts" (武山徒步), which showcases characters practising their moves amidst nature. These two lantern sets complement each other and stretch over 120 metres on the water – the longest lantern installation in the Gardens to date.
There is also "Joyous Union" (喜结良缘), a depiction of a traditional Chinese wedding ceremony where the groom brings his bride home in a sedan chair; "String Puppet" (传承布袋戏), a depiction of the art of Chinese puppetry; and the dramatic "Dragon Dance" (武龙戏珠) where a dragon's winding body forms a 47-metre-long archway.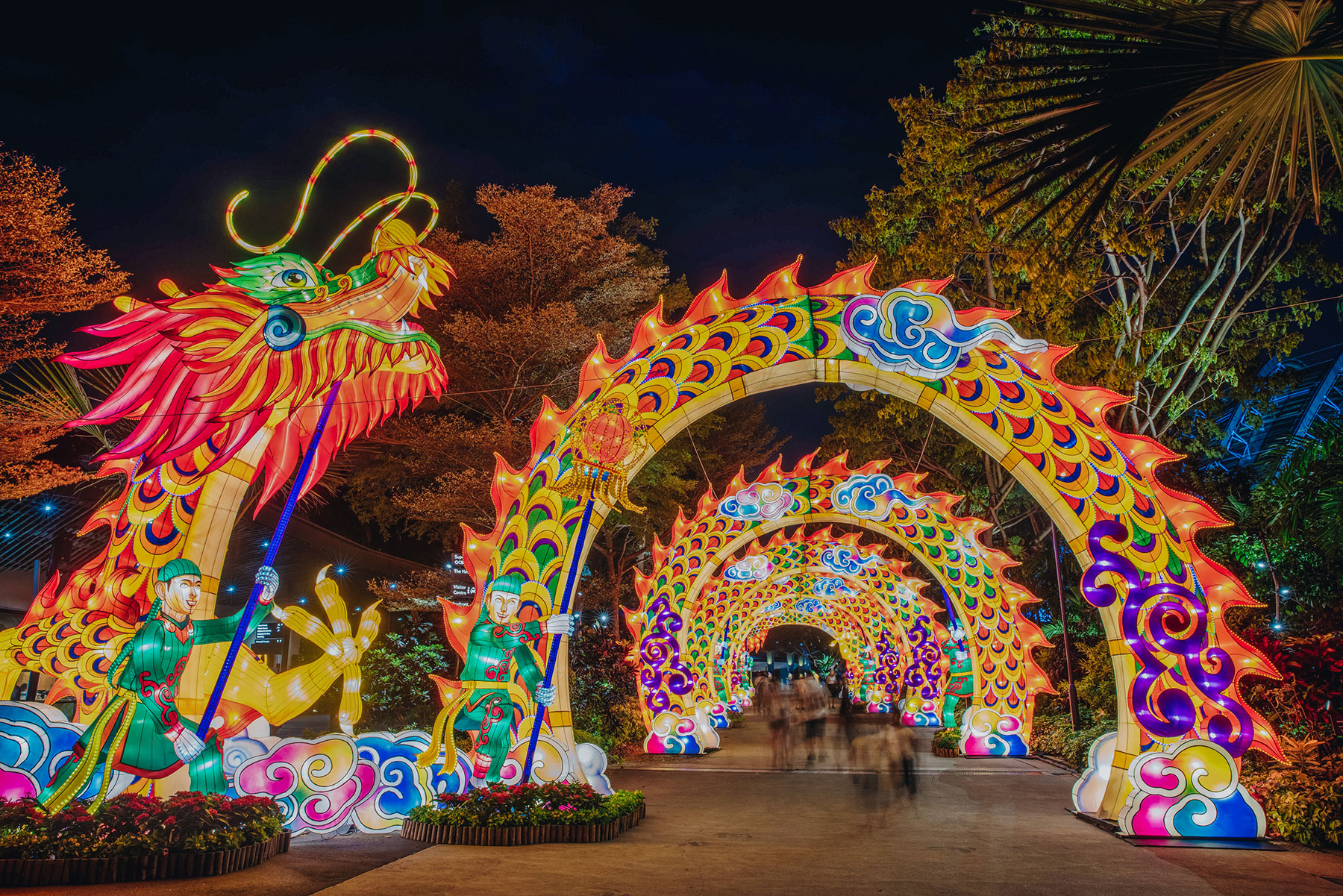 On 14 September, join in for a stroll through the Gardens amidst beautiful lantern sets, led by a magnificent LED Dragon, starting from the beautiful lattice structure from which 90 lanterns are hung. Free LED fabric lanterns will be provided for participants who take part in the walk too!
In addition, from Wednesdays to Sundays during the festival, 10 local arts groups will delight the crowd with free cultural performances. Visitors can also look forward to community displays featuring more than 2,250 lanterns hand-painted by Singaporeans from all walks of life, engaging games, and a food street.
Mid-Autumn Festival 2019 is organised by Gardens by the Bay, in partnership with the Chinese Media Group of Singapore Press Holdings, People's Association, SMRT Experience, Singapore University of Technology and Design, and Tote Board. The event is supported by the National Arts Council, and sponsors Kwan Im Thong Hood Cho Temple, and Sheng Siong Group.
30 Aug – 15 Sep 2019
7:00 pm to 11:00 pm
Gardens by the Bay
Programmes are free unless otherwise indicated. For more details, visit gardensbythebay.com.sg/midautumn.