SINGAPORE – Gardens by the Bay is hosting the largest number of life-sized tiger sculptures in Singapore as part of WWF-Singapore's AR-mazing Tiger Trail, which raises awareness of tiger conservation and other key environmental issues facing the planet today.
Featuring a total of 33 tigers exhibited across key locations in Singapore, each tiger has been decorated by a renowned local or international artist, presenting various perspectives on how climate change, poaching and deforestation are affecting tigers in the wild. A total of eight sculptures can be found in a trail that spans the area outside Flower Dome, to Supertree Grove, to near The Meadow at Gardens by the Bay.
Through these sculptures, visitors can experience perspectives by the likes of Rolling Stones guitarist Ronnie Wood, local interdisciplinary artist Kumari Nahappan, cult Thai illustratorPhannapast "Yoon" Taychamaythakool, and British visual artist Jake Chapman of the Chapman Brothers fame.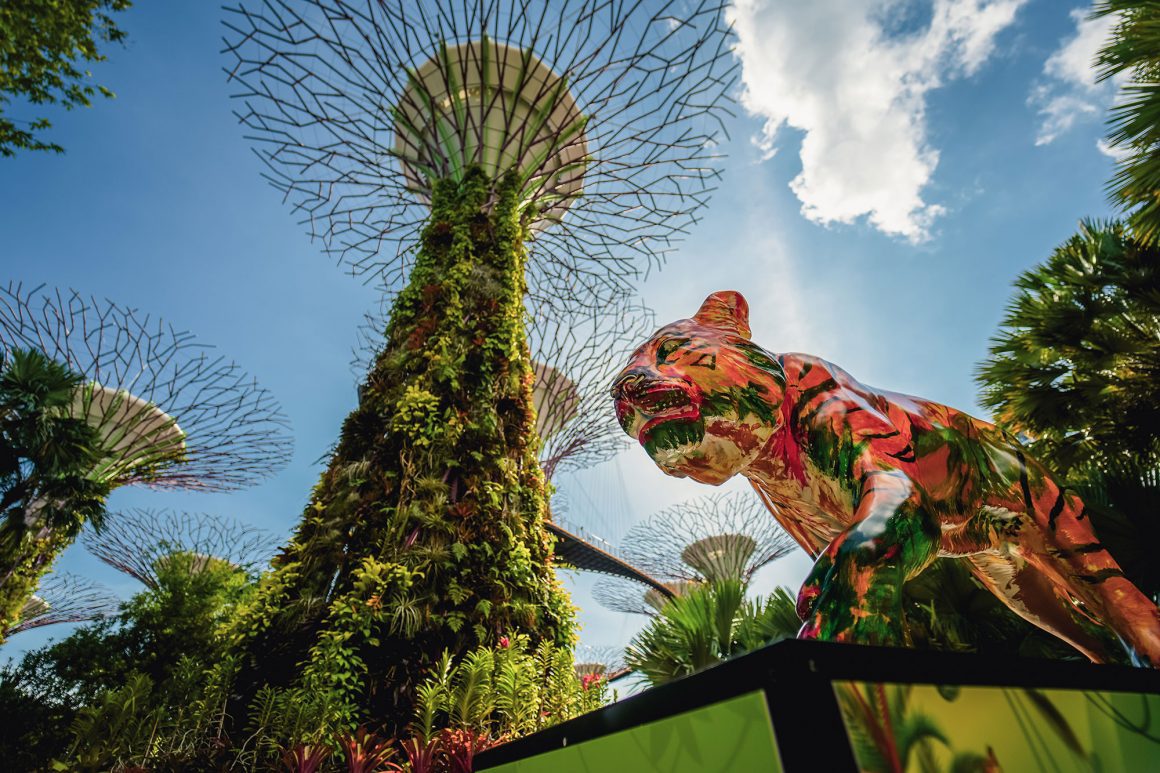 As Gardens by the Bay marks its 10th anniversary this year, it aims to further its efforts in raising public awareness on biodiversity and sustainability by introducing more programmes and activities with a strong environmental thrust.
"One such example is partnering WWF-Singapore for its AR-mazing Tiger Trail. For the rest of this year, the community can look forward to a series of exciting and engaging sustainability-themed activities at Gardens by the Bay."

Felix Loh, CEO of Gardens by the Bay
The exclusive Tiger Trail Passport at Gardens by the Bay
As part of a community engagement experience that is only available at Gardens by the Bay, the public can pick up a free Tiger Trail Passport from the event information signboards located at the Gardens' Main Entrance and Canopy to embark on a mini-adventure trail around the Supertree Grove. They can learn fun facts about the Gardens while searching for the tigers, and collect unique emboss stamp designs from each tiger sculpture.
In addition, they can enjoy discounts at any participating merchant in the Gardens upon presentation of the Tiger Trail Passport. There will also be the exclusive sale of responsibly sourced Tiger Trail Merchandise at the Gardens' Conservatory Gift Shop, and part of the proceeds will go to WWF-Singapore's tiger conservation efforts in Southeast Asia.
WWF-Singapore's AR-mazing Tiger Trail
Ongoing till 9 April 2022
Admission is Free.
Gardens by the Bay
18 Marina Gardens Drive
Singapore 018953
For more information, visit https://gardensbythebay.com.sg/tigertrail or  https://tigertrail.wwf.sg.