Among the many restaurants in Club Street is a hidden gem called Caffé B. If the name sounds familiar then you would have seen them at The Shoppes at Marina Bay Sands opposite Mont Blanc. In the previous incarnation, Caffé B was a nouveau Italian fine dining restaurant and bar, serving cuisines with Japanese essence.
The establishment is now housed in Club Street and has transformed into an elegant, contemporary dining & drinks destination. The carefully curated interior design is perfect for business drinks or to effortlessly impress a date.
Be greeted by two majestic island bars as you take your first step into Caffé B. Here, you will get to have an intimate experience with the friendly bartenders as they mix up drinks right before your very eyes. The cocktails here are quite special and the attention to detail embodies the Japanese spirit.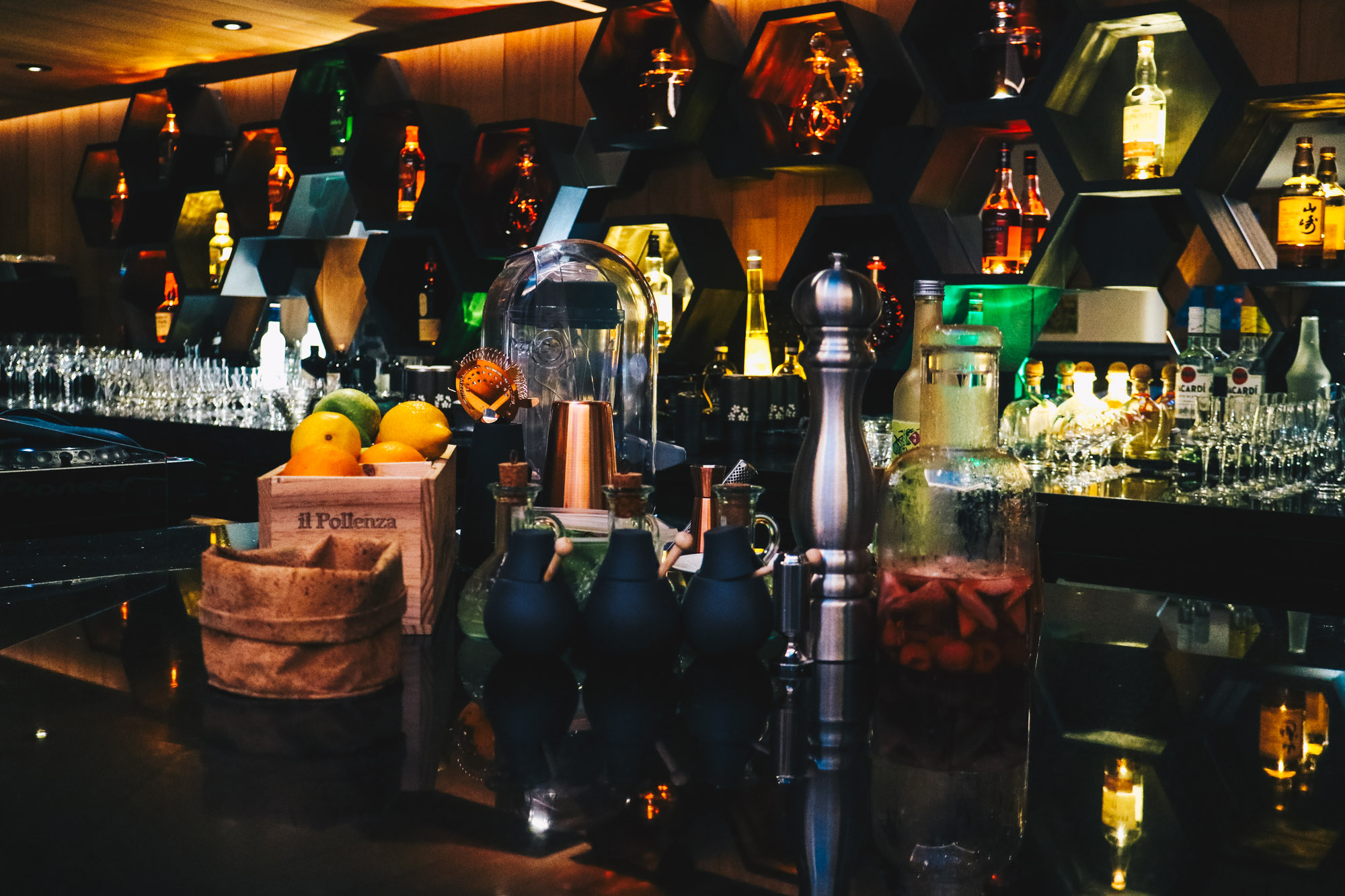 COCKTAILS AND A WHISKY
We started the night with a few cocktails(one is really insufficient), Yuzu Mojito $22, the signature spin on the Mojito with fragrant Yuzu Liqueur, original Sweet Sour Mix, Palm Sugar, Lime, fresh Yuzu & Sour Plums with Mint Leaves. I loved this particular one for the refreshing taste and the sherbet made the drink more like a desert. The Liqueur is of high quality and you will definitely not get that choking alcohol hit.
The Sake Cucumber $22 is an elixir of muddled fresh Cucumber, Brown Sugar, home-made Simple Syrup, Lychee Juice & Kiku-Masamune Sake. Pair with fresh Ginger Slices,  this is another refreshing choice on the menu and the Japanese style pottery accentuated the experience.
Heart $25 Sweet & Sour concoction of Yuzu Plum, Lime Juice, fresh Raspberries & Mathilde Blackcurrant Cassis tasted like an intense multi-layered version of Ribena.
A hidden drink that you might not be able to get your hands on(try making friends with the friendly manager) is the Michel Couvreur Overaged Malt Whisky, A blended malt from Michel Couvreur, who gets Scotch whisky sent over to France to be aged in Sherry oak casks in Burgundy before blending. The smooth whisky is easy to drink with bright fruity notes quite unusual, but very intriguing. If you get a chance to try, drink this as it is without any additives.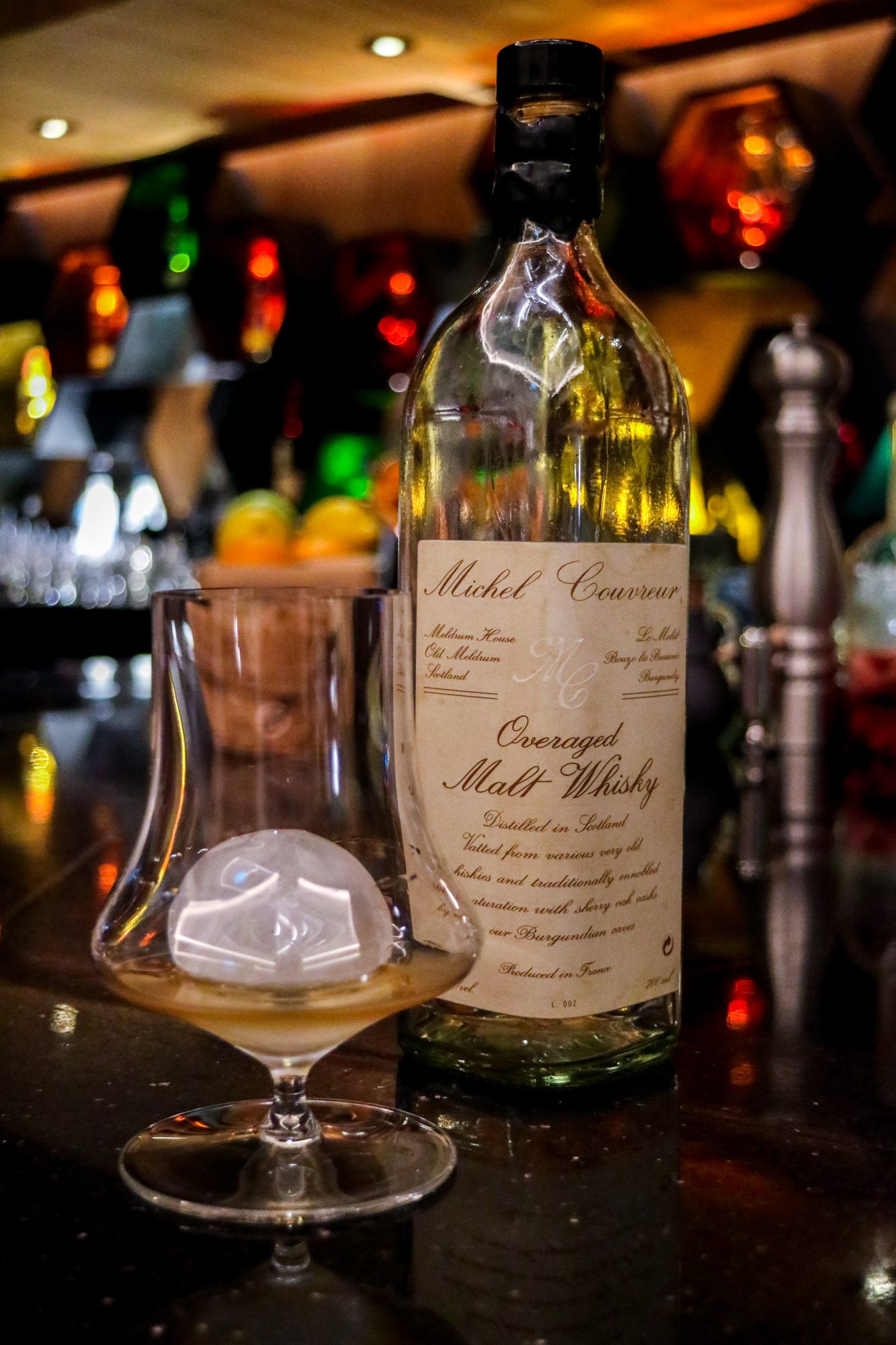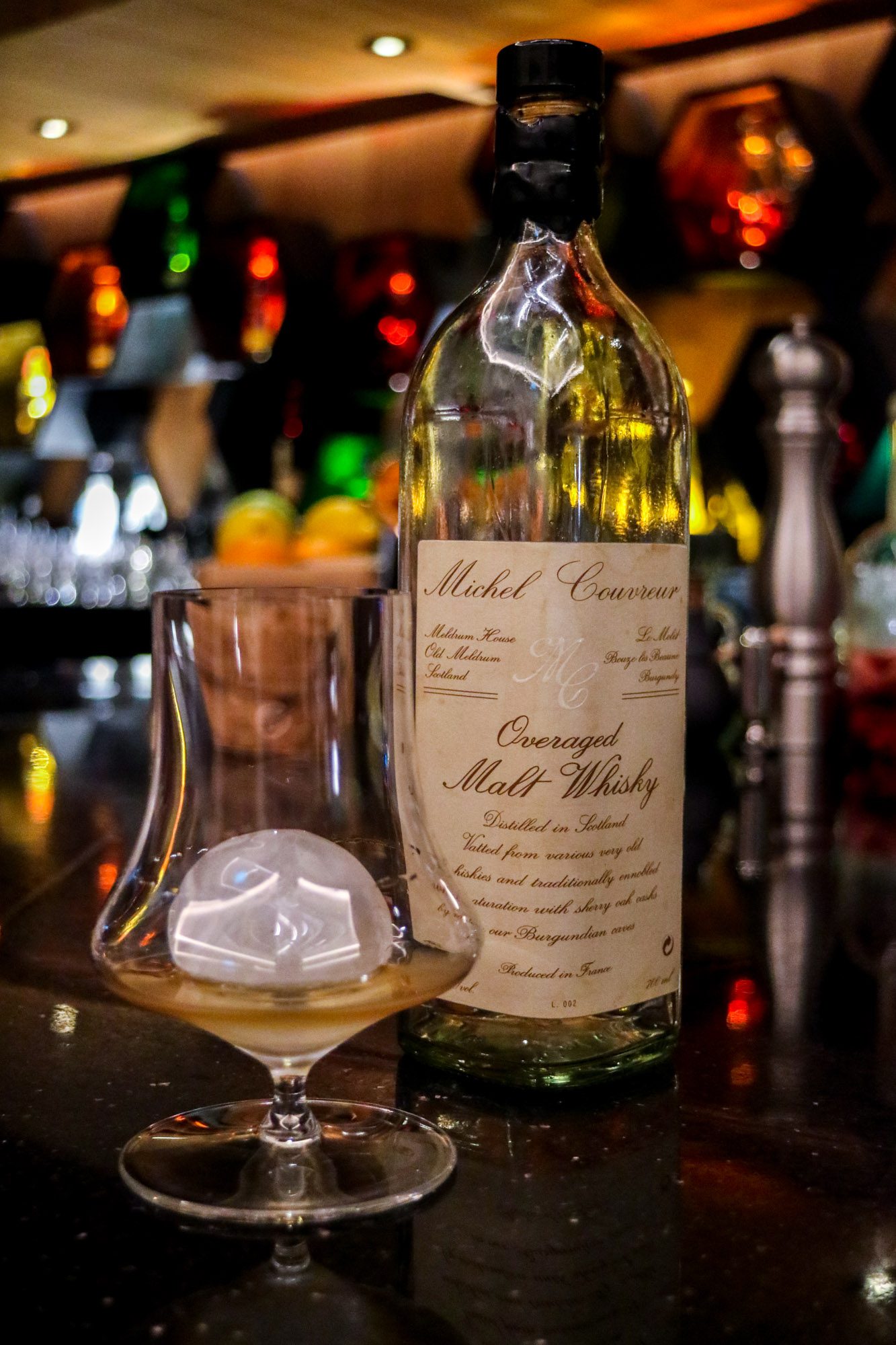 ANTIPASTI
We started dinner with Farmer's Egg $12, Creamy Clam Espuma, Shio Konbu Seaweed, Sea Urchin, Lemon Jam and Chive plus garnish of edible flowers. I honestly do not think that a simple egg dish could be this luxurious, the premium ingredients elevated the humble egg and brought sweet and savoury dimensions to each scope. Wishful hoping on my part but I wanted a cup size serving…haha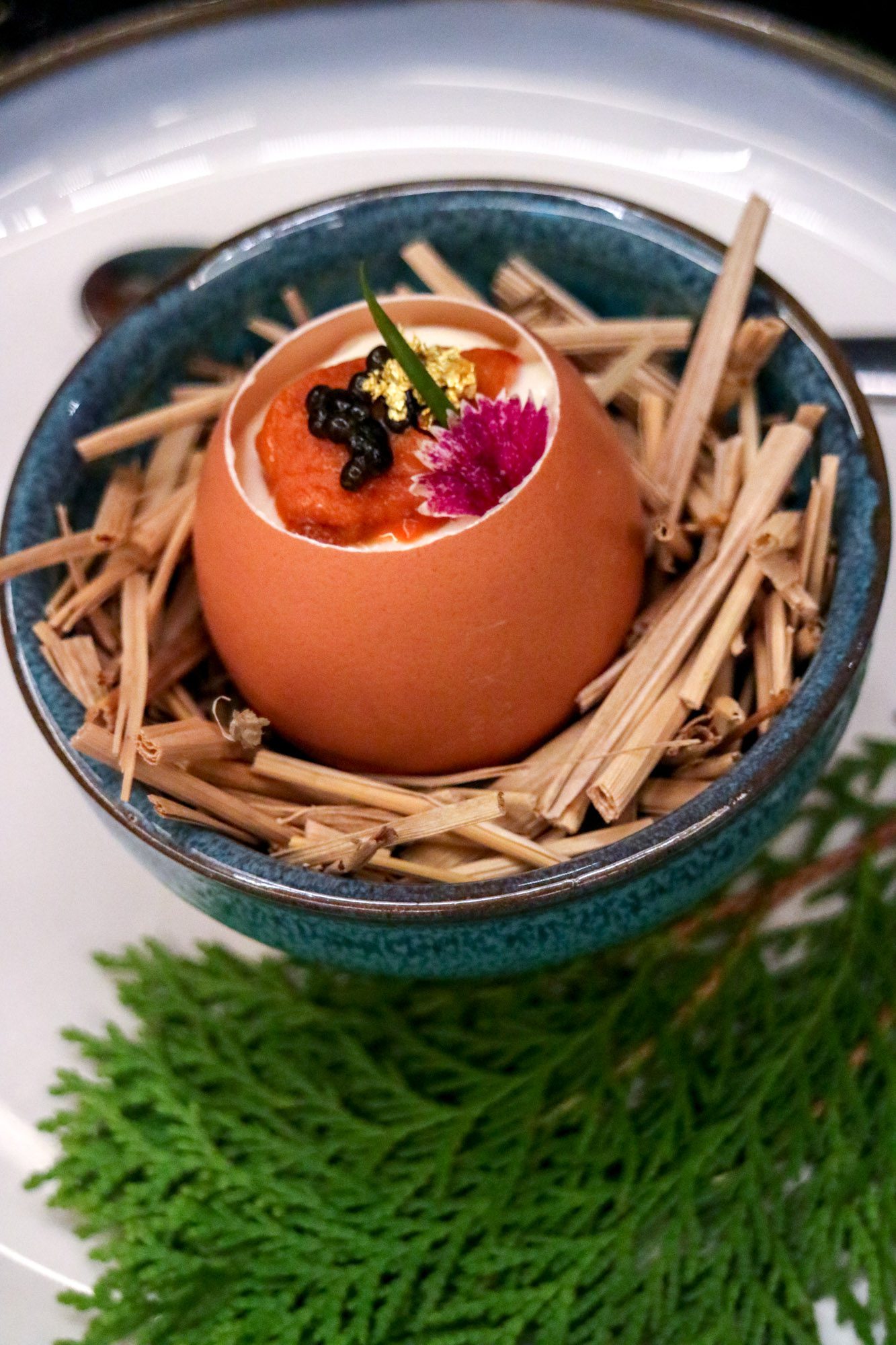 Burrata Cheese $18 Served with Tomato Jelly, Genovese Sauce, sliced Lemon Peels, Extra Virgin Olive Oil, fresh Basil & garnish of Edible Flowers had no faults to the dish. The fresh burrata was creamy and satisfying. The interesting element was the tomato jelly which was rich in taste and a modern take on the classic Italian Antipasti dish.
The plump Hiroshima Oyster $15 will be a delight for seafood lovers with the very interesting Wasabi Foam, Ponzu Jelly, Ikura & Yuzu Dressing. Pass on the Tabasco sauce and embrace the sour, spicy and salty Japanese style combination.
The Churros with Truffle Mayo $9 served with freshly grated Parmesan Cheese was a bit of the letdown. The churros was a little floury and the heavy truffle mayo weight the dish down. The Grated Parmesan cheese did not really stick and overall the dish felt a little greasy.
PESCI
For mains, we tried the Scallops & Turnip $22 Served With Jus de Mer, Brussels Sprouts & Turnip. The first thing that struck us was the very sweet Hokkaido scallops! The scallops were also cooked perfectly being browned on the outside while preserving a soft interior. Turnips were crunchy with a natural sweetness and the yellowish soup had a strong umami flavour.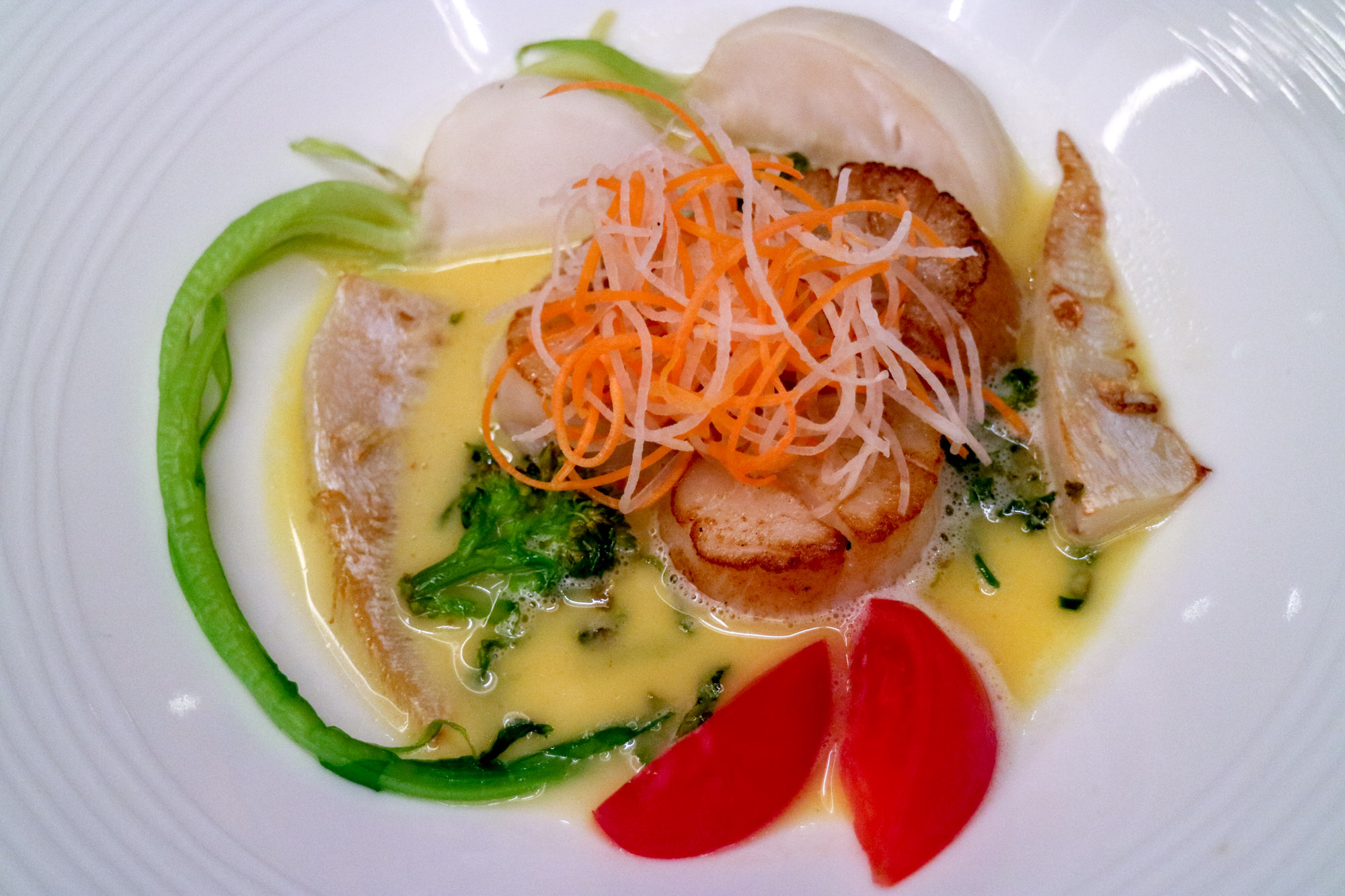 PASTA
Spaghetti Vongole $28 with fresh live Vongole tossed with Spaghetti in White Wine & Fresh Tomato. Garnished with a touch of Shiso Leaves. The spaghetti was cooked perfectly and the seafood flavour from the clams was sweet and bright in the reduced white wine base. The clams were plump and the taste was enhanced from the garlic.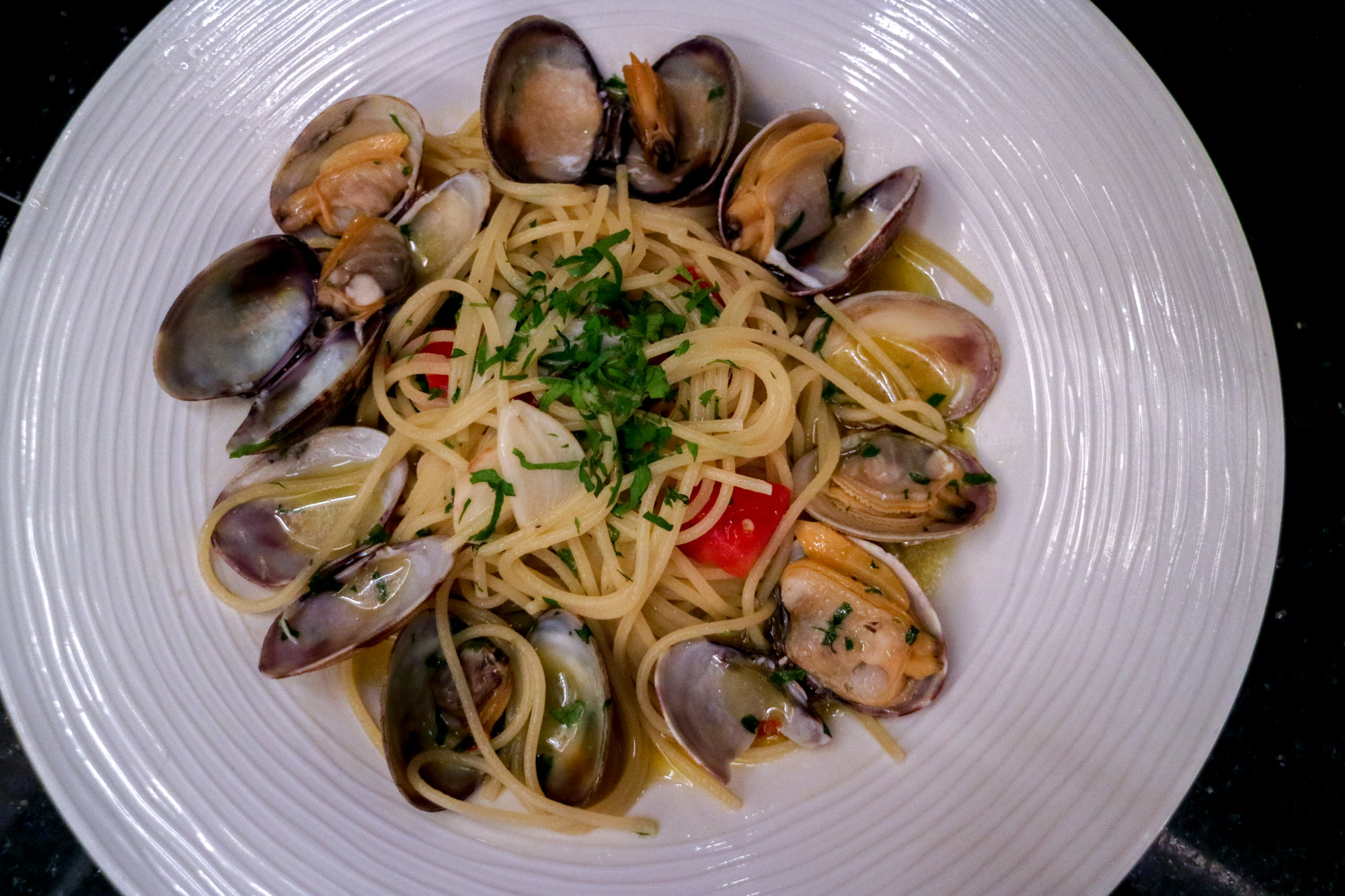 We tried a small portion of a second pasta using Japanese eggplant in a rich tomato sauce. The eggplant was sweet and cooked with a light blench in hot water to preserve the natural flavours.
DOLCI
We got a little greedy and tried three of the popular deserts and we were not disappointed. Each dish was like a piece of art, our eyes were pleased before our palates. We started with the Glass Montebianco with Chestnuts $10, Airlifted Chocolate and White Chocolate Powder. The chestnut was fragrant, yummy and the ice cream and sponge were light.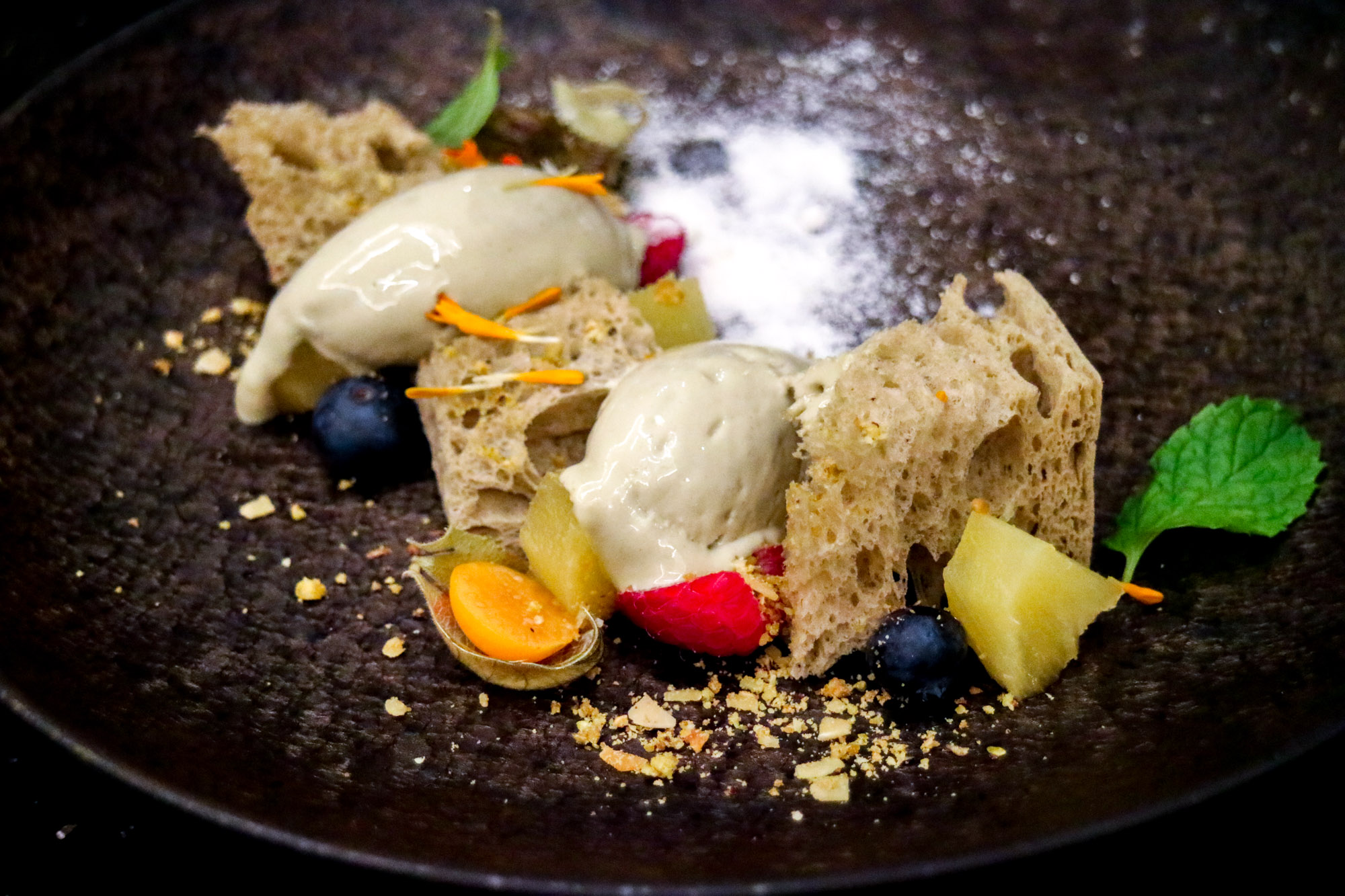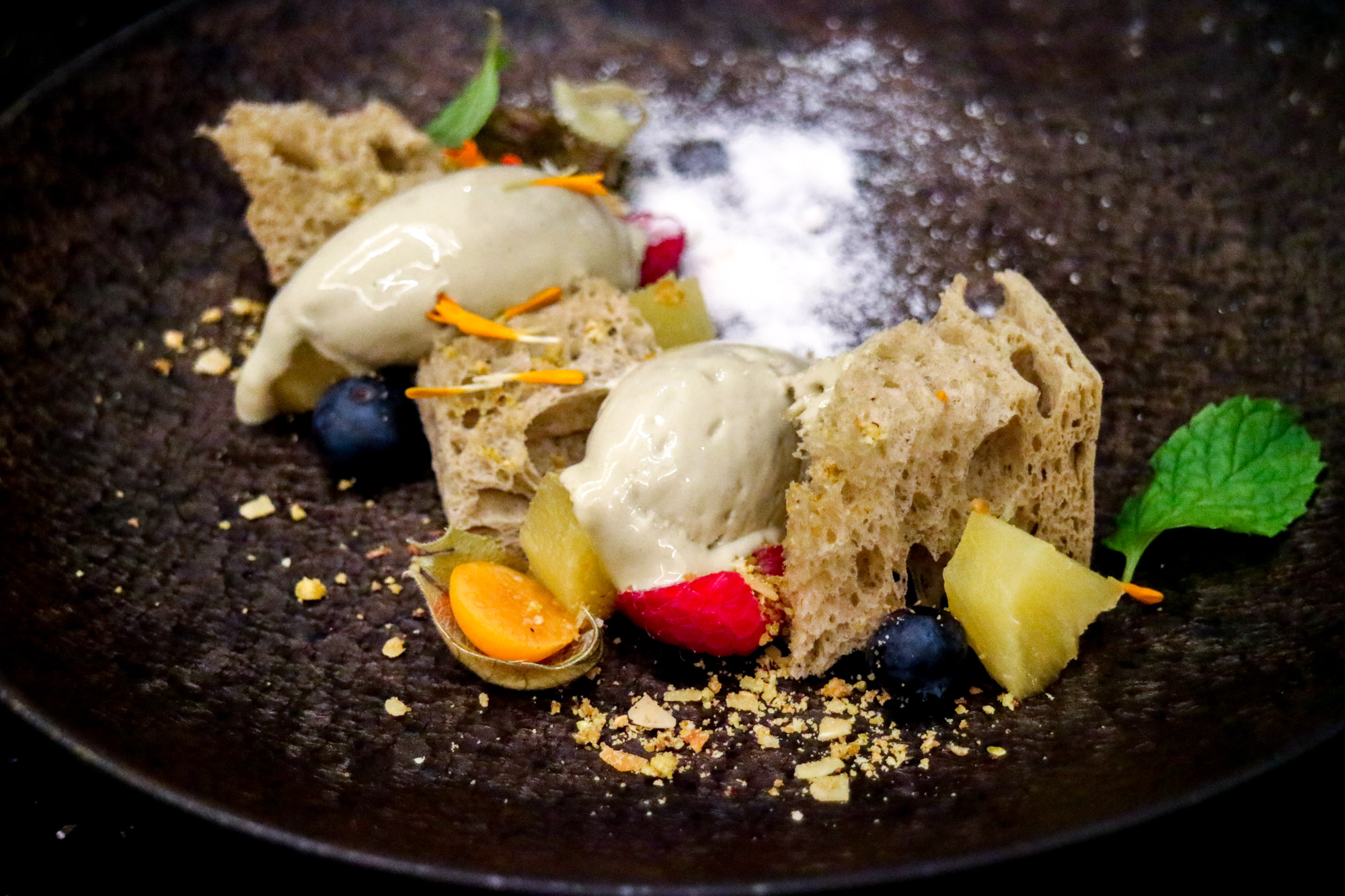 Peach Melba $10- Lime Es-puma, Peach Compote, Raspberry Puree, Peach Gelato & Almond Zest. Another light dessert that looked beautiful in a while glass. The flavours of each component were brought together by the lime Es-puma(foam) as it started to slowly dissolve and the marry the concoction.
Pineapple Compote & Pistachio $10 – Fresh Pineapple Compote infused With Herbs. Served with Pistachio Gelato, White Chocolate Powder, Pistachio Sponge, Berries & Hazelnut. The pineapple was fresh and bright and the Pistachio Gelato was light without being overly sweet. The part that I did not quite enjoy was the pistachio sponge which needed a bit more flavour, the texture was closer to a bread rather than a cake.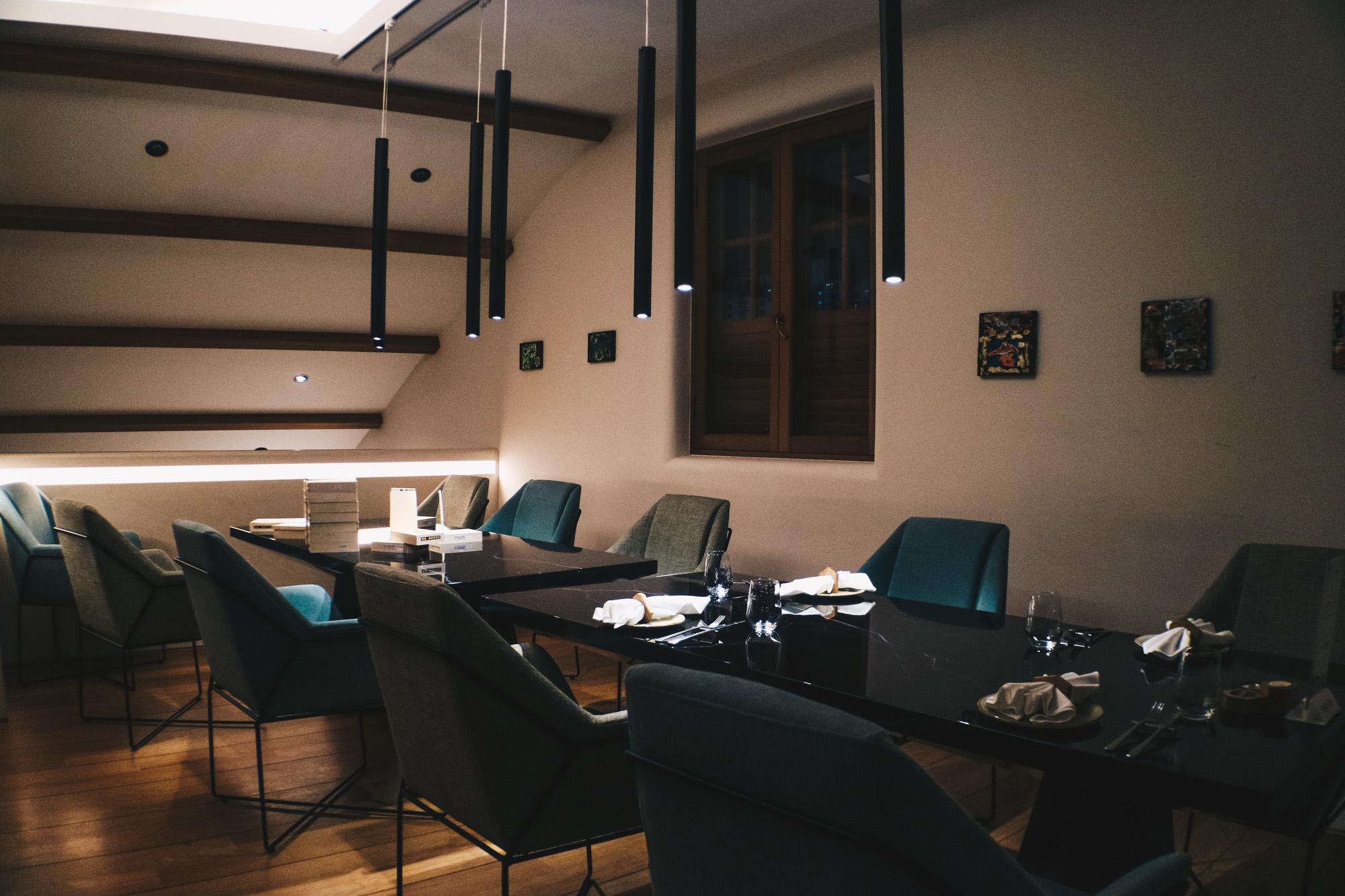 In closing, Caffé B is a fantastic location for those who enjoy modern takes on classic Italian dishes accentuated by Japanese elements. The slick interior design of the bar with it's carefully curated cocktails are posed to impress and not forgetting to mention the high service standards provided by the friendly crew of Caffé B.
Caffé B
64 Club St, Singapore 069438
Monday to Saturday:
2:00pm – 12:00am
Sunday: Closed
Tel: +65 8218 7751
Email: michael@caffeb.com.sg
This was an invited tasting, though all opinions expressed are our own.