Sponsored Review
Ever wonder of enjoying five-star treatments at non-absurd prices in Singapore? BIG hotel is not a budget hotel, but a hipster boutique hotel which only provide the luxuries that matter for your stay.
Upon arriving at the lobby, we're attracted to the Scandinavian-inspired interior design and the first thought that appeared in my mind was, very instagram-able hahaha!
Check-in process was smooth and it didn't take long for us to be in our room 🙂
There is a total of 308 rooms, with 184 Superior Rooms, 84 Deluxe Rooms, 36 Executive Rooms, 3 Bigstar Suite and 1 Bigshot Suite. Guess which room are we checked-into? The one and only Bigshot Suite in the hotel with a outdoor balcony.
The room layout was well thought of and I think it's quite nicely designed. Upon entering the room, there is a area for you to place your luggage on the left and a huge full body mirror on the right.
As you move your way in, you will enter the washroom which is on the right where you can find your shower amenities such as hair dryer, toothbrush, shower gel and shampoo here, and to the left is the bathroom with opulent rain showers.
However, we felt that a small little holder can be placed in the bathroom so we do not have to put our shampoo and shower gel on the floor instead.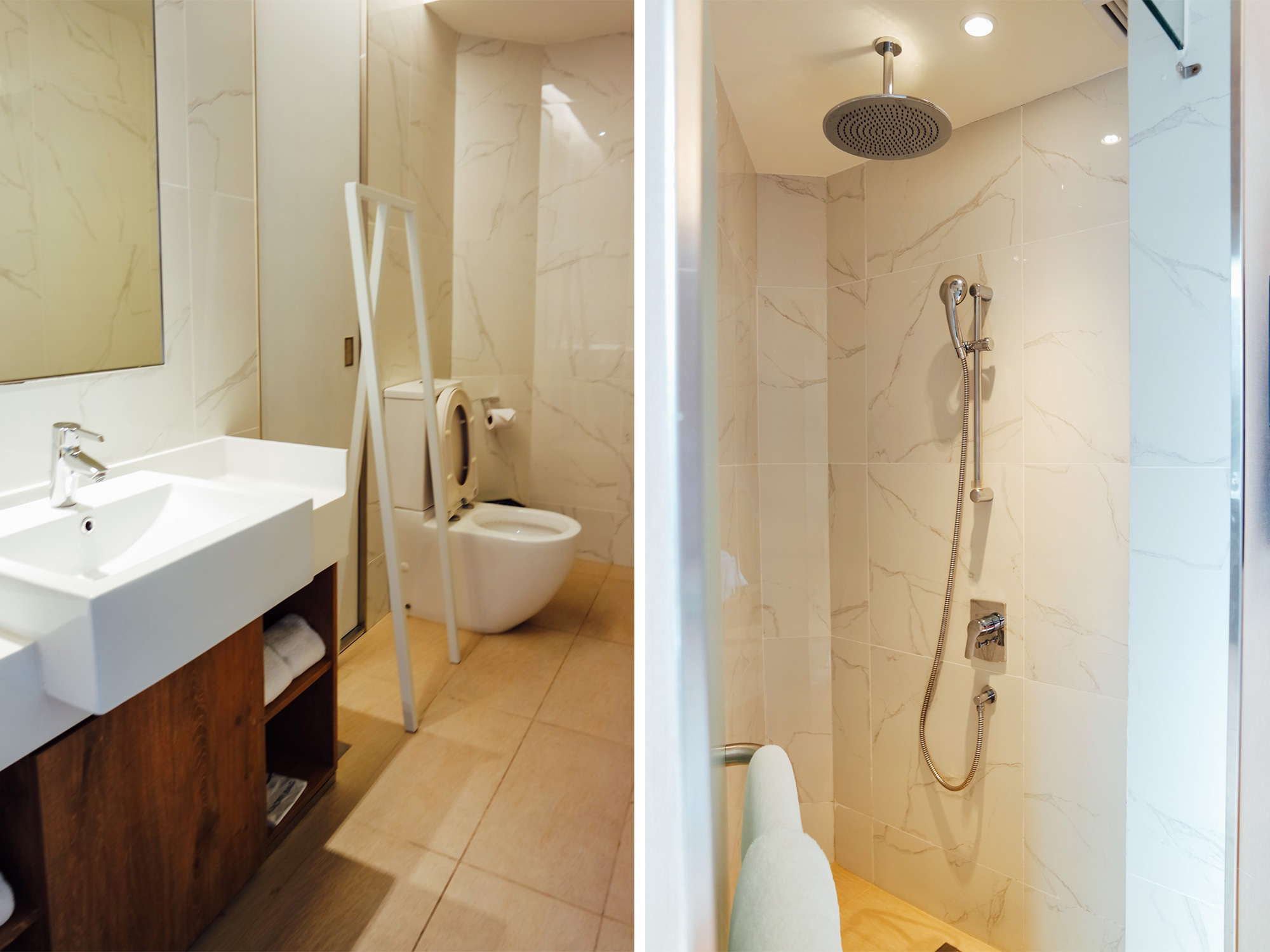 And now, the bed! high thread count linens with plush top and four pillows.
I think the bed was quite okay for me but would be good if there is a choice of soft and hard pillows 🙂
A long work desk area is located just right beside the bed, with a Nespresso machine to ease your coffee crave. There is also an in-room tablet where you can easily control the lightings in the room, as well as checking out what are the places available within the hotel vicinity.
Not to worry if you do not have your travel adapter with you as all the power socket are universal friendly! Oh and not to forget, all rooms comes with FREE WIFI!! hooray~
and i must say that i love this golden hanging lamp very much!
Another great thing that the hotel offer is the Free movies-on demand! There's a wide selection of movies that you can select from and watch it for FREE in room! Time to stock up some chips and drinks for the 7-11 just right below the hotel and enjoy some great movies in bed 🙂
Oh yes, I was mentioning about the only room with an outdoor balcony right? Here it is! Enjoying a cup of coffee in the morning or afternoon while lazing on the couch or sipping wine while enjoying the night breeze seems like a good idea isn't it?
You can collect free flow of hot or ice water as well as ice cubes from the dispenser located on every level.
Housed within the hotel, there is a gym, though not very big but well equipped, a mini art gallery, a bar as well as a well-known cafe, Froth where your breakfast will be served at.
Located in the middle of a vibrant district within walking distance to bugis and dhobby ghaut, there's so much more that you can around the surrounding.
If you are looking for a centrally-located hotel with easy access, without having a big hole in your pocket, do consider BIG hotel, a hip and trendy boutique hotel near the famed Orchard Road that is in the heart of Singapore.
BIG Hotel
200 Middle Road
Singapore 188980