Are you looking for the next holiday destination? If you have already covered every part of Malaysia or just looking for a place away from Malaysia, why not visit Bali, Indonesia? Bali has everything you need for a gateway, from temple hopping to peaceful retreats, beautiful beaches and breathtaking sunsets, Bali never disappoints.
If you ask me, where in Bali you should visit, I would totally recommend Ubud, Bali's ultimate cultural hub, the perfect combination of old traditions and new cultures, Ubud has something to offer everyone.
Swing away your worries at Zen Hideaway
Zen Hideaway is located in a traditional Balinese village which is 20 minutes away from central Ubud. If you are looking for an unparalleled experience, then this is where you should be. Other than the beautiful view of the Ayung River, a mini waterfall, lush paddy fields and Mount Agung, you will find the most spectacular thing you will not find anywhere else – a swing hanging between coconut trees, high on top of a hill.
This swing ride of your life will surely guarantee you the thrill and adrenaline rushing through your veins at that height and with spectacular view of the jungle, Ayung River and the mini waterfall. Once you are done swinging, you can go ahead and make full use of the hideaway which is exclusively designed for those looking for peace and serenity.
Enjoy a movie night at Paradiso Ubud, a raw food restaurant.
This unique restaurant in Ubud not only serves vegan and vegetarian mouth-watering delights at affordable rates but also has an in-house state-of-the-art cinema that you can enjoy. The best thing, you don't even have to pay for your seats, they are totally free. The restaurant screens some world class movies in their perfectly made, fully equipped theater that would surely please any cinema enthusiast all over the world.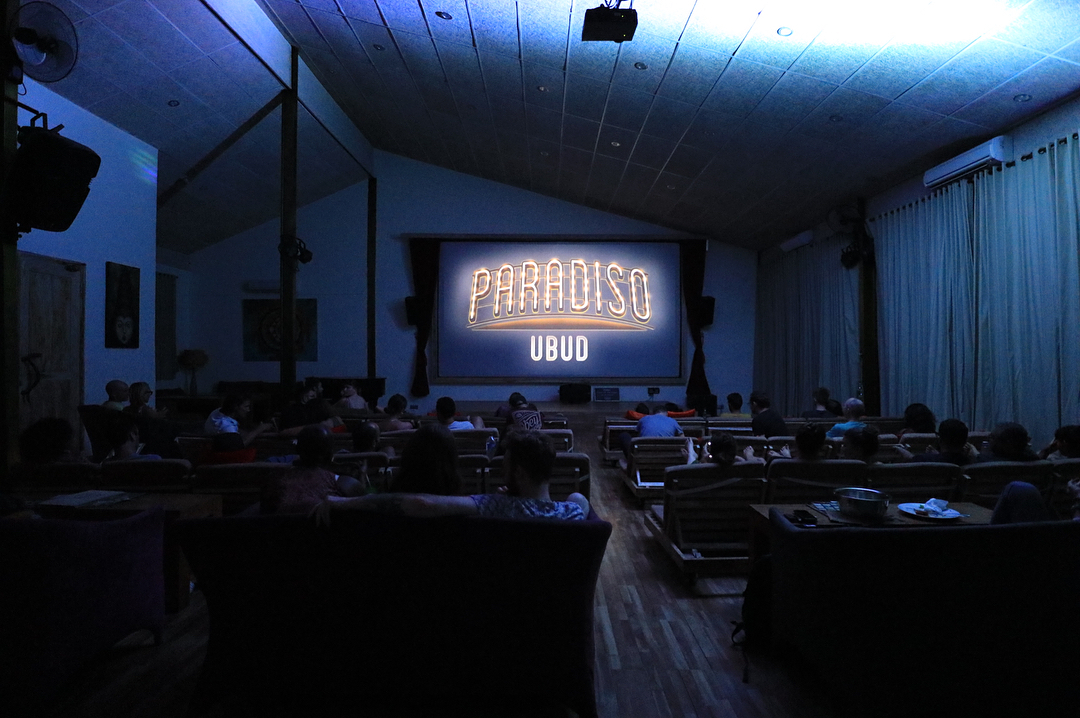 If you've got a few hours to waste and a few bucks to spare, do check their movie schedule on their Facebook page or website and drop in. Not only the movies, they also don't disappoint on their vegan menu that will surely even bring those meat eaters coming back for more.
Hug a honey bear at the Pod Chocolate Factory and Café
Bears, though they are cute and cuddly, they are predators and it sounds really crazy to hug one, but here at Pod Chocolate Factory and Café, you don't have to ever worry about losing your head while making the impossible, possible. In a pursuit to create the best chocolate in the world, Toby Garritt, an Ausie set up this Pod Chocolate factory here in Ubud. While he is slowly approaching his goal, he is surely reaching it considering the amount of reviews his chocolates get.
And if that is not sweet enough for you, go ahead and hug one of the three honey bears living in the premises after being rescued from poachers. Hugging and taking a picture with them might cost you some bucks but who wouldn't want a chance hugging these sweet, adorable creatures?
Now that we've covered just some of the things that can be done here, why don't you go over to Ubud and cover the rest it has to offer? Plan your trip today with Traveloka Malaysia. They offer some of the cheapest flights available for flights from Kuala Lumpur to Bali with great deals too. So don't miss out and book them today for your adventure of a lifetime.