To commemorate Mother's Day, from 4 to 10 May 2020, Pan Pacific Singapore's award-winning Cantonese restaurant Hai Tien Lo presents two specially curated set menus for diners to thank their heroines with a gastronomic feast of oriental delicacies at home.
Diners can look forward to the eight-course "Loving Home Mother's Menu" featuring soulful staples Chef Ben enjoyed growing up, such as the kid-friendly Wok-fried Rice with Eggs and Light Soya Sauce (生抽蛋炒饭), Traditional Mum's Homemade Nutritious Soup (老妈靓汤) and Stewed Duck with Fragrant Yam in Fermented Beancurd Sauce (南乳香芋焖鸭 ), a sumptuous traditional specialty prepared with the red-hued fermented beancurd commonly found in Cantonese households.
Alternatively, the six-course "Joyful Mother's Menu" showcases flavourful highlights prepared with luxurious ingredients such as the fusion Pan-fried Foie Gras Mousse with Fish Roe and Hokkaido Scallops (鱼子鹅肝慕斯煎北海道带子),and Stewed Lobster with Inaniwa Udon in Signature Homemade XO Chilli Sauce (極品酱龍蝦稻庭面) bursting with fresh flavours of the sea. Both menus come with iconic peach-shaped Mini Longevity Buns, which symbolise a long, healthy life in Chinese tradition.
The Eight-course Loving Home Mother's Menu is priced at SGD170 for two persons, while the Six-course Joyful Mother's Menu can be purchased at SGD276 for two persons. Kindly refer to Appendix A for the full set menus.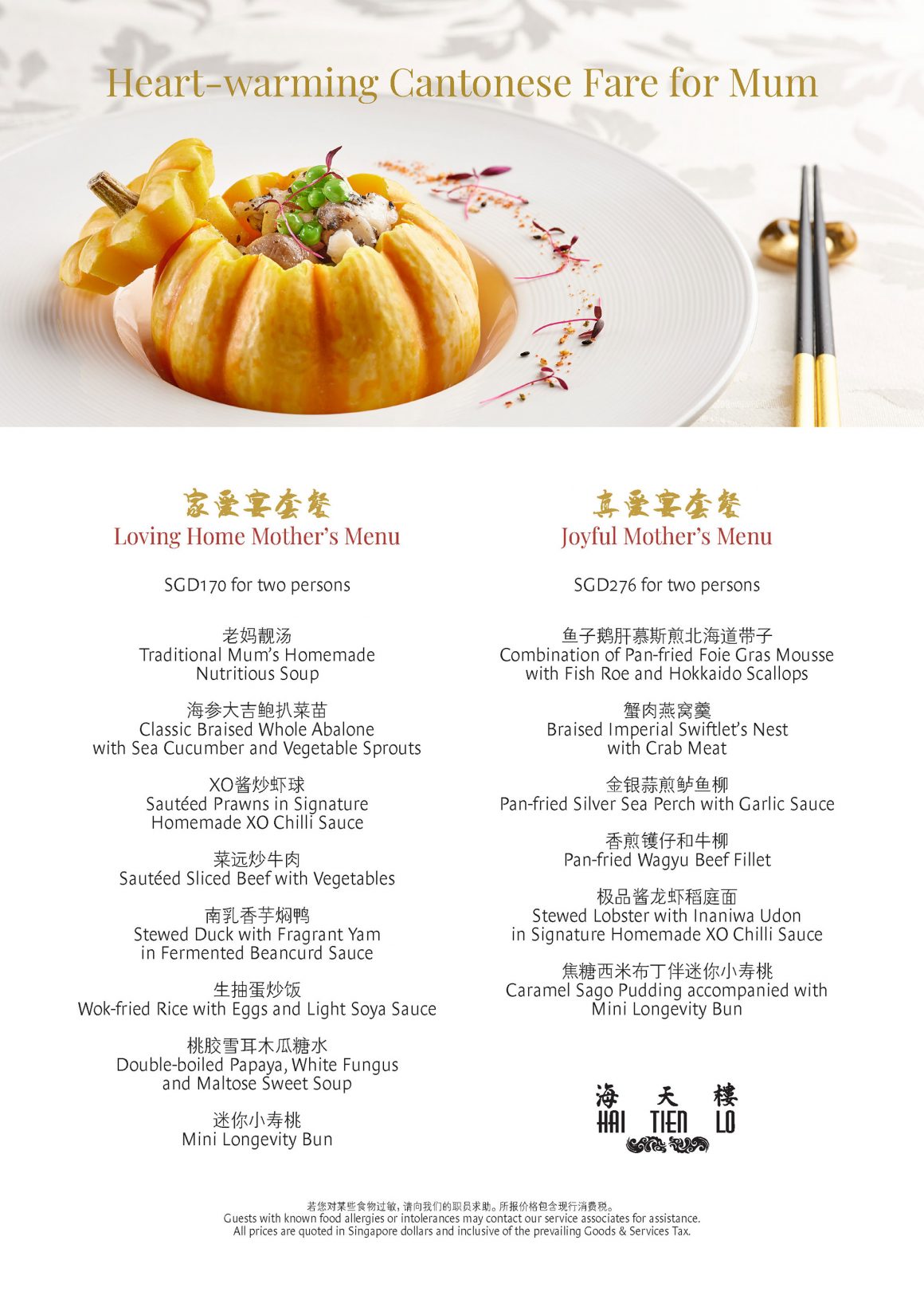 Diners can place their order from our e-shop at ppsinshop.com, and key in discount code TAKEAWAY25 to enjoy 25% savings on their order. Self-collection and complimentary delivery are available from 11:30am to 10:00pm via drive-through at Pan Pacific Singapore's main entrance driveway. For enquiries, call 6826 8240 or email dining.ppsin@panpacific.com.