With less than a week to Chinese New Year, are you all ready to welcome the year of the golden rooster? Here we have consolidated a list of events and activities to get yourself ready and into the mood of Chinese New Year at Chinatown!
What to See
Street Light-Up (牛车水农历新年亮灯)
7 Jan to 25 Feb 2017
Eu Tong Sen Street, New Bridge Road, South Bridge Road and Garden Bridge
7:00pm to 2:00am (Fri & Sat), to 12:00mn (Sun-Thu),to 6:00am (27 & 28 Jan)
Soak in the festive atmosphere as Chinatown worked with students from the Singapore University of Technology and Design (SUTD) for the sixth year to design the Street-Light Up, featuring 5,500 handcrafted lanterns. As day turns to night, the lanterns comes alive in a spectacular display of lights, visitors will be enthralled by a creative masterpiece that combines tradition with modern design.
Nightly Stage Shows (综艺晚会)
7 Jan to 27 Jan 2017
8.00pm to 10.30pm
Kreta Ayer Square
What's a celebration without music and dance? Come catch entertaining nightly performances of festive songs, cultural music and lively dance performances each night at Kreta Ayer Square and immerse in the joyful mood in Chinatown!
Where to Shop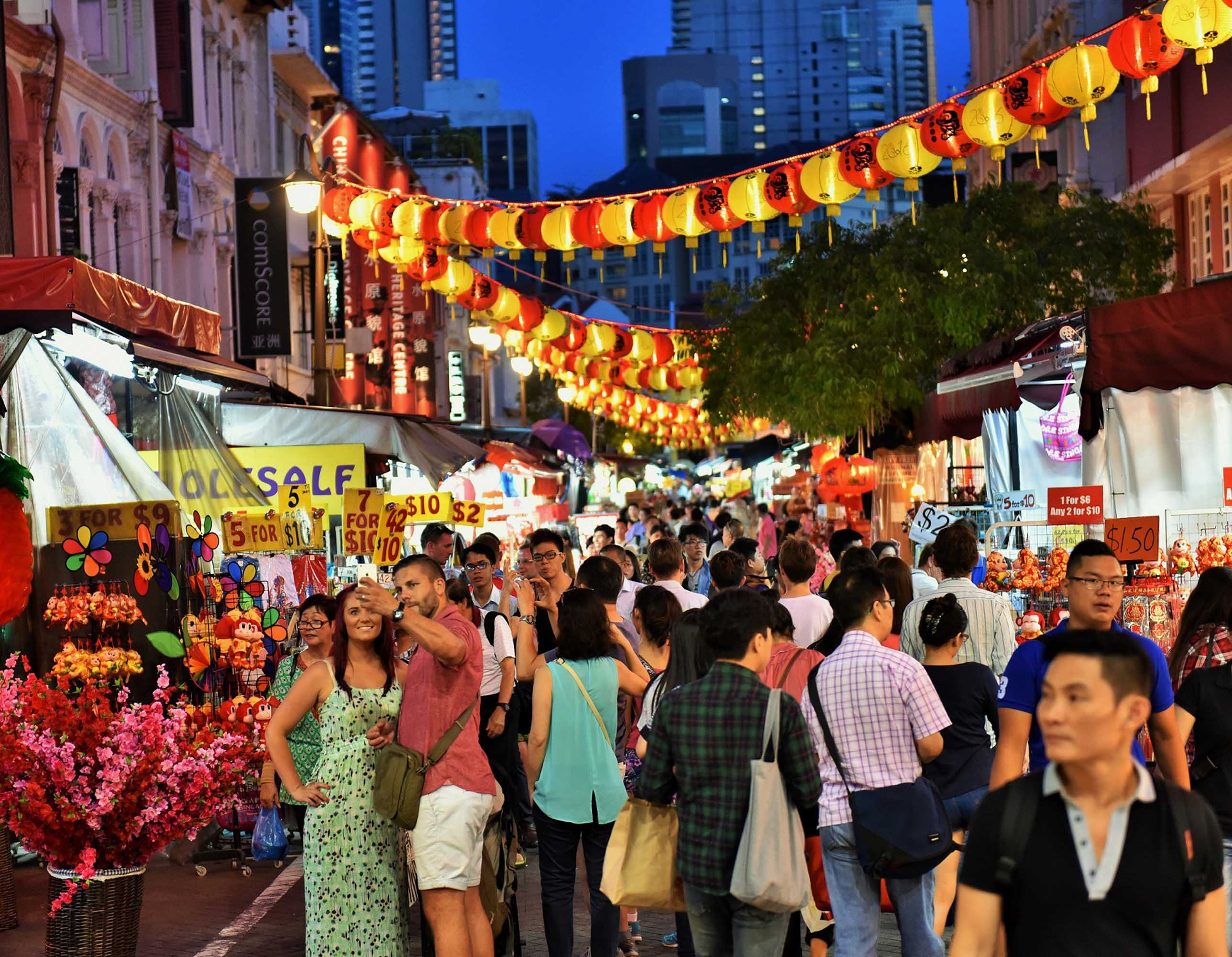 Festive Street Bazaar (年货市场)
6 Jan to 27 Jan 2017
Pagoda Street, Smith Street, Sago Street, Temple Street and Trengganu Street
6:00pm to 10:30pm (Daily), to 1:00am (CNY Eve)
The Festive Street Bazaar and Carnival is your one-stop shop for all your festive goodie shopping! With 440 stalls selling the widest range of Chinese New Year-themed delicacies, traditional goodies, decorative items, costumes and more, it's the place to be for both local and overseas visitors wanting to soak in the bustling and festive atmosphere!
What to Eat
YouthEATS @ Temple Street
6 Jan to 27 Jan 2017
Temple Street
6:00pm to 10:30pm (Daily), to 1:00am (CNY Eve)
For the first time, cooked food will be available for sale at the Festive Street Bazaar at a specially allocated area called YouthEATS @ Temple Street. 12 enterprising entrepreneurs, including youths, will set up shop offering a variety of popular and unique festive eats that will tantalise the taste buds, complementing the popular traditional food offerings at the Festive Street Bazaar.
What to Do
Chinatown Walking Trail (牛车水农历新年文化之旅)
21 Jan & 22 Jan 2017
3.30pm to 5.00pm
Information Booth at Kreta Ayer Square (Meeting Point)
Dive into Chinatown's rich heritage and culture on this guided tour along the story-filled streets of Kreta Ayer Road, Sago Street, Pagoda Street and New Bridge Road. Experience the liveliness of the Chinese enclave and learn about its colourful past while taking in the many sights and sounds of the CNY celebrations.
Complimentary for all, the Heritage Walking Trail is conducted in English. Pre-registration is required at www.chinatownfestivals.sg, and slots are allocated on a first-come-first-serve basis.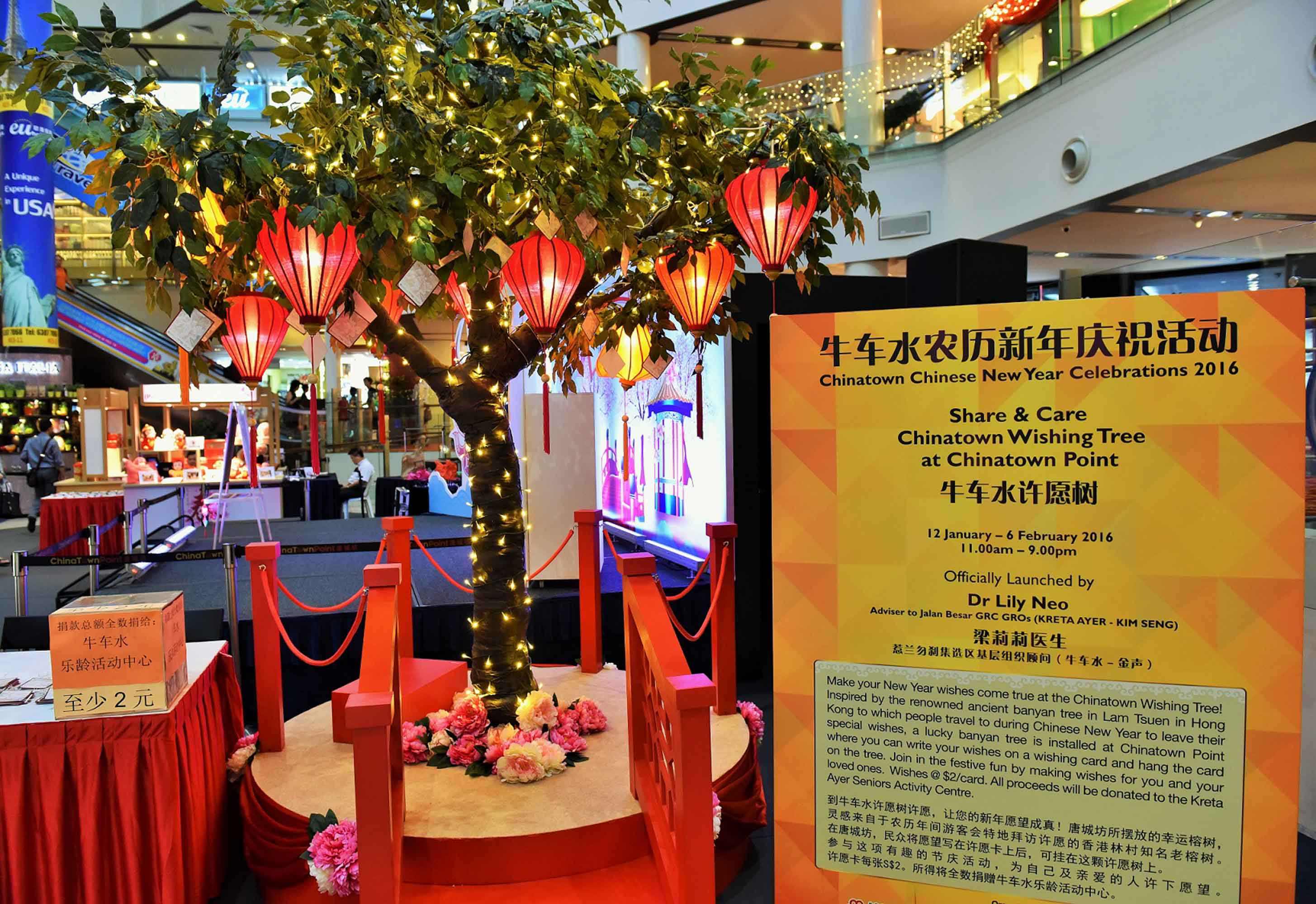 Chinatown Wishing Tree (牛车水许愿树)
7 Jan to 27 Jan 2017
11.00am to 9.00pm
Chinatown Point
Bring festive cheer to the less fortunate and the elderly while making New Year wishes for you and your loved ones at the Chinatown Wishing Tree. Each "Make a Wish" card costs $2 each, and in addition, "Rooster" five stones (set of five) specially handmade by Chinatown Social Enterprise for this year's Chinatown Chinese New Year Celebrations can be purchased at $10 each.
Tinged with nostalgia, this adorable set will take you right back to the good old days! All proceeds will be donated to the Kreta Ayer Seniors' Activity Centre.
For more information, please visit www.chinatownfestivals.sg or on Facebook at www.facebook.com/Chinatown.Festivals