EZ-Link Pte Ltd, Singapore's largest issuer of CEPAS-compliant cards, launched a set of three 2016 Special Edition National Day ez-link cards featuring the works of young artists, MaryAnn Loo, Lee Xin Li and oodon from Noise Singapore, to celebrate National Day 2016. The fruit of collaboration with the National Arts Council (NAC), the artworks feature unique portrayals of Singapore's most famous icons and encapsulate the pride of the younger generation towards Singapore's past, present and future.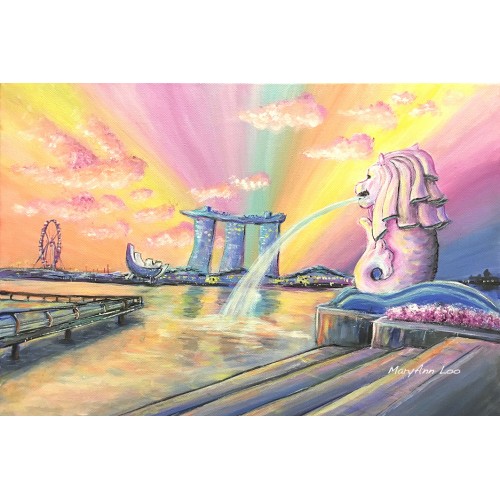 Artist: MaryAnn Loo
Skilled in illustrative style, MaryAnn drew inspiration from Singapore's beloved world-famous icon, the Merlion. Born in 1964 as the symbol for Singapore's tourism industry, the Merlion depicted in the artwork is the most well-known amongst the five iconic Merlion statues around the island. With the Marina Bay Sands and ArtScience Museum as its backdrop, the artwork bridges Singapore's historic past with its present. The colourful and bright sky represents luminous possibilities in the pursuit of creativity and innovation in support of the nation's advancement towards a brighter and greater future.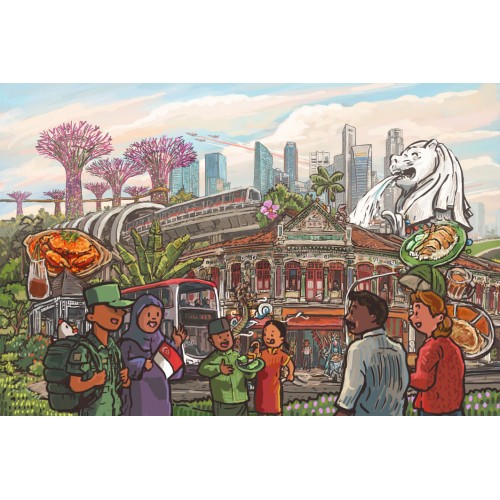 Artist: Lee Xin Li
Inspired by his fond memories of Balestier Road, Xin Li illustrated one of the most iconic places in Singapore including its food, shophouses and history. Reminiscing about his school days at Balestier Hill Secondary School, the artwork depicts a closely-knitted, multi-racial community interwoven with other Singaporean emblems such as the Singapore skyline, MRT and National Servicemen.
Artist: oodon
Showcasing Singapore's iconic landscape and mascots in a fun and light-hearted way, oodon's card design follows a lion mascot dressed in the Merlion outfit going on an adventure to rediscover the new and modern Singapore landscape. New friends are made along the way, portrayed by other Singapore icons such the Crimson Sunbird and the mascot for the Public Utilities Board (PUB), Water Wally. The landscape and buildings symbolise Singapore's progress through time, from the long existing control tower of Changi Airport to the modern Supertrees of Gardens by the Bay. In addition, Singapore is known for being a clean and green country, and sunny all year round, hence the inclusion of the sun and greenery in the design.
Exclusively packaged as a limited collectible, the 2016 Special Edition National Day ez-link card set will be available at $18 per set on My EZ-Link Online Shop (www.myezlink.com.sg) from 1st August 2016 onwards. Each card set comes with a commemorative folder featuring the young artists and their inspiration for the card design.
Individual cards will be progressively made available at $12 (with $7 load value) at TransitLink Ticket Offices from National Day onwards on a while stocks last basis.