finally.. the long waited post that everyone of u are waiting for is finally here.
BEfore your starts, i would suggest you to load all the YOUTUBE videos first.. so as to make your browsing more smoothly =)
2007 S.H.E 移动城堡世界巡回演唱会 新加坡之旅 独家全程报道
26th Jan 2006, 05.00am, Changi Airport Terminal 2
Woke up early in the morning at 03.30am.. marlene sis was supposed to come and fetch me together with marlene to the airport at 04.30am. but recieved a msg from here that her sis won't be driving, so will be sharing a cab. but in the end i shared the cab with another person.. guess who? its my mum~! haha.. she say she wanted to go and see too.. and so we took a cab to the airport and reach there around 04.30am. ordered a cup of hot coffee and a hash brown and we shared the food. at 05.00am, ambience held a meeting and was then dismissed and to gathered at the arrival hall at 05.30.
this time round, me and marlene was assign to take care of the opening of the exit from the belt to the arrival hall.. at 6.00am they finally appeared~! haha.. looks like they're in really good mood as we're afraid that they might be abit moody due to the early flight.
after they went out of the airport, we went over and blocked the fans from going closer to the fan. there was this fan who prepare bread for them, wanted to pass them the food. But we have to stop here and reject the gift.. Ella even told her thanks and ask her not to lian chou chou.. haha.. so cute right?
after awhile they took the van and they left the airport.
took the bus home with my mum and she headed straight for work. reached home, slept for a hour and i started to pack my stuff. at around 11am, i headed to amk as i'll be staying overnight for the coming few days to put my stuff there. after tat headed to orchard to meet marlene and shirley.
reached orchard at around 1+ and i saw alot of maxi cabs outside meritus mandarin hotel.. so i called marlene over.. we walked around the hotel and i'm sure its frh fans waiting for them.. marlene wanted to go as she dun think it will be S.H.E but i insisted on staying and true enough, its S.H.E lo~! lol haha… after seeing them boarding the vans, we're sure they're heading to the indoor stadium for rehersal. so me marlene and shirley flagged for a cab and off we head to indoor stadium.. after reaching there, we're late by a few secs only as they just went in.. so we went ard looking for places where we might get to see the stage.
after a while, we heard the familar sound which is the opening of the concert.. and the rehersal starts.. selina ask if there'll be a full dress rehersal and hebe replied : TAKASHIMAYA 在等着我们.. haha so cute right..
so we're sure they'll be going for shopping.. we stayed at the indoor from 3+ till 7+ when they finished their rehersal.. after the rehersal, they headed off in a bus with frh.. jia xin drove a car to the indoor and all the coms squeeze into her car and followed the bus.. while me, marlene and shirley took a cab and headed to taka.. we contact each other through hp and they lost the track of them twice.. after we reached taka.. we saw them.. yes.. they are walking in front of marlene while she din get to see them lo.. i saw them and i was walking behing marlene lo.. haha.. they walked into cooach. and then to other shops like burberry, chanel, lv etc. selina's mama was around too.. then selina passed a hong bao to her mama and she bought herself a Chanel bag.. hahaha… we're like spliting ourselves into groups of 3 and to stay a distance away from them.. so as not to attract te public.. but pple from other fc was like standing right infront of the door and look at them which causes alot of public crowding around takin photo and videos.
we din follow them throughout. we went back after while so as not to disturb them..
reached homeat 10+ and was so tired. but its really fun lo..
27th Jan 2006, 11.00am, Meritus Mandarin
Meet up with marlene and this time round daisy as well.. its been almost a year since we last saw her appearing for S.H.E events le.. she was busy with her school works.
we wanted to try our luck today again if we're able to see them shopping.. when we reached the hotel, we saw the FRH fans there.. so we're thinking they should be in the hotel, heading for rehersal soon.
Then suddenly there was a commotion and when we went back to the entrance the van was not around le.. so we thought we've missed them.. so we went to the side, thinking if to take a cab to indoor.. while discussing, guess wat? i saw merisa.. then slowly selina, hebe and ella, selina mama, the taiwan xuan chuan and ella sister~!!!! i told marlene and daisy that.. they're behind u .. and they dun believe it untill they saw them through the mirror reflection.. we're like OMG~!
haha.. they are really just like normal people lo.. u won't spot them so easily.. they crossed the traffic light and there was so many people walking passed them without noticing its them lo.. and one thing they aren'y wearing any shades lo.. haha.. we followed them and they spilt up into 2 groups.. selina and her mama while the rest another group..
we followed selina first as we lost track of hebe and ella.. selina and her mama was looking at the directory while me and daisy walked over and i stand beside selina.. pointing at the directory dicussing wat to eat.. LOL.. selina was like toking to her mum that " 三楼还有更多东西." haha.. so we followed them up. then when we reached the 3rd floor, i looked down and i saw hebe and ella going down to the basement.. so we decided to follow them instead. they went into ARMANI EXCHANGE.. this is it.. me, marlene and daisy went into the shop as marlene wanted to buy a tee from there long ago.. so we make good use of this opportunity. we're looking at the tees section.. while i'm walking from the men's section to the other section.. hebe walked towards my direction and i was like somehow blocking her way.. we stand there for a while then i moved to the side.. both of us giggles.. haha.. while we'e browsing the tees, ella was trying on the jeans in front of the mirror which is like beside the tees section. then this is what she said: "这裤子好好看哦。我想买也," then her sis says back : "你确定你要买吗?不要买了放在那里没穿" and ella replied back " 因该会是这样吧。。 哈哈哈" so cute right? then hebe was standing behind us as she wanted to look for a tee too.. then if i'm not wrong daisy asked her : "你要看啊" . then we moved to a side.. suddenly a fans came and asked ella :"你是ella吗?"and she asked for autograph on the magazine.. and ella answered immediately : "好啊! " .. then the gal when to look for hebe and she signed it too.. in the end, they din buy anything.. but marlene bought a tee shirt.
after armani exchange, they went up to another shop and selina and her mama was there le.. they stayed there for almost an hour lo.. and we're standing outisde looking at them.. hebe tried on a black high heels shoes and walked around the shop with that shoes. in the end she bought it. then selina chose a bag but she was deciding on which colour to take.. white or grey.. she took around 20 mins to decide lo. in the end she looked out of the shop and asked for our opinion. and all of us agreeded with the white one.. haha.. and yes, she chose tat bag.. very cute lo~! hahaha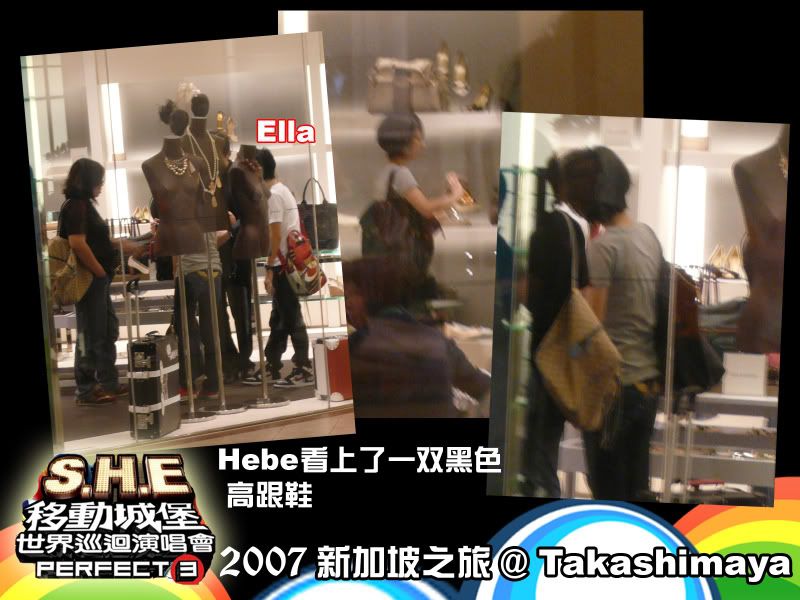 after they left the shop, hebe and ella went over to tiffany and co and hebe bought a necklace.. then the 3 of them moved over to another shop at level one.. dunnoe the name le.. that's the last shop they went to..
after all this shopping, me, marlene and daisy went for our lunch + dinner while waiting for trina to come.. after dinner, we took a cab to raffles place to gather for the shutter bus ambience booked to ferry the members to the stadium…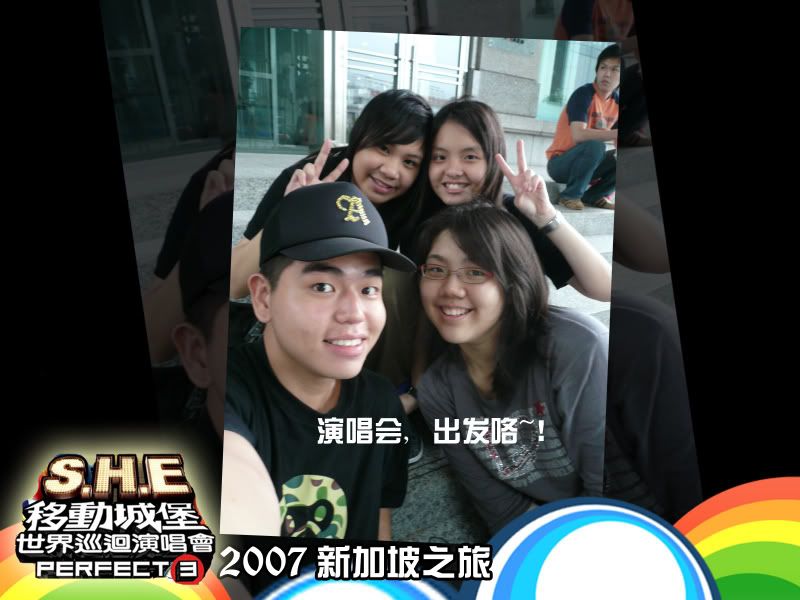 And guess wat? We meet up with a TRAFFIC JAM lo! cos there was this soccer match at the stadium tat day.singapore and thailand if i'm not wrong.. so in order to kill time, we played the concert dvd on the bus and as time gets nearer and nearer and we're like still a distance away from the indoor stadium… we 're getting really worried and panic lo.. then kenny say maybe we'll have to watch the concert in the bus le.. LOL~!
BUT luckily, we managed to arrive 10mins before 8pm.. we rushed to the premiere entrance and to the toliet. no time to go buy the merchandise le..
we even managed to take a pic with selina mama.. she even praised our tees are very nice lol.. she was really friendly going ard taking photos with the fans. i went over and requested to take a photo. she held my hand and i asked her how's the shopping today and she replied : "没什么啦,没买什么,只是花了几百块而已," hahahha..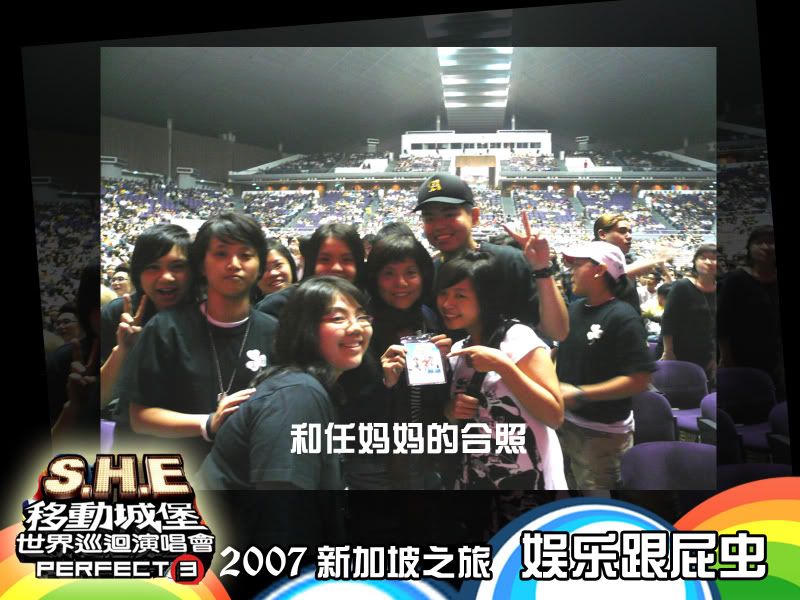 the concert was really an extremely high one.. all the fans was standing throughtout the whole concert lo.. enough said i think pics and videos speaks the most.. so this are EXCLUSIVELY taken for you guyz who din make it to the concert.
after the concert, we took the shutter bus back to J8 as some of them are staying overnight there. while me, marlene, trina and daisy took a cab home from there.
28th Jan 2006, 07.00am, Bishan Junction 8
meet up with daisy and trina at J8 in the morning. we went and put our bags in the queue and off we go for breakfast at coffe bean. we ordered the breakfast set meal which is rather cheap la.. $4.90 with bread and coffee. marlene was late and she reached around 8+…
we're actually to help in the crowd control but in the end we dun have to as they say they can handle.. so we followed the queue up and the event started at 3.45pm. Zhi yong was the host and he asked for fans to go onstage to perform anything related to S.H.E and there's 3 S.H.E autographed Sony Ericsson Handphone to be won. i went up and performed ring ring ring, super model and remember and yes i got the most votes and cheers from the crowd.. really happy to won the phone lo hahaha.. thanks to the public and ambience for helping me to cheer.. hahaha…
at ard 4.30pm, S.H.E appeared and they performed 2 songs, zen me ban and ring ring ring.. mea marlene, shirley and daisy attracted the 3 of them to our direction lo as we're the highest people among the crowd.. hebe saw us and followed or action and eaved her hands high up.. we're like so HAPPY LO~! haha..
when we went up the stage, i passed them the cap i made for them.. ella asked if i made it myself and i said ya.. hebe said its very nice and selina i gave her the cap and a bracelet.. she was so attracted to it that she stopped siging and asked me if i made it myself.. i said ya and she keep on wow.. then the gong zhuan ren yuan remind her to sign and daisy who was behind me walked away and selina asked her back as she haven signed her lyrics book yet LOL.. so cute ..
hebe even said our performance just now was really great, 很棒~!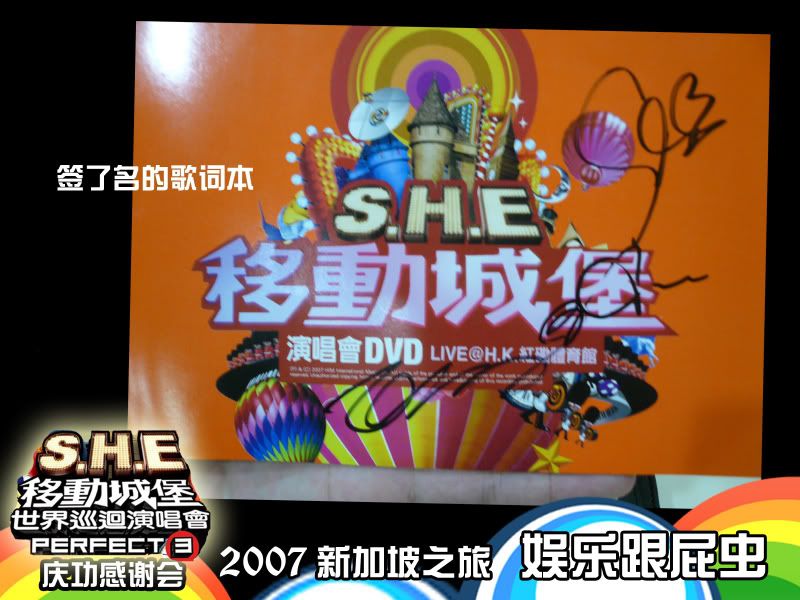 looks like they can remeber the 3 of us le la.. hahaha..
after the event we went back home and rest to re charge our energy for tomolo hua yang event.
29th Jan 2006, 11.00am, Changi Airport Terminal 1
we reached the airport at around 11+ and had our breakfast at burger king. after that we had a briefing on wat to do later.. we formed up human barricades around S.H when they reached.. the other 3 memebers of the FRH also arrived together with them.. the frh fans was squeezing a pushing around and there was only 4 cisco security guards around.. hebe even say to us :"慢慢来,没关系啦。。 我们的歌迷很乖的。" haha.. this make us so happy lo.. as we're guiding them to the way to the premiere check in, suddenly they stopped and hebe say this in a EXTREMELY funny and cute voice : "哎呀,我们要去toliet 阿~" we're like OMG… after toliet , we guided them to the premiere check in and there was fans singing the zhen qing ren.. and hebe danced while they sing.. so diff lo.. ahaha.. she even said :"不要在吸引我跳舞了" hahah… very cute sia..
after they left we're like so sad lo.. but we told ourselve we still got ella to see tonight haha.. so we headed down to tampines mall after that.
when we reached there its was a bit chaos.. and after awhile.. i was been asked to do the crowd control. slowly marlene and daisy, yi wen was all asked out to helped out.. the queue was extremely long. it started from the outdoor stage, one round inside the mall at level 4 down the staircase to level 1 and all the way to G2000 and further back..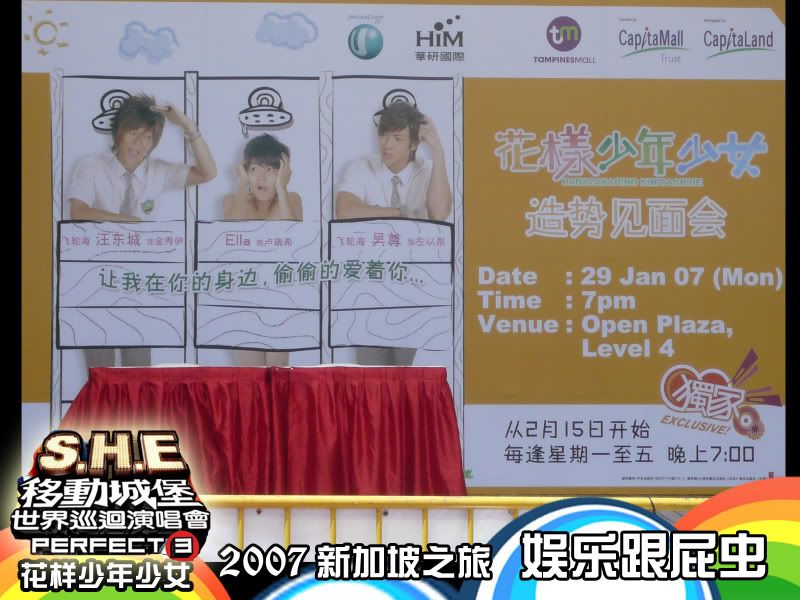 really busy managing the crowds lo.. haha but really fun.. we're the last to go up the stage and i asked ella is she remember us, the highest fan at J8 yesterday and she say ya of course.. hahha.. so happy lo..
after the event we had a small meeting and there's public writing a letter to ambience praising us for what we did and they're really happy with it.. the cisco sercurity guards even thanks us for wat we did for S.H departure today too lo.. haha
went back home and we're like almost half died haha..
30th Jan 2006, 11.00am, Changi Airport Terminal 1
Ella departure today.. alot of FRH fans waiting there as wun zun will be going back with her.. but who knows he left at terminal 2 alone.. the look at those frh fans was so funny lo after they knew that wu zun left at t2 haha..
as usual we formed human barricades and protect ella.. she was in a really high mood too.. we greeted her morning and she replied back too.. ahaha..
after she left, we're like so down lo… then daisy, marlene, yi wen and me went for k box and we sing alot of their songs…
haiz.. a conclusion to make.. its really the BEST and MEMORABLE S.H.E events in SINGAPORE. we had so much fun lo.. we missed them alot alot alot and we can't wait to see them ASAP~!!!
S.H.E We'll be waiting for your trip to SINGAPORE soon~!
S.H.E, AMBIENCE, H.I.M YOU ROCKS~!
more photos and videos to come as i do not have it with me now hehe…
here's an interview by the media.. i think i speak the most inside lo lol~!