Day 6 in Taiwan! Woke up slightly earlier with zhi wei & rachel and we went for a haircut at the saloon below our hotel… 🙂 Loved the way they greet their customers, the services they provide and afterall, i'm happy with my hair cut, though i find it a little too short..
When we are done, they sent us to the lift, press the lift for us and thank us when we enter the lift, saying bye bye.. they even did a 90 degree bow leh~ really got the feel sia~ LOL!
Went back to our hotel before we head out for the day! it's a bathing ape day as we're all wearing the tees from bathing ape.. lazy to explain why we are have the bathing ape tee.. go read here and u'll know.. OK? hahaha ~
Extremely sunny day! went for lunch at our favourite lu rou fan stall…
and tada.. that is my
new haircut 😀
after lunch, we bought our favourite milk tea from 50 岚…
taking a full body pic inside a shop 😛 Love the my newly bought pants from wu fen pu… 五分埔.. damm CHEAP!
S.H.E Spotted!!!
and today is a relaxing day as well.. as we've covered most the places.. so we decided to stroll along xi men ding.. and if possible, locate STAGE store…
NICE GRAFFITI!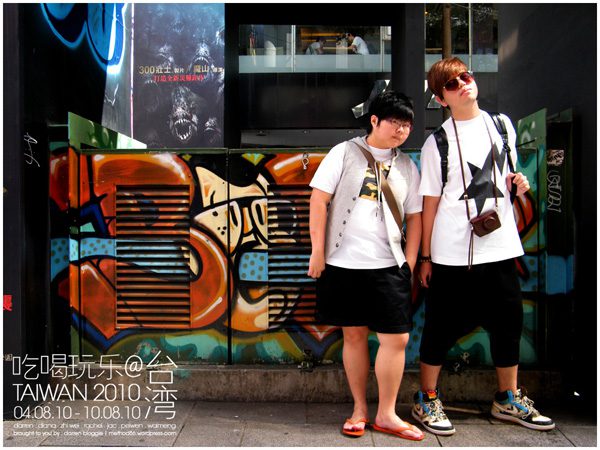 S.H.E Spotted again!!!!
We managed to locate STAGE store and i think the location is kinda wooluu… one of my friend bought a tee there… but the stuff over there is slightly cheaper than those in singapore.. 🙂
ok, you must be cursing and swearing me why not pics of the STAGE outlet right? because…. im not allowed to take pictures!! but i'm  being nice to provide you with the address.. so you can locate it much more easier… 🙂

Stage Boutique
2389-2213
14:00~22:00
No. 66, Sec. 2, Kaifeng St., Ximending, Taipei City
and after so much walking here and there, we're getting hungry.. so we stopped by this stall for some bites 🙂 the food display looked so tempting right?
but the food taste average lor.. didn't really WOW us hahaha~~
next, we proceed over to the shopping mall beside…
MIRADA
whereby we spent almost 2 hours there! so many things to shop and buy.. and it's cheap!!!
by the time we are done, we realized that it was already 7pm… so we head back to our hotel to unload our loots before heading to shi lin night market for dinner!!!
Here we are !
Shi Lin Night Market  士林夜市美食街
Extremely HUGE sausages…!! 超大香肠!!
guess what's this??
CHICKEN BUTTOCKS! 鸡屁股!
some stir fried vege with meat…
some custard puff wth fillings like cream, yam chocolate etc… i bought the yam one 🙂
脆皮泡芙
shui jian bao 水煎包…
Look at the sotong!! DAMM NICE la~!
[youtube http://www.youtube.com/watch?v=BrFWAgCb7mg&w=600px&h=360px]
and we ended our shi lin night with snow ice!
and went back hotel for supper with cup noodles again!! woohoo~~
haha.. notice that i've been eating my past few days taiwan blog entries with food.. and most of them are cup noodles.. but it's true ma.. we really eat cup noodles almost daily every night for supper hahahaha!
nvm, i shall post u my shopping loots ! 😀 these are a portion of it.. cannot manage to capture all ! hahaha~~~
SHOPPING WAS AWESOME in TAIWAN!!!
coming up next :
吃喝玩乐在台湾 Taiwan Trip with BBFs :
Day 7 (Taiwan Food Court in Xi Men Ding, 美食街,Departure 桃园国际机场)
your might want to visit :