Rise & shine! it's another busy day haha.. today, we will be going to Jiu Fen 九份, Dan Shui 淡水老街 and Yu RenMa Tou 渔人码头! SOO FUN! as we will be taking mrt, railway train and ferry!!
Alright before we start our journey proper, we needa fix out stomach first with yummy breakfast!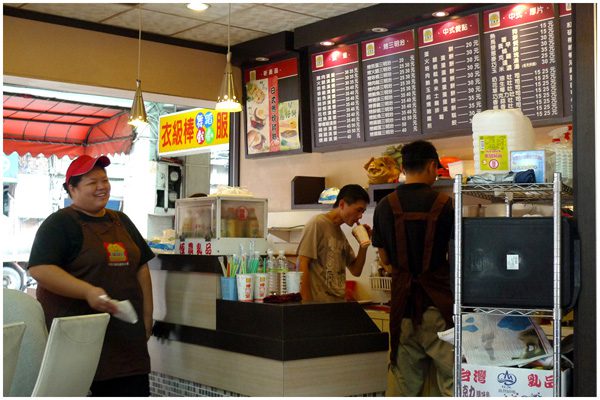 smoked chicken sandwich… didn't manage to amuse us hahaha…
my pork burger! NICE!!!
Hash Brown~~~
Nutritious Breakfast…
Yummy! satisfied breakfast… it's located opposite fei tian 飞天火锅 steamboat, within walking distance from xi men ding… and 50岚 (also known as KOI in singapore)  is also located there as well!
bought my pudding milk tea 布丁奶茶 for my train ride later on to 九份 jiufen 🙂 after getting our drinks, we proceed on to the train station… and on the way….
SPOTTED my S.H.E again!!!
don't you think they look like a family wearing the same colour tone of tees? hahahha~~~
we took the metro mrt to taipei train station 台北车站 and purchase our railway tickets to rui fang 瑞芳车站… NT 78 🙂
We are rushing like mad after purchasing the tickets.. as the train will be leaving the station at 12pm, and the time we got our tickets was 11.55am! and we even walked over to the wrong platform, but luckily there's this very nice guy which saw us looking kinda panic, approach us and direct us to the correct platform.. see, Taiwanese are soo nice la! hahaha~~~
and when we reached our platform, the bell rang and luckily we managed to board the train at the very very last min.. PHEW~~
as our tickets does not include us a seat, therefore when the train approach the next station, some of us needa give up our seats to those with tickets which was indicated with a seat no…
come.. i think your lens need some cleaning.. 😀
and not forgetting the pudding milk tea i bought previously 🙂
arrived!!!
some paparazzi look- alike images.. haha
you can actually take a bus from the railway station up to jiufen, but after some consideration and discussion, we decided to share a cab up instead. since the price difference not alot +  we have so many of us, might not be able to squeeze up the bus if its too packed 🙂
[youtube http://www.youtube.com/watch?v=IHiDc_FMDd4&w=600px&h=360px]
Arrived at Jiu Fen 九份!!
cooling breeze ! different from the hot and humid city weather…
[youtube http://www.youtube.com/watch?v=CCP4dGEEvwU&w=600px&h=360px]
this ah ma damm cute la.. its a exact duplicate of the signboard mascot… and that's how she dressed up herself for her business! hahaa~ whenever a camera points at her, she will strike a pose for you. she's the same as us! always camera-ready!~ lol!!
Squid sausage… 墨鱼香肠… it's BLACK in colour!!
we stopped by this stall that is selling their famous
and artist like jacky wu 吴宗宪 & jolin 蔡依林 patronize this stall as well!
the auntie is really very zi lian.. the whole stall is filled with her photos sia…
[youtube http://www.youtube.com/watch?v=pHGvH3ipW7U&w=600px&h=360px]
it started to drizzle alittle while we're done with our soup, but we continue walking around before taking a cab back to ruifang 瑞芳 railway station to catch the train back to taipei train station 台北车站…
we're lucky once again as we got our tickets 5 mins before the train arrive.. lol! we're like forever rushing for train hahaha!
after reaching taipei train station, we switch over to the mrt aka 捷运 to dan shui 淡水 to catch the beautiful sunset!!!
[youtube http://www.youtube.com/watch?v=p1Q8gozVYi8&w=600px&h=360px]
we bought our ferry tickets, NT100 for one return tickets, at the ticketing counter along the street which will be bringing us over to yu ren ma tou 渔人码头, whereby the famous lover's bridge 情人桥 is located. It's also a popular venues where most of the artists hold their free mini concerts at. example like S.H.E 😛
[youtube http://www.youtube.com/watch?v=ZLC3kZBDC7U&w=600px&h=360px]
and here we are!!!
[youtube http://www.youtube.com/watch?v=cu_dodOx4Ik&w=600px&h=360px]
after the sunset, we head back with the ferry to dan shui lao jie 淡水老街 whereby we can get cheaper taiwan goodies from those selling in the night markets 🙂
we're all so hungry that we went around buying food! hahaha~~
the grilled squid with chili.. damm nice!
fried soft shell crab…
some pancake alike food with sotong and prawns fillings…
Cheesy Pork Cutlet!
yummy~ becareful as the cheese is pipping hot in the pork cutlet and it will oozes out when u bite on it…
Spongebob sponge cakes!!海绵宝宝鸡蛋糕
Drinks!! the CUP is
XTREMELY HUGE!!!!!!!!!!!
but only NT30 only!
after we bought all the goodies that we need, we took a cab back as we're carrying quite alot of stuff hahaa.. and continue to hunt for our dinner at xi men ding 🙂
the extra long ice cream!巨无霸霜淇淋!
[youtube http://www.youtube.com/watch?v=5303UFAHPNg&w=600px&h=360px]
we brought back our favourite food, 鲁肉饭 back to the hotel for dinner 🙂
together with a bowl of
肉羹汤
🙂 yumm yumm~~~
and we ended our day 3… it was a fun, gan jiong and tiring day.. but we loved it!! 😀
coming up next :
吃喝玩乐在台湾 Taiwan Trip with BBFs :
Day 4 (Yong Le Market 永乐市场, Wu Fen Pu 五分埔, Breeze Square 微风广场, BBQ Steamboat Buffet 吃到饱烧烤火锅 )
your might want to visit :