yawn… … so sianz now..

went to tanjong pagar to return the sun gun to academy video. was so paiseh about it as we've borrowed it for more than a week.
after that went back school and meet dia. walk around helping her to search for those glitter paper and luckily we manage to find one. haha. then went back school to see roi but all the lecturers are going out for lunch haha. Pris saw me and dia sitting outside and she thought we saw our marks as they're moderating the marks inside.. haha. "minus 10 marks cos u saw your marks." hahaha "no no , i'm blind and i can't see anything lOL~ " was so funny. then alan saw me outside and while walking out of the staff room he say to pris.. "erm.. the darren marks think need to deduct more … … aa u here ah, ops~" haha. say bad things behind pple back ah. then chris came out and he got himself a new hair cut.. looks quite nice and make him look younger. then diana was laughing very loudly and he say laugh somemore, i deduct more. then i say "no, u look younger, good~!", and he replied "so u trying to say i childish la." -_-" no comments.. hahaha
after they left, tina called and finally she arrived. went fortune center for xiao wan mian and then back to school to show roi our work. gotta reshoot some scene but overall its good. while watching our film wif roi and jason, was laughing about so much thingy haha..
after that was like 2.30+ no where to go so came home.. dia took the same bus as me cos she go look for zw.. ahha tok in the bus making fun each other LOL~.
tomolo dia not coming cos zw ah yee getting married. so looks like its just me and tina le. ahah and ya gotta go for matthew lesson since he asked in a ke lian look, you all coming right? ahaha so funny xD
Tina, dun be late hor.. u late then i alone le sob sob. KE YI MA?
and btw, finally got my S.H.E singles and poster that i won form yes 93.3 haha.. so now i got 2 singles, one autograph and one without. hmmm shall i sell away the one without autograph ? hehe..
the singles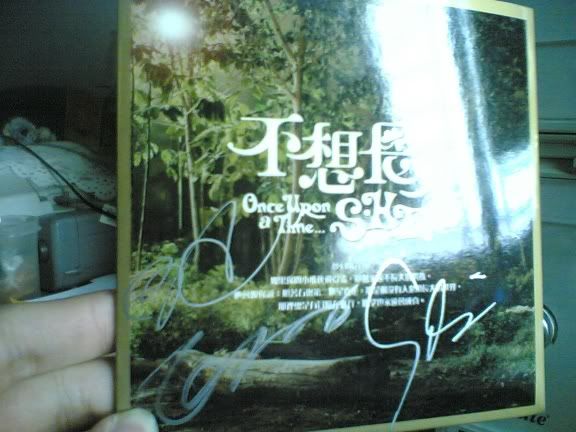 the poster