Hold your breath, Star Wars fans! The first-ever commercial aircraft in the world to be decorated with Star Wars livery is coming to Changi Airport, and fans in Singapore now stand a chance to get on board this iconic jet without the need to buy a ticket. Come 12 November 2015, Changi Airport will be the first Asian airport outside of Japan to welcome the R2-D2TM ANA jet, which is making a special visit here to greet some very lucky fans in Singapore. The first in a series of three Star Wars themed planes by ANA and The Walt Disney Company (Japan) Ltd., the R2-D2TM ANA jet dressed as the robust droid from Star Wars, was unveiled last month to much global fanfare.
This special flight to Singapore, chartered by JTB Japan, will make a brief two-night stop at Changi Airport, where an extraordinary event will be held for fans on 14 November 2015.
From now until 25 October 2015, Star Wars fans in Singapore can win a pair of tickets each by participating in online contests held on ANA's website and Changi Airport's Facebook page. With 20 pairs of tickets up for grabs, 40 lucky winners will get to enjoy a tour of the iconic aircraft – which not just boasts a striking livery but unique interior touches, such as Star Wars themed headrests and dining ware. 10 winners will be selected by Changi Airport Group and 30 winners will be selected by ANA.
During the three-hour experience on ground, winners will enjoy the novelty of catching one of the movies from the Star Wars saga – the first time any has been available on a commercial flight* – and enjoy an in-flight meal, all in the comfort of a business class seat. The winners will also receive goodie bags filled with limited-edition commemorative merchandise such as an R2-D2TM ANA jet model plane and a Star Wars plush toy.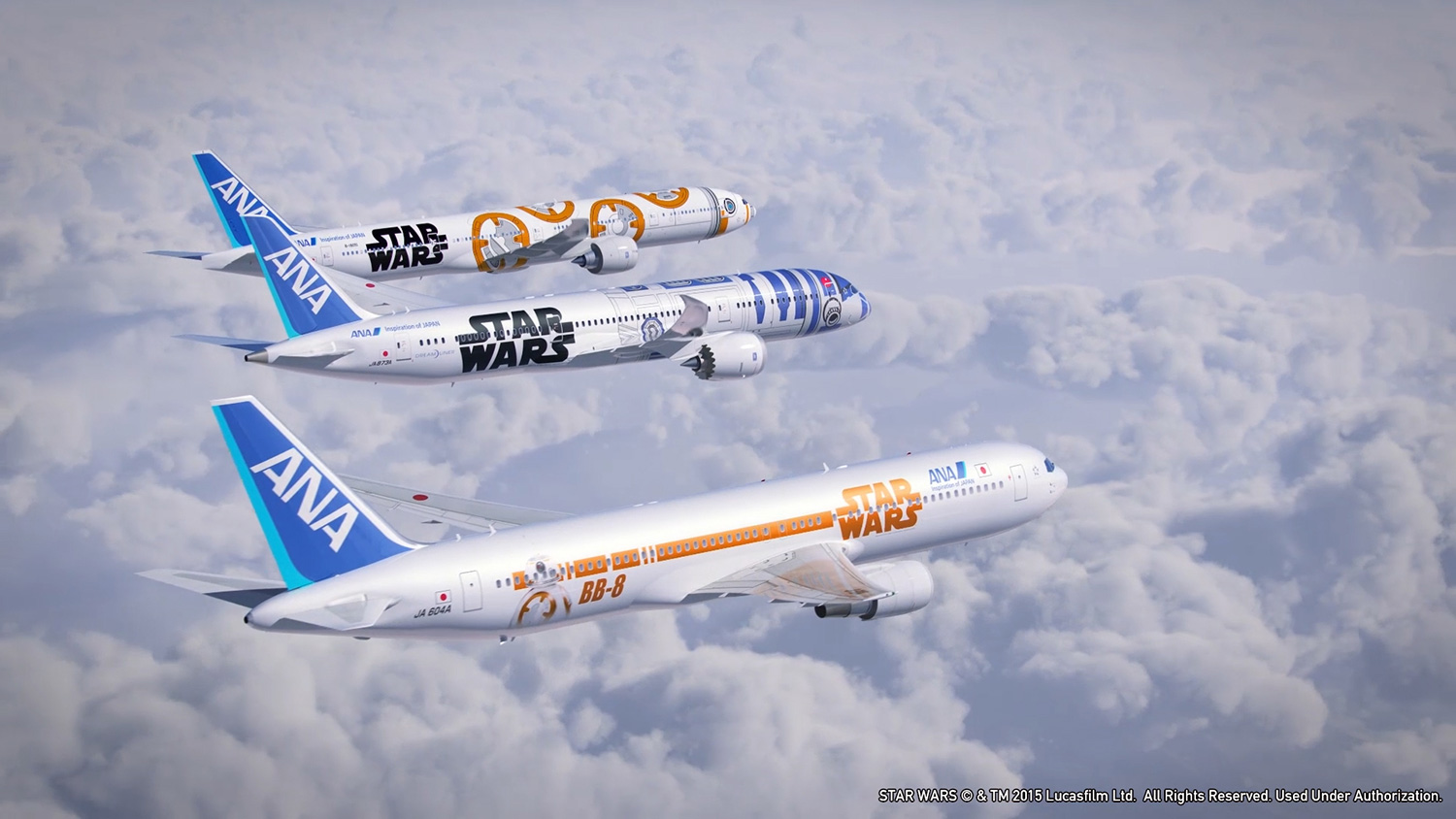 "The R2-D2TM ANA jet has received tremendous interest from around the globe, and we are delighted to be able to partner Changi Airport to share this exclusive experience with fans in Singapore," said Mitsuo Tomita, ANA's vice president of Marketing and Sales Asia ​ & Oceania​. "This represents our commitment to enhancing the flight experience for all and we look forward to welcoming more passengers on board to enjoy the full ANA experience."
Apart from domestic routes, the R2-D2TM ANA jet has been scheduled to fly between Tokyo and Vancouver in Canada, Seattle and San Jose in the US, Munich, Paris and Brussels in Europe, Sydney in Australia, Beijing in China and Jakarta in Indonesia.
For more details or to participate in the online contests, visit ANA's website at http://www.ana-sw.com/event/?id=20&lang=en and Changi Airport's Facebook page https://www.facebook.com/changiairport.
*Movies to be shown from November 1, 2015 to January 31, 2016 on international routes.