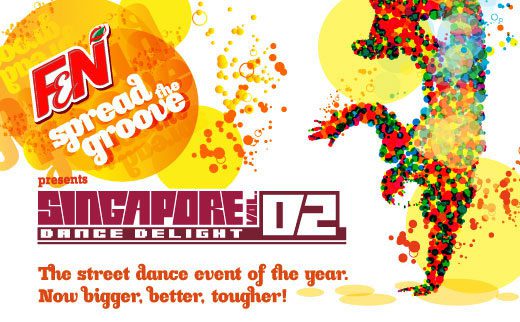 WOOHOO! did you guys read about my media coverage on the Singapore Dance Delights Vol.02 Preliminaries brought to you by F&N Sparkling Drinks, held at *SCAPE last sat? If you've not , PLEASE GO READ HERE! if not you are going to miss out on so much fun that happened at the Preliminaries!
OKOK! now i'm going to announce to you this… ARE U READY?!
I'M PROUD TO BE ONE OF THE OFFICIAL BLOGGERS FOR THE SINGAPORE DANCE DELIGHTS VOL.02 PROUDLY PRESENTED TO YOU BY F&N SPARKLING DRINKS!
WOOHOO! now clapped, cheered and throw confetti for me! muahaha~
This year 10 finalists was selected for this blogging challenge and i'm really lucky to be selected as one of them!
Went for our briefing session last night at omy.sg and felt great meeting the other 9 finalists and making friends with them! we are going to 并肩作战 and fight our way through to win ourselves a prize to OSAKA JAPAN !!! mad excited can~!
So now… let me introduce you the 10 finalists!
I'm sure you know most of them right?
Saw those F&N bags on the table? Those are the prizes that we've won for being selected as the finalists. Curious to know what's inside?
OF COURSE F&N Related stuffs la! and it's none other than F&N Sparkling can drinks!
I CAN HAS A COMPLETE SET OF THE MINIATURE F&N WET TISSUES CAN!!!
oh! not forgetting this awesome exclusive gift from F&N!!!
TADA!! It's the EXCLUSIVE LIMITED edition F&N Trexi which so far, have been presented to celebrites like Jay Park, U-KISS, Jay Chou, Seth Rogen, Michel Gondry and Running into the Sun! see~all celebrities sia~ and now it's presented to us, so does that makes us a celebrity blogger?! muahaha~~~
See! so cute right?!
and there's a mild fragrance of the F&N outrageous orange coming from it!
*ps: i'm still thinking if i should put it at home or place it on my work desk in the office. mmm…
alright enough said! i think i'm talk too much here but there's something i would like to say to YOU!
JOIN ME & THE OTHER FINALISTS  AND SPREAD THE GROOVE AROUND!
as we bring you coverage of the Singapore Dance Delights Vol.02 and exciting promotions and contest from F&N!
You can add me on :
Facebook : http://facebook.com/darren86 (where i will upload most of my pictures to and to interact with you)
Twitter : http://twitter.com/method86 (where i will do my instant updating and to interact with you)
Foursquare : http://foursquare.com/method86 (where i will do my daily check in and maybe share some tips with you)
*
and of course you JUST HAVE TO FOLLOW these links below for MORE updates !
F&N Official Site : www.fnn.com.sg
F&N @ Facebook : www.facebook.com/FnNFun
F&N @ Twitter : www.twitter.com/fnnfun
F&N @ Foursquare : http://foursquare.com/fnnfun
Meanwhile, check out on this space daily! 😉
SEEYOU AT THE FINALS!
*ps : The Finals will be held at Wave House Sentosa, 36 Siloso Beach Walk, Sentosa Island on March 12, 2011 at 7pm. Only one team will win the coveted chance to compete in Japan. Admission to the finals is by ticket only. Tickets can be purchased from O School (Tel: 6509 0016) at $20 (till March 8, 2011) or $25 (from March 9, 2011 onwards).