Far East Hospitality, one of the leading operators of hotels and serviced residences, has launched a series of experiential staycation packages that were created with the intention to support local small and medium enterprises (SMEs) at the same time.
Some examples of local enterprises that Far East Hospitality will be working with include Freedom Yoga – a studio started by entrepreneur Elvina Cheong after she experienced a shoulder injury, and Smith Marine Kelong – a local aquaculture farm and floating restaurant serving fresh seafood. These partnerships were specially chosen to enhance the staycationer's experience. Whether you are a nostalgic romantic, wellness conscious individual, luxury seeker, or urban explorer, there will always be a staycation package tailored for you at Far East Hospitality's diverse portfolio of hotel brands.
For the Luxury Seeker
"Sea breeze and champagne" package at The Barracks Hotel
From $599++ per room per night
Arrive at the hotel in style via the one-way limousine transfer. Enjoy a quiet, calming afternoon tea for
two, with free flow of champagne and a special tea tailoring experience.
Elevate the experience by adding on the "Breakfast Sail with Ximula" at $800++. Ximula Sail was founded by outdoor lovers Minqi Wong, and her dad TC Wong. Its crew member includes ex-local celebrity Darren Lim. This experience includes a 3-hour private yacht trip to the Southern Islands and complimentary picnic basket packed with sandwiches, snacks, beverages, and a bottle of wine. Cruise along the Marina Bay before returning to Sentosa. Remember to book at least one week in advance.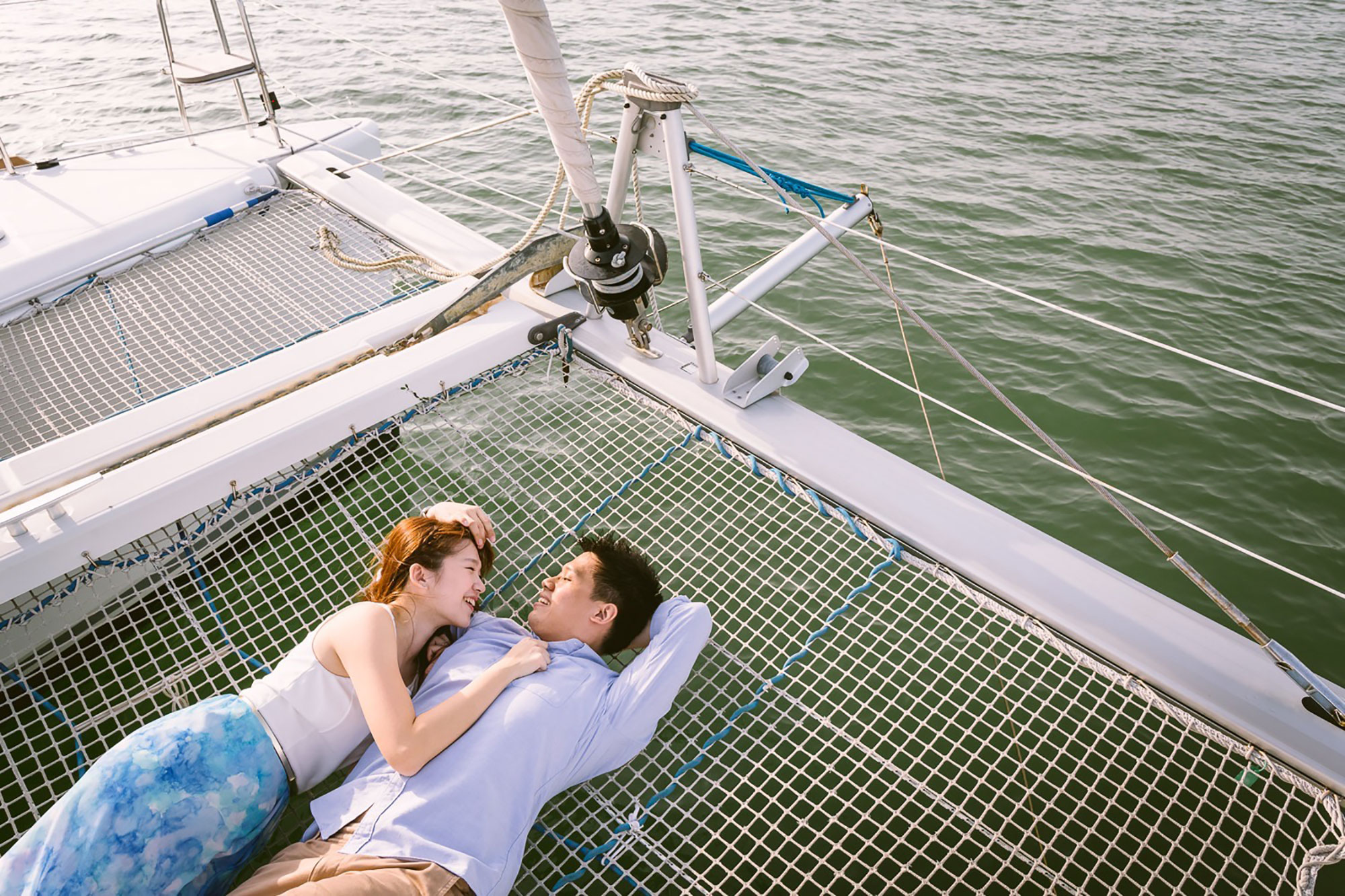 Before heading to bed in the evening, have a meal at selected F&B stores such as Quentins, Hidemasa, or Ocean Restaurant to enjoy up to 20 per cent discount. There is no hurry to check out the next day as you have a full 24 hours to enjoy this staycation at the hotel.
For the Wellness Conscious
"Weekend TWOgether" package at Oasia Hotel Downtown
From $888++ for a 3D2N stay in the Club Room
The "Weekend TWOgether" package includes complimentary aqua exercises and yoga led by local trainers of AquaspinTM and Freedom Yoga. Celebrate the arrival of the weekends with your bestie on Friday night with a four-course dinner at OSO Ristorante.
Recharge with a good night's sleep and start the weekend with a High-Intensity Interval Training session at the pool with AquaspinTM – co-founded by Alcia Antuonuccio who was diagnosed with a patellofemoral syndrome in 2007. This pushed her to launch AquaSpinTM when she moved to Singapore in 2012.
If you prefer a slow start to your morning, explore yoga for complete beginners with Freedom Yoga – established by local entrepreneur Elvina Cheong. Join in and even if you are not a yogi, stretching counts too!
Savour the last moments of the staycation by enjoying the Wellness Teatime experience at The Marmalade Pantry. It offers a selection of granola, fruits, cakes, and scones – an ideal way to enjoy tea-tradition without over-indulging. Head back home feeling rejuvenated!
For the Urban Explorer
"Rediscover our Village" package at Village Hotel Bugis
From $500++ for a 2D1N stay in the Deluxe Room
Enjoy fresh seafood for lunch at the floating restaurant – Smith Marine Kelong – under the "Rediscover our Village" package.
Upon arrival, your dedicated Village Master will share precinct tours that you can take part in with the complimentary local mobile app – LocoMole. Created by a team of local heritage experts, LocoMole aims to help users create their own local experiences on-the-go. Explore the side streets and hidden gems of Kampong Glam, Bugis Village, and Haji Lane, before heading back to the hotel for a good rest.
The second day is when the adventure truly starts. Enjoy a two-way transfer from the hotel to Changi Point Ferry Terminal, or upgrade to a classic Volkswagen Kombi Safari Camper by Kombi Rocks – founded by locals who rescue, restore, and repurpose old cars and bike. Upon arrival at Changi Village Ferry Terminal, a ferry will transport you to the floating restaurant – Smith Marine Kelong. Situated next to Pulau Ubin, the homegrown aquaculture farm was built in 2006 focusing on the cultivation and breeding of seafood such as tiger groupers, lobsters, and other live seafood. Catch your own snapper or seabass, have it cooked in a style you like, and eat it fresh off the pan. Relax and enjoy the panoramic view and the surrounding waters before heading back to the hotel.
Freshen up in the hotel and take a nap if you like as you can request for a check-out as late as 6pm.
For the Nostalgic Romantic
"Picnic Rendezvous" Package at Orchard Rendezvous Hotel
From $488++ for a 2D1N stay in the Club Room
Relive courtship days with the "Picnic Rendezvous" package. After check-in, head out for a picnic date with a basket full of snacks and a picnic mat (complimentary with the package). Hand-in-hand with your partner, take a short stroll to the country's first UNESCO World Heritage Site, Singapore Botanic Garden. Laze the afternoon away under a canopy of lush tropic greenery while sharing intimate secrets and whispering sweet nothings to your date.
Do not worry about having to set up a tripod to capture these priceless memories. The package includes a complimentary 1-hour photoshoot session with local award-winning photography studio – StudioPlay. Founded in 2007 by a group of creative individuals, StudioPlay has since become the premier concept photography studio in Singapore. Choose to take home your favourite loved up shot with customised framing after the photoshoot.
Continue the date night in the comforts of your room. When it gets late, cuddle up for a good night's rest. Opt for a late check-out. The more time spent with your partner, the better.
Surprise your loved ones
Know someone who is feeling down because of a cancelled trip? Or do you have a special occasion coming up? Chocolates, roses and food deliveries are too old-fashioned now. Surprise your special someone with a gift that many will love to receive right now – a staycation!
As part of Far East Hospitality's efforts for digital transformation, you can now visit Far East Hospitality's
newly launched e-gifting store on https://www.StayFarEast.com/Vouchers. Staycation and value vouchers are available for purchase at your fingertips.
In response to the evolving COVID-19 situation,  stringent hygiene and safety protocols are in place to delivering a clean and safe environment for all the guests. An overview of these measures can be found https://www.StayFarEast.com/en/customer-care-centre
To book your staycations now, please visit https://www.StayFarEast.com/Staycation
Promotion is available from now till 30 Dec 2020.