went out yesterday with dia zw and yy. meet dia and zw on 147 to bugis.. going there to bai bai.. praying for my ah ma's health and for my ns.. wanted to eat xiao wan mian de but its not there anymore.. its out for rent.. hmm wonder where it moved to.. so we went over to sunshine to eat the pasta with creamy bacon and mushroom plus chicken cutlet.. yummy. taste great lo haha.. then zw went to sim lim to get his pay while we wait for him at the stall.. he order spagetti with chicken cutlet..
after lunch. we went to bai bai, bought pao pao cha and walked ard bugis st.. so many new stuff there.. haha. alot of quite in trend stuff selling there.. one of them is the "salior" style clothings.. its really in trend now lo.. haha.. went to a few shops and helped dia picked some clothings and diff combination haha.. looks good .. and so she bought it.. dia saw this shoes which i agreed that it looks nice and it goes well with most clothing.. but the sales girl attitude was damm F***ing bad lo.. since she said that there's one one pair and that only one pair was like rather dirty, we gave up on the shoes..
continue to walked ard and saw many nice nice tees.. but i was attracted to this one.. hehe.. the words are formed up of crystals diamond hehe.. very NICe.. therefore i decided to purchase it hehe. saw the BAPE bling bling cap.. but was rather dirty cos the diamond not bling de.. very dull.. saw other stall selling but very ex.. $40++.. thinking that not worth it to buy a cap so ex.. then zw also bought one bling bling t shirt.. he told me he dun like bling t shirt but in the end he still bought that bling t shirt cos its too nice le.. LOL~~ hahaha
a few design that i did hehe.. tryout on com first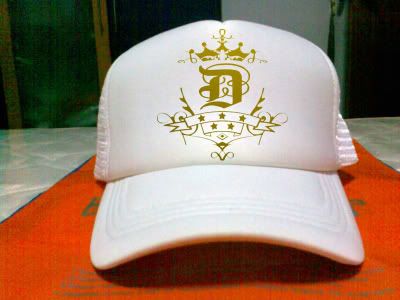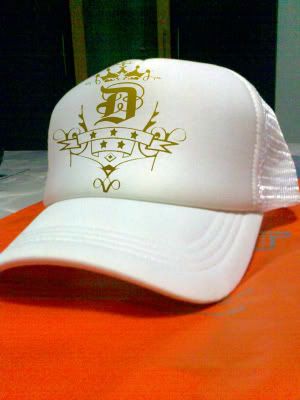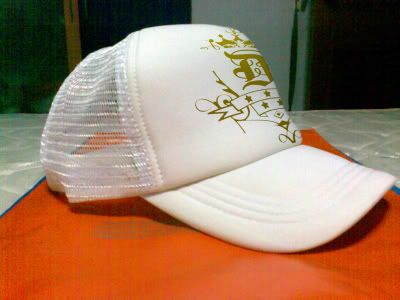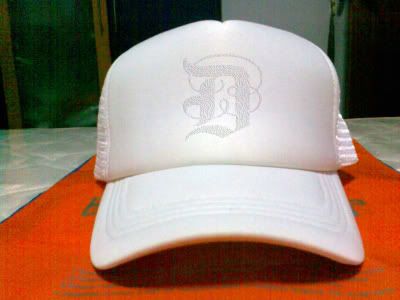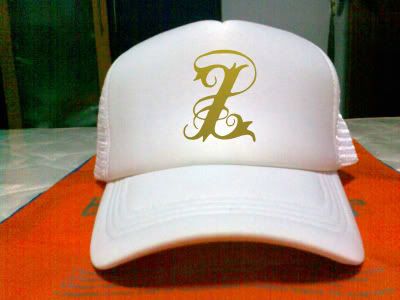 haha uses the t shirt logo and put it on the cap.. looks great too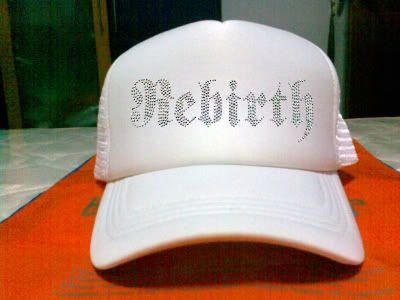 then walked over to bugis.. bought the bbq cuttlefish.. very nice and crispy.. saw gerad on the way too. he'e heading to sim lim.. din manage to chat much cos we're crossing the road. went over to bugis junction and we bought the ice cream cone from mac. haha.. looks like we eating non stop hor.. nothing much at bugis so i suggested going far east to hunt for dia's shoes and my cap too.. hehe.. took bus 7 to orchard and walked over to far east.. finally got my white cap. gonna do design on it.. zw also bought one and he wans me to do a design for his cap too.. haha.. did a few for mine here.. still hve some in mind to execute..
after a while, yy came and meet us.. then we continue hunting for dia's shoes.. just went we're about to give up, we found that pair of shoes le.. haha.. then i told dia.. later no size haha.. and true enough.. dun have her size.. so she took one siz bigger of her original size.. die die also must buy it LOL~~.. then went over to missha to buy my facial foam.. bought three, one for me, my mum and my aunt.. and cost me 30 bucks .. after that, went for dinner at the stalls at lvl 4.. me and dia order sambal fried rice, zw order chili crab sauce hotplate rice, yy ordered ikan bilis fried rice and we ordered side dishes of crab meat soup and salad you tiao… was soo filling haha..
finished dinner at ard 8+ and we went home after tat.. i took the NEL while they went back amk.. bought roti prata back home for my mum..
today went to my ah ma house at 9am.. cos my aunt going back office to do something.. she've informed her boss that from mon onward, she'll be working at home, so as to look after my ah ma.. she left at 9.15am and came back at 12+.. so i was there to look after my ah ma lo.. haiz.. heartache when seeing her in pain lo… haiz.. i really pray hard that her health condition won't worsen..
came back home at ard 3+ and rot again haha.. nothing much to do.. sianz..
wilber will be arriving in singapore tomolo.. still not sure whether to go for his events ma.. cos i dun noe anyone in the fc… for s.h.e. one i know them, so easier to tok and have fun..
here's his schedule in singapore for ur info…
17/8
– Arrival in Singapore
– School Mini Concert @ Singapore Poly Auditorium, 7pm
– Appearance on SINGAPORE IDOL
18/8
– School Mini Concert @ NTU Lee Kong Chian Lecture Theater, 7pm
19/8
– Wilber Autograph session @ WestMall, 5pm
(Entry with coupons only)
20/8
-Wilber Live Mini Concert @ Junction 8, 6.30pm
(Entry with coupons only)
21/8
– Departure from Singapore
hmm got tix for all events except the j8 one.. dunnoe if to go anot.. grhzzz…
edited this pic.. hehe quite like it hahaha the pic was taken in the toliet but after my editing it turns out to be very diff ahhaa