Alright.. i know alot of u guyz are waiting for the photos right? haha.. so here it comes~!
S.H.E Forever Singapore Yu Le Gen Pi Chong Part 1
Day 1, 26th Oct 2006, Thurday
S.H.E was supposed to take the flight which will arrive in singapore on friday morning 6am, but they changed it to the flight on thursday night which is supposed to arrive at 9+, but due to some delayed of the flight, they reached at 11.30pm.. All of us reached the airport at 8.30 and we had our dinner and some catch up session while waiting for their arrival.
and btw, i managed to get those waivers done for their trip here this time round.. haha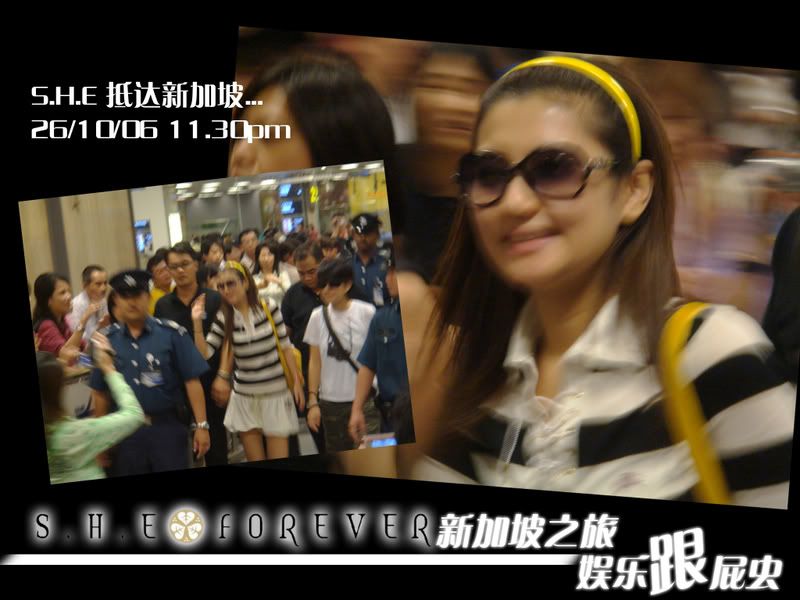 After they've arrived, we gather for some briefing and left back home for a good night rest for tomorrow event.
Day 2, 27th Oct 2006, Friday
Woke up at 5.30am in the morning.. prepared myself and went off to take a bus to yishun and transfer to train to jurong.. reached imm at ard 7.45 to 8am… there was people queing up over there already.. join in with eunice and yiwen they all.. and slowly members started to join in too.. we played some games, the one that S.H.E played on WQYL, the rthyme bell thingy.. its fun lo.. LOL~ haha.. ard noon time, we had mac for lunch and it started to rain… some of the com members and i helped to queue for the members in the rain with the umbrella.. and the rain lasted for almost an hour ba.. time passed very quickly after the rain.. and we're all very excited to see them haha.. and yup, i'm interviewed by the media regarding our fc.. lol… luckily me, yi wen and eunice managed to get some of the members to help cheer for S.H.E.. as most of them are paiseh la.. haha.. maybe u'll get to see us on TV tomorrow, Sun, Channel U, 7pm, Zhou Mo Xin Wen Ju Le Bu..
at ard 7.45pm, they finally arrived and the first song that they sang was Chu dian.., followed by Wo Men Zen Me Le and Ring Ring Ring, with danced which all the fans requested for LOL~!..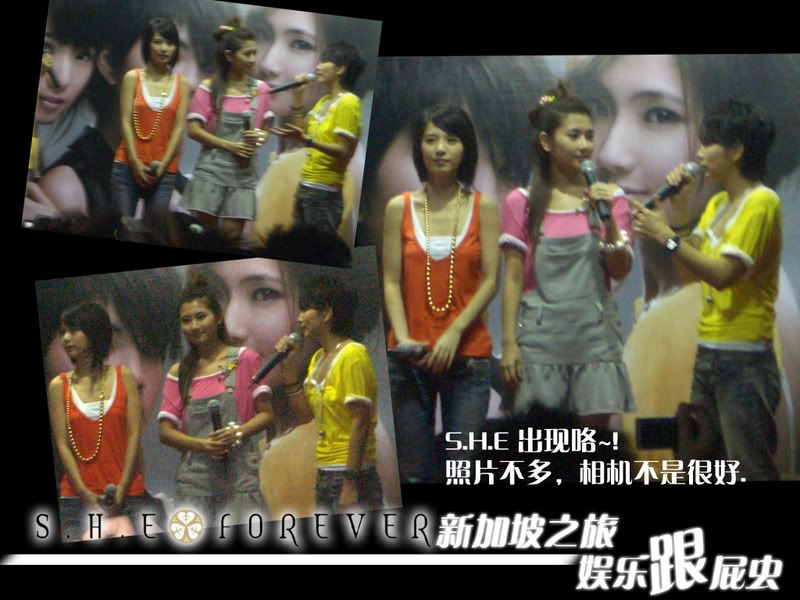 after all the waiting and squeezing, its my turn to get my autographs.. surprised that we're allowed to sign more than 1 album and i helped my sergants and sirs to get their albums signed too.. lol.. one interesting stuff was.. i open up Selina's DIY book and shift it to her fornt, asking her to helped me sign.. and this is wat she says: "Hao de.. wo xian ba zhuan ji qian wan.. " and she really signed for me on the book.. I WAS SOOO HAPPY ~! hahaha.. moved on to Ella, congrats her for being nominated in the Jing Zhong Jiang best actress. and she thank me together with a smile on her face.. next was HEBE.. i requested for her to sign on the waiver we made.. and she hesitate for a while.. the xuan chuan by the side said later, when she's done with the albums.. when she finished signing the album.. she put the hands up to me and smiled.. i was like WOW… haha.. i shook hand with her and says thanks.. she smiled back again.. the smile from her was like OMG lo… hahaha…
Day 3, 28th Oct 2006, Saturday
woke up at ard 10am this morning.. uploaded my photos and was thinking and tempted to go for Global Chinese Music Award.. haha.. and in the end.. i really went for it.. bought tix at sistic outlet outside the indoor stadium.. meet up with aaron and the rest to cheer for S.H.E at the xing guang da dao.. they're damm pretty lo.. ahaha.. so happy.. enjoyed myself that night and was feeling so happy that i din miss it, or i regret lo.. lol~! din really have much pic of the event that day.. cos yy camera abit cannot make it le.. LOL.. not saying his cam no good, its just my expectation too high.. haha.. anyway thanks yy for the camera..
so inorder to get more clearer and closer pic.. my aunt suggested of buying a digital camera and was asking me to helped them pick one.. LOL.. am i dreaming? just when i thought of having one.. haha.. they wanna buy one good camera so that when they go for their coming genting trip and futre overseas trips, they can get nice photographs and at the same time i can use them for my S.H.E LOL~! ahaha… bought the Panasonic FX-07 digital camera and its really one good camera lo.. haha… look at those photos that i took and you'll know.. lol…
Day 4, 29th Oct 2006, Sunday
stayed overnight at my aunt house last night and i got back home this morning at 10am.. packed my stuff and off i go to meet trina and marlene at tampines mall.. we're afraid that we'll be too late for the event which starts at 3pm, we decided to go at 11.30am.. haha.. and we're right to say that we're clever to go at 11.30 cos there was people queueing up there already.. helped the comms in some stuff and we're all excited about this tong le hui.. haha..
i'm really happy that i'm able to go onstage to celebrate selina's birthday.. she was so touched that she teared.. when she saw the cake design she say its soo cute.. i told her that i drew it.. haha.. and she was like oh really? and hebe says its sooo cute and she describe how it looks like to those fans below by telling them its a cartoon pic of selina and pinky.. haha.. i even told her that those waiver that they've been looking at for the past few days are drawn by me too.. haha.. i'm happy as they knew it.. and ella even asked wat fc we're frm.. and together with ella we shouted out Mong Huan Tian Tang.. tat's was a great feeling to have.. haha.. its really one happy day for me.. even managed to take photos with them lo.. lol…. thanks sheryl for helpin me.. =)
after the tong le hui, we proceeded to expo for the mini concert.. and everyone was soooo HIGH.. and from wat we see, i can say that the main focus of the concert was S.H.E lo.. u know wat.. before S.H.E appears, there's this video played back of their footages from the very 1st album to the latest one.. which is like so power lo.. they sang Chu Dian, Bu xiang zhang da, wo men zen me le and superstar.. the feeling that we had during their concert in jan this year was back again.. HIgh High HIGH~!!!
and enought of photos.. next stuff to come will be video clips.. its in the process of making and i hope i can finish it by tomolo.. so stay tunned for S.H.E Singapore Yu Le Gen Pi Chong PART 2~!