WoooHoooooooooo~!!! Guess u guyz must be waiting for this post to arrive ba. haha and as what i've promised , the post is here finally.. ARE you READy ~?? LETS GO~!
8th January 2006, Sun
Wake up in the morning around 8+, do some stuff on the com and get myself prepare for S.H.E arrival. Its was raining like hell the whole day.. took bus 27 and was caught in a traffic jam, most prob becos of the rain. and was like late for about 15mins. look for the rest once i reached the airport and have some briefing.
around 1.15+ -pm, S.H.E Finally arrive in singapore.. fans and pple from ren ci, and MING YI fa shi was also there to welcome S.H.E and Gong Shi Jia arrival. When they came out after collecting their luggage, the fa shi presented them flowers as a token of appreciation.
wanna noe how was it like @ the airport? see wat've i've got for u guyz( sorry abit dark when view on com haha will edit it but not so soon :
After the arrival, had mac with the members aka marlene, trina, shirley etc. then continue our journey to Yishun Northpoint for S.H.E event. they was sooo pretty that day.. Excellent~! as northpoint wasn't a big shoppin mall, we get to see them real close. They never sing any songs that day but played some games with some of the fans that was chosen on the spot. was quite angry with one of the fans la, ermz should i catergorize her as a fan.. hmmm.. never mind, you'll now wat i mean later on.. haha. eagar to see the pic? here it is …………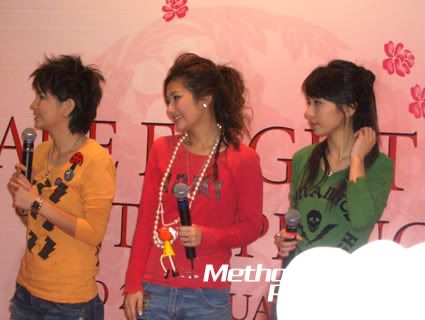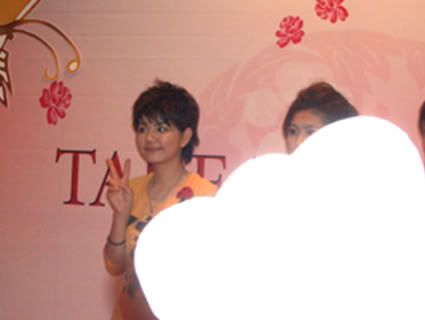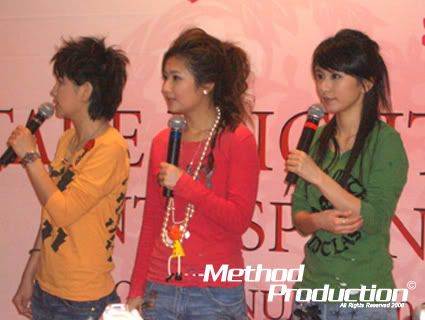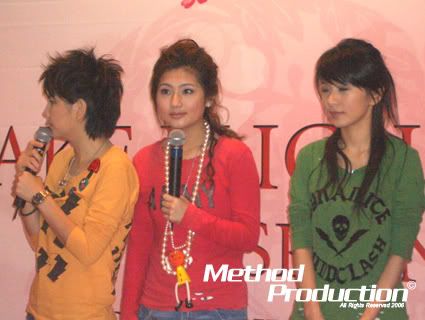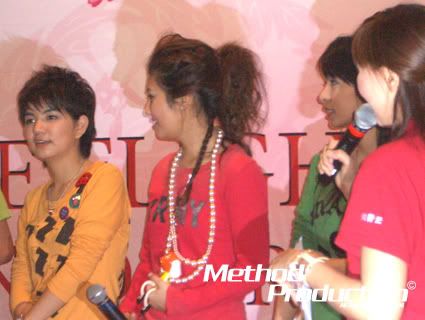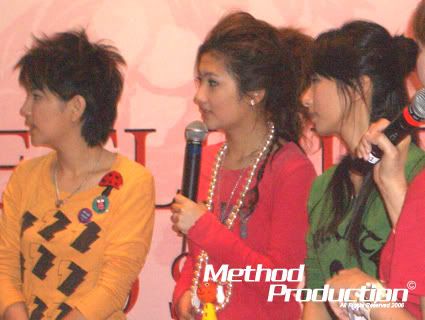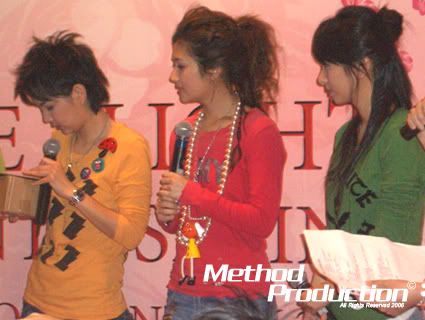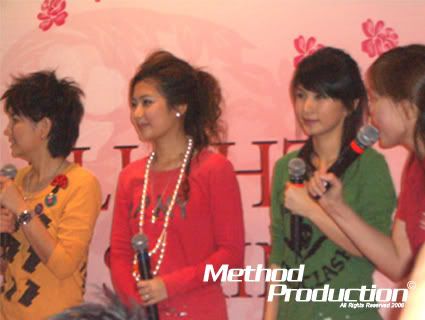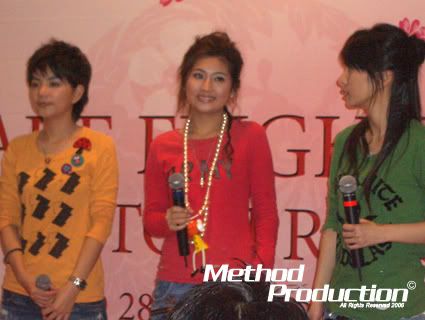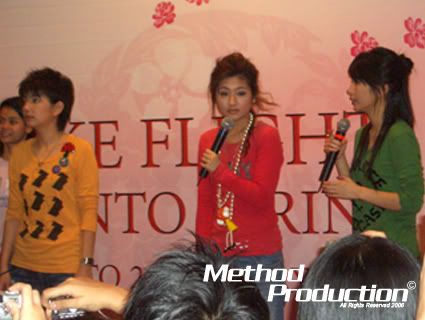 haha think still not enough? hai bu guo yin ma? now let Me bring ya back to dang tian xian chang. (lets do a SNG lian xian, LOL~)
Fan A Patner wif Ella
Ans for Ella Clip: Sheng Qiang Shou, Bu Xiang Zhang Da, Zhu Luo Ji, Bo Si Mao, Hao Ren You Hao Bao, Yes I Love You, Shi Mian Mai Fu.
Fan B Partner wif Selina (she's from our fc de.. )
Ans for Selina Clip: Xing Xing Zhi Huo, Wo Ai Ni, Yue Gui Nu Shen, Hou Niao, Hua Dou Kai Hao Le, Re Dai Yu Ling, Bei Shuo Dui Bu Qi, Chang Xiang Si, Gei Wo Duo Yi Dian..
Fan C patener wif Hebe
Ans for Hebe Clip: Tian Hui, Yuan Fang, Luo Da Yu, 5 Tian 4 Ye, Xing Guang, Super Model, Bai Se Lian Ge, Ta Hai Shi Bu Dong, Ni Tai Cheng Shi, Lian Ren Wei Man.
P.K. ~!
Ans: Ai Wo De Zi Ge
haha.. guo yin ma? Shiok?
after the event, we went back home and watch ren ci. they sang a total of 4 songs, 2 songs each time. they are, bu xiang zhang da, tina hui, re dai yu ling and super star. Ella cried when she saw the fa shi walking on th building.. i was touched too.. and decided to call again lol~
so thats one day of S.H.E ~~~ Go Sleep and wake up for the next day de.. haha
9th January 2006, Mon
Woke up at 5am, get myself prepared and set off to marina square. reached there around 7am. and then waited for queue number. got myself 001. then after getting the number, went for lunch at long john and back to help out with the com pple.Went to carry the barricades from the basement and dean say thw 2 of us mo qi zui hao LOL~ then went to the DIY shop and bought strings for the com as the strings they wearing was cosing them to feel uncomfortable. then played cards, sing song, tok * and we write our name on our hands, tryin to let S.H.E write our name on the lyrics book and time past like this haha..
At ard 5pm, went over to que for i weekly and was sitting at the side of the stage. At ard 7, zhi yong appear and soon Shi Jia appear and sang 2 songs as special appearance, while S.H.E was having their interview at the mos burger.
They sang bu xinag zhang da for the opening and followed by tian hui. the sound system abit no good and causes some distrubtion. So We helped them to sing tian hui and they were so happy with us.. haha cool~
the 1st to go up was a bit nervous. this is how the conversation between me and them on stage:
Me: Selina, Ke yi bang wo xie shang wo de ming zi ma?
Selina: Hao De (looking at my hand)
Xuan Chuan: BU KE YI ~ (cover my hand)
Selina : Ermz.. (yi lian bu zhi dao ru he shi hao )
Selina : eer.. dui bu qi bu hao yi si.
ME: Mei guan xi, Jia you or~
Selina: Hao ~! (smile and look at me.. wooooooooo melt liao haha )
Hebe(look up at me) :bu hao yi si or
Me: Mei guan Xi, (shake hand)
Me: Zhe ge gei ni meng ( smile)
Hebe: Hao Ke Ai, Xie Lo~ (Smile)
Me: Ella jia you. ni Hao ke ai
Ella: XiE xiE~
And left the stage cos was like alot of pple behind le. haha
wassss soooooooo haaapppppyyy~~~
ok, enough, picture time~!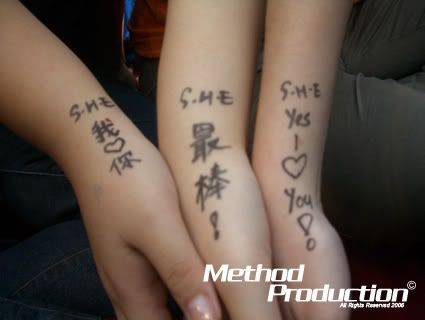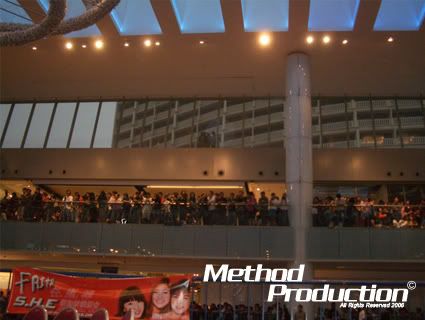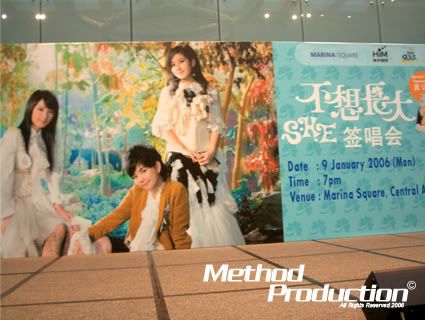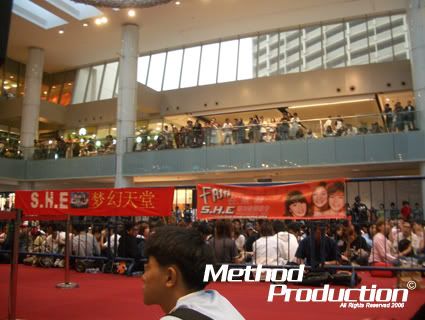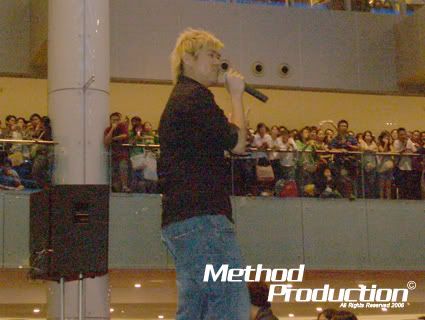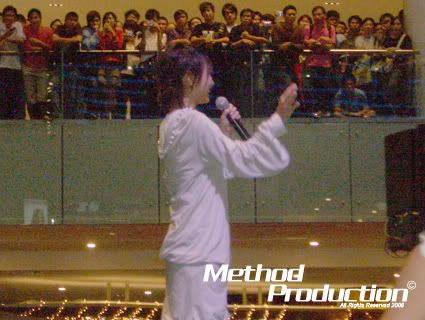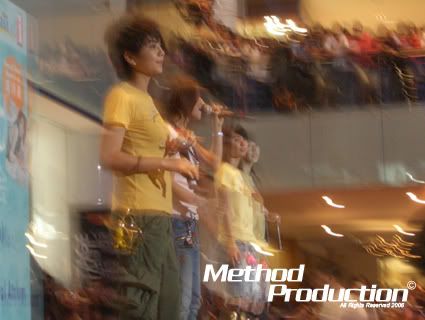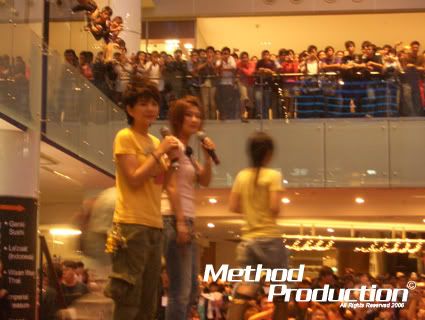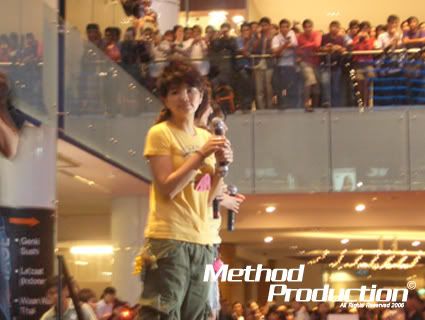 Video time~! haha

autograph lyrics book and dan qu.. the nicest hebe autograph i ever get.. haha

10th January 2006, Tuesday
woke up at 7 and reach the airport by 8.. arrange ourselve into diff formation for escorting S.H.E to their check in point.. was quite happy to have a wave and smile from hebe, a conversation of bye bye from selina and ella woooo.. HAHA

was rather tired after this few days.. shoulder ache now.. haha..
so that's the end of S.H.E Singapore "yu Le Gen Pi Chong", by Darren, Ambience.