When i received the invitation for this burger making session at Fat Boys Burger, i was quite looking forward to it and i quickly rsvp for it. Still remember the first time i visited them was in 2010 and i was already in love with their burgers! Got evidence one okay! so how can i miss this chance to make my own burger over there right?
I was kinda late due to the heavy rain but luckily i didn't miss out too much 😛 still in time to make my own burger patty which look like this.
The one on the left is beef while the one on the right is pork. YES pork~!! which is why i like hahaha 😛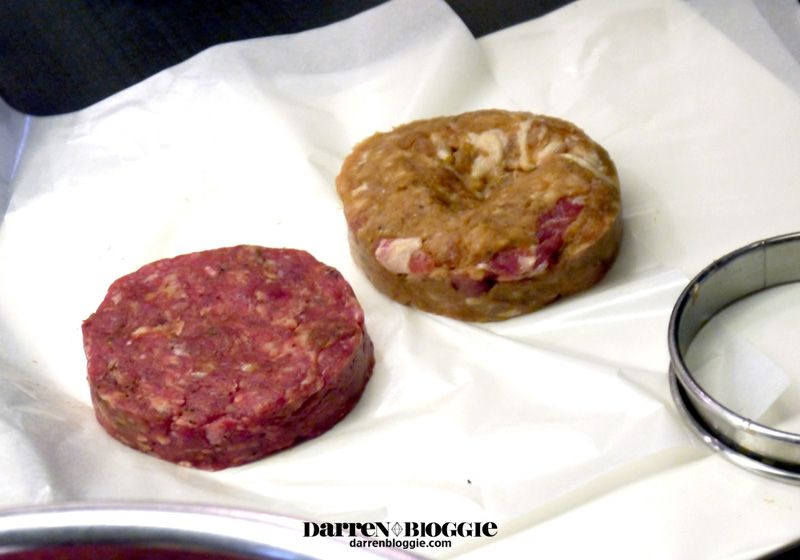 Notice the red meat in the pork patty? That's actually the char siew meat and bacon to create a more chewy bite 😉 Nice!
3 different breads to choose from…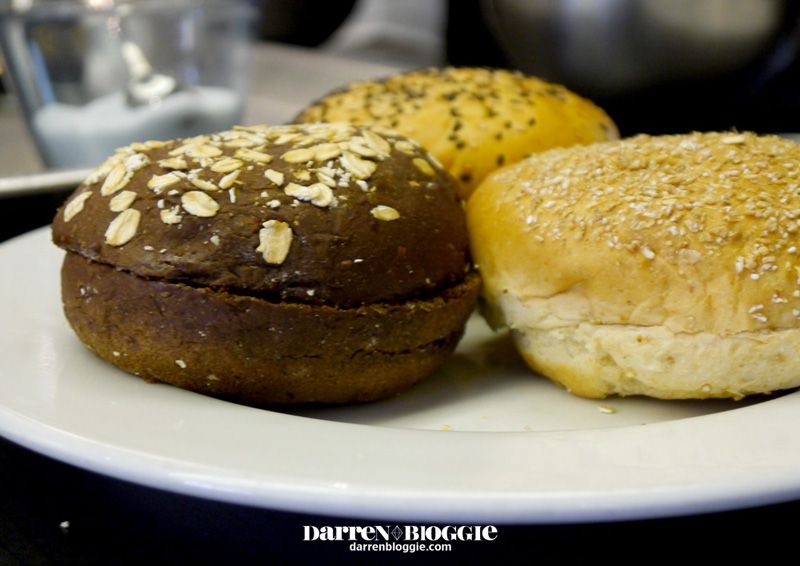 So… let's get started! 😀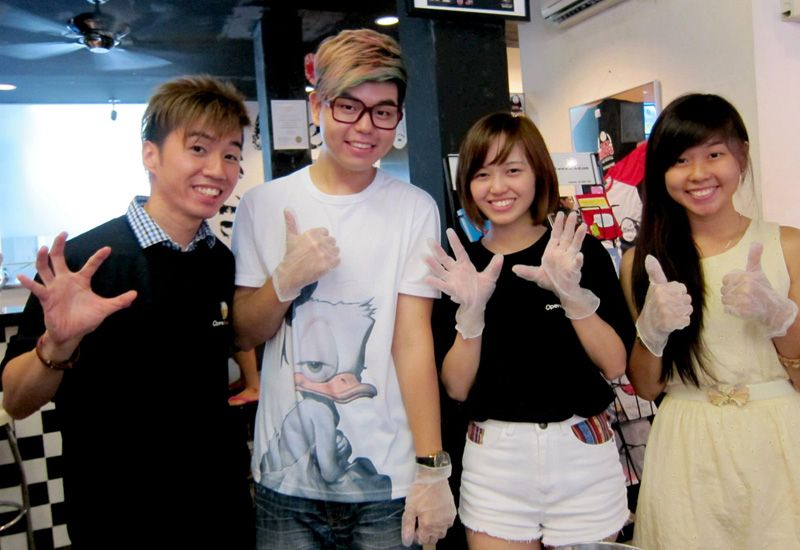 Calvin rolling his beef patty into a ball, like a pro ~ lolx
Everyone having fun creating their own burger 😀 !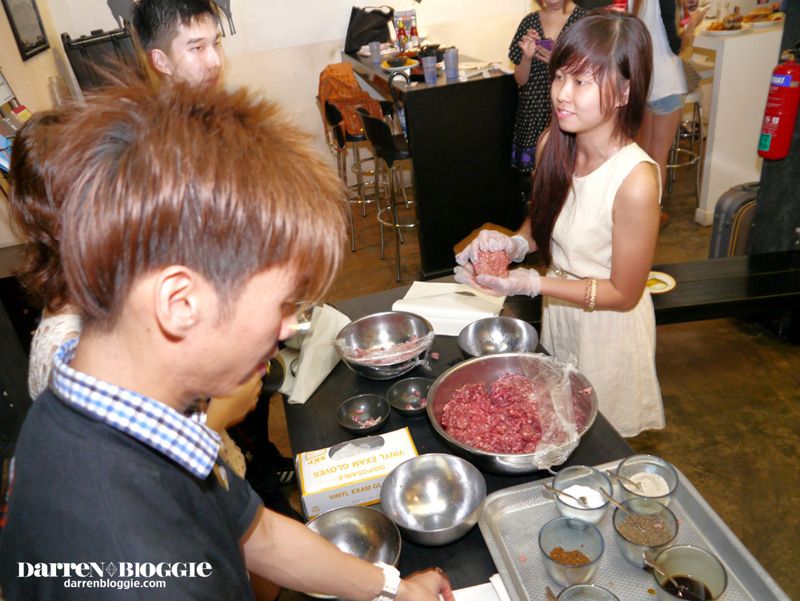 Add any of these into your patty but am not gonna tell you what are they.. other pple recipe ma~ shhh….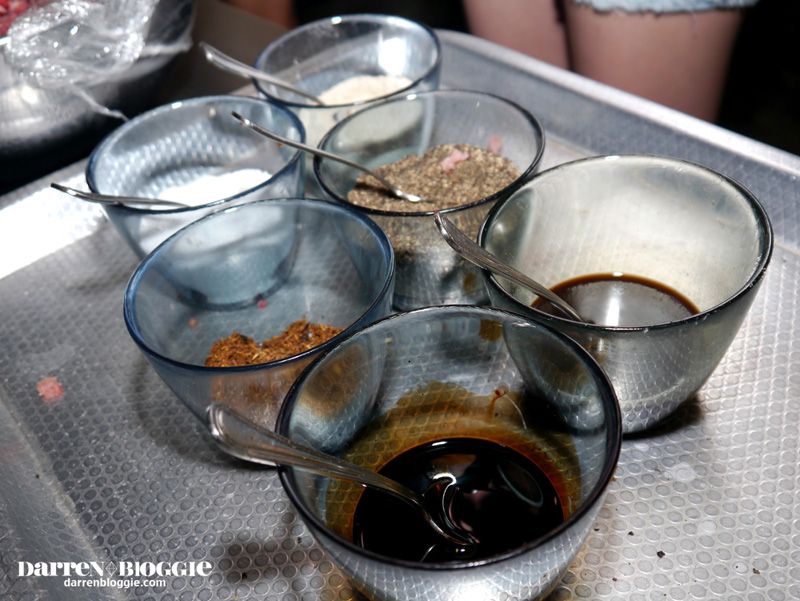 and here's my pork patty, ready to cook! 😀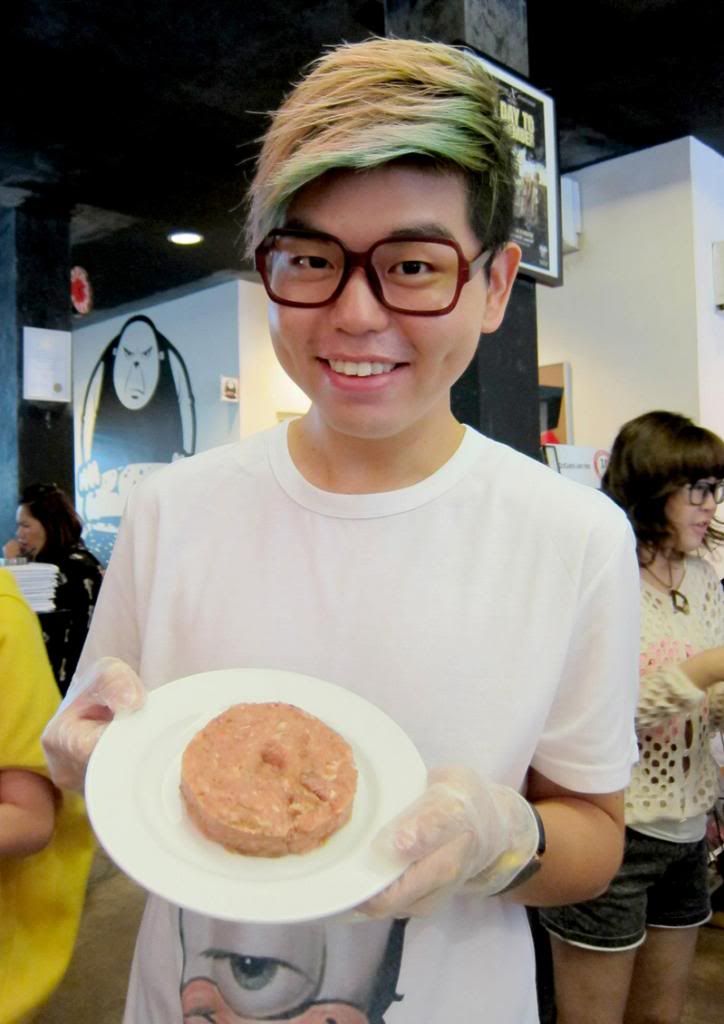 and here's my burger, topped with egg, cheese and BBQ sauce! Love the egg as the egg yolk is those runny kind, which is my favourite!! and when you bite on it, the egg yolk simply just BURST in your mouth! YUMMZ!
the patty is super juicy, together with the egg yolk and the bbq sauce, you might get a little messy with it, but who cares when it taste sooo nice right?!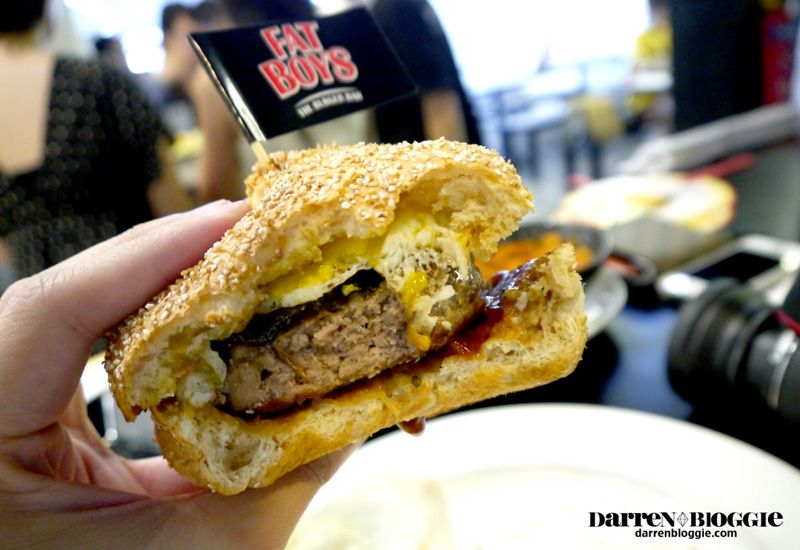 Darren sim, yes another darren, egg yolk oozes out before he gets to give it his first bite.. :X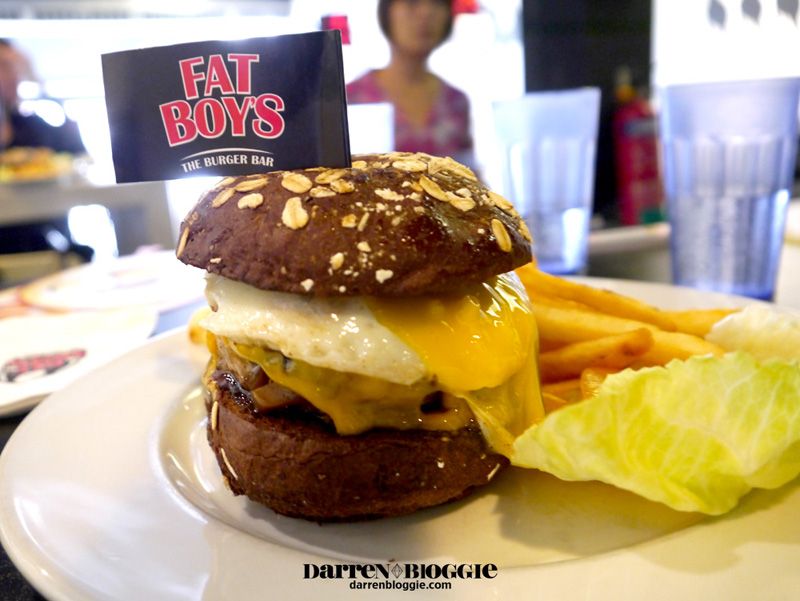 Other than their burgers, they have some interesting milkshake whereby you can create your own milkshake of whatever you one! For me, i ordered a banana oreo milkshake and if you are a alcoholic person, you can request to add in alcohol like baileys and khalua!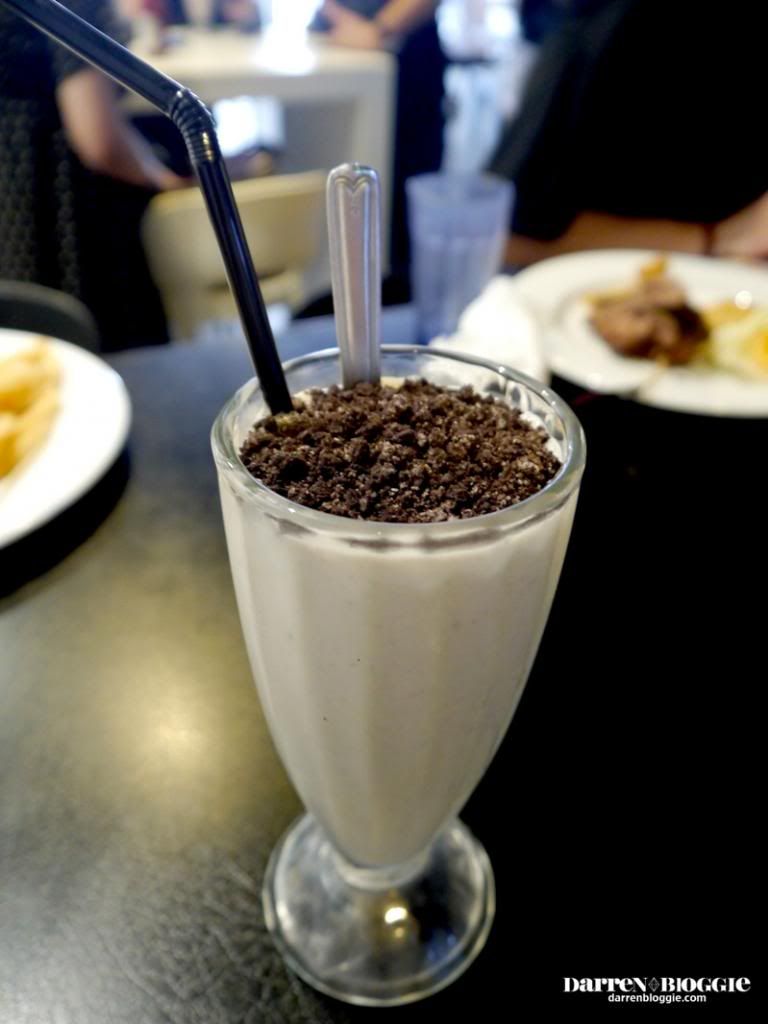 Here's a pic with darren sim, just in case you are wondering who is he.. lolx~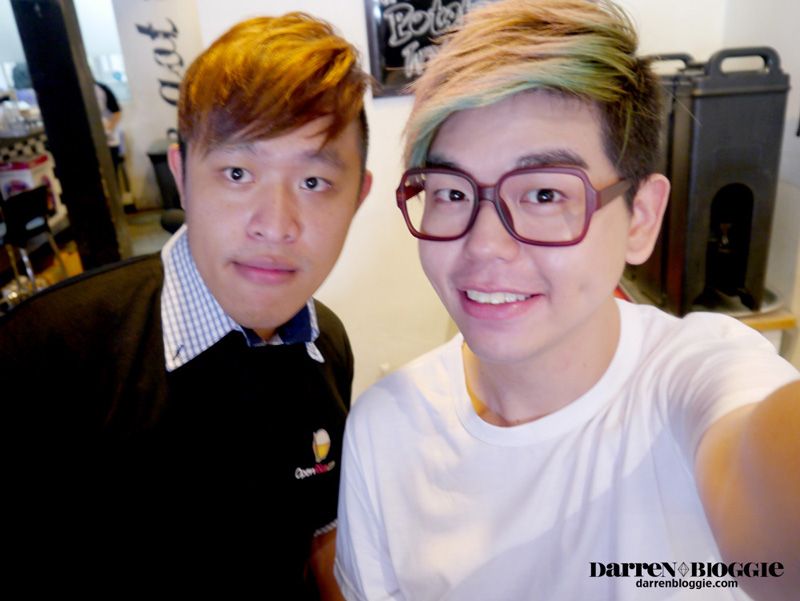 That's the boss!!! don't you think he look exactly the same as the illustration behind me? 😀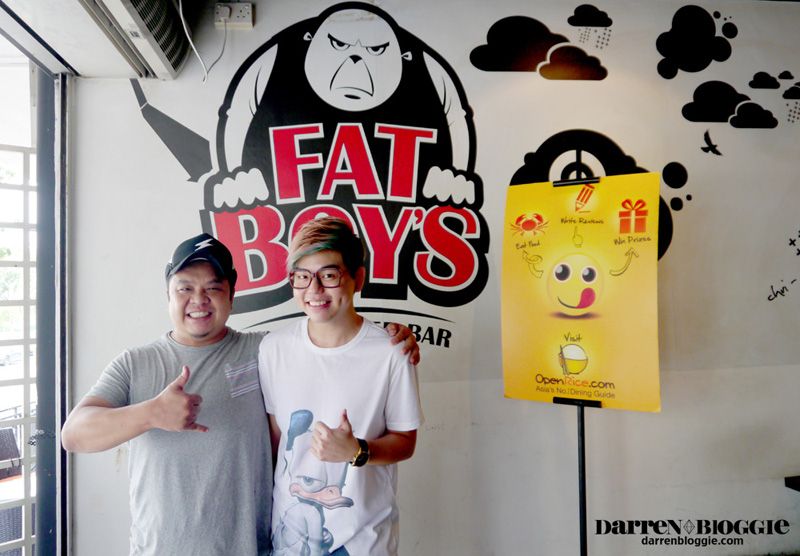 Thank you Open Rice and Fat Boys Burger Bar for this session! Had so much fun!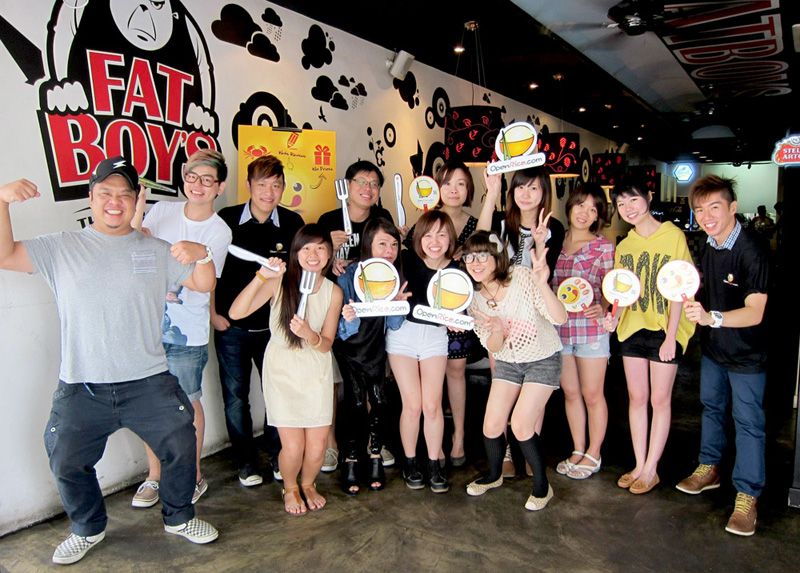 Do LIKE and FOLLOW their facebook page and twitter for latest food reviews, invites and win awesome prizes in the contest! 😀
Fat Boys, The Burger Bar
Upper Thomson Branch
Thomson outlet – 187 Upper Thomson Rd
Tel : 6252 8780
Email : enquiries@fatboys.sg
Katong Branch
Katong outlet – 465 Joo Chiat Rd
Tel : 6346 6081
Email : katong@fatboys.sg
Pasir Panjang Branch
Pasir Panjang outlet – 122 Pasir Panjang Rd
Tel : 6471 3224
Email : pasirpanjang@fatboys.sg