Sponsored Review
Ever wanted to just chill and relax, spend your day in a nice villa with your own private pool, have a splashing good time with your family or loved ones, a kitchenette to whip up a simple meal or just laze your afternoon away on the sofa with a good book or music? The first place that came across my mind is to fly to places with beach resorts and villa such as Bali and Phuket. Now, when you feel like going on a holiday like this, all you need is just an hour of ferry ride to Batam and you will get to experience a heavenly getaway at Montigo Resorts!
Ferry services is available at Tanah Merah Ferry Terminal instead of Harbourfront Cruise Centre. Remember to be there and check-in 30 mins before the boarding time.
About an hour later, we arrived and Nongsapura Ferry Terminal and the friendly driver from Montigo ferry us to the resort. The resort is only 10 mins drive away from the ferry terminal.
Yes, this is it. The view that I always saw it on photos and now I'm seeing it in real life 😀
The lobby is quite spacious with sofa chairs for you to rest on. As it was a Sunday when we arrived there, there's quite alot of visitors checking out of the villa, which resulted more time is needed for the staff to clean up the room. Truly understandable as its a 3 storey villa that they need to clean up, therefore it required more time.
As a result, our villa was not ready when we arrived. So we went on a short tour around Nongsa, provided by the resort and took some pictures along the way.
After about an hour later when we reached back the resort, our villa is ready and we can't wait to see it!
There is a total of 4 types of villa available. Hill top, Hill side, Spa and Sea Front villa. We're given a sea front villa with an unobstructed view of the South China sea. So let me take you on a tour of the villa. The villa is divided into three level. The living room, pool and kitchenette is located at the ground level.
The blue sofa and the white wall and the contrasting dark earthy interior furnitures blends well with each other which gives one a very modern, yet calm and soothing feeling when you are in there.
Hand written welcome message with a personal touch and welcome snacks such as nuts, cakes and cookies 🙂
Pots and pans are available at the kitchenette so you can whip up a meal for your loved ones if you need. Or you can use the microwave to heat up some food when you are hungry in the middle of the night.
The dinning table is located at the outdoor area, just right beside the infinity plunge pool. You can request to arrange for a private dinner with your loved ones here.
All Montigo villas comes with a private sea facing infinity plunge pool where you can catch the sunrise or sunset in the morning or evening, or to beat the heat in the afternoon.
I brought along Willy the whale for the trip and we had a splashing good time in the pool! hahaha~
There are 2 bedrooms located at the second level. The master bedroom comes with a king-size canopy bed, together with the superior bed mattresses and linen, we had a really good sleep over the night. So comfy~
In the master bedroom, there's a large modern bathing area with a large bath tub and the large roof skylight allows natural light to flood in the room, helping one to unwind- and de-stress 🙂
All villas also comes with a guest bedroom with two single beds plus an en-suite bathroom.
You may request to have a BBQ dinner at the sky terrance or unwind and chill as your gaze at the starry sky a night.
After spending a good afternoon in the villa, we went out to explore the vicinity. Buggy services is available, so you will need to give them a call and request for a buggy pick up whenever you needed one.
Other than having your own private plunge pool in the villa, there are two main pools that you can use in the resort. One is located outside TIIGO restaurant and the other is outside TAD's restaurant, which I will share more about their food in the next few posts.
A ootd shot with the white flight of stairs.
At the Montigo's retail shop, you can find everything you need for a resort stay. From sunscreen to bikini, bathrobe, plush toys, food such as cup noodles, biscuits, chips as well as a wide variety of resort souvenirs that you can bring home.
Breakfast was served at TAD's and there's quite wide spread of food to choose from. From Indonesian food such as bee hoon goreng to prata, your favourite bacon, egg station and croissant as well as chinese food such as porridge can all be found in the buffet spread available.
After having a heavy breakfast, we headed back to the villa as I got some work to do. Yes, there's FREE WIFI available throughout the resort, so you can stay connected even if you are out of town. After I'm done with work, we went for our last dip with willy, the whale before we pack our stuff and check out of the resort.
It was really a pleasant stay at Montigo Resorts and I'm truly impressed with the services provided by the friendly staff with a smile whenever I see them. To be honest, there are times where I totally forgot that I'm in Batam! I thought I'm somewhere at a nice villa in Bali hahaha~ If you are looking for a short getway without having to travel far, this will definitely be the best location for you.
Tempted to visit or thinking that it might be too late to plan for your year end trip, why not come down to Montigo Resort and celebrate Christmas and usher in the New Year with your loved ones?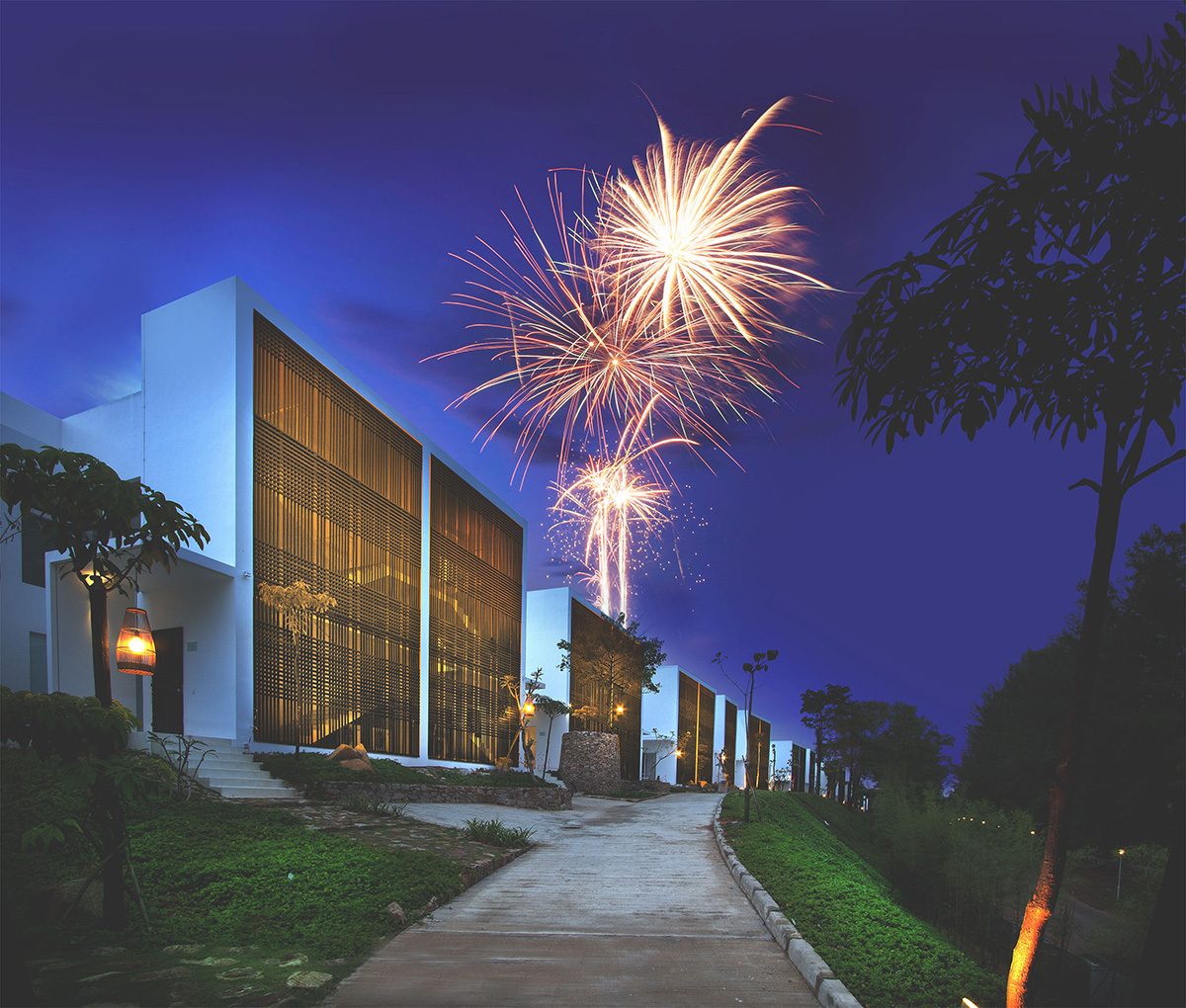 Early Bird New Year's Package
To usher in the New Year, Montigo Resorts, Nongsa offers a 3-day, 2-night stay at a very special rate from SGD448++ per person (based on 2 persons per villa) inclusive of pool villa accommodation, a New Year's Eve barbeque dinner inclusive of a festive mocktail at Tadd's Restaurant, and entry to a DJ party at TIIGO Bar and Beach Club. At midnight, expect to see brilliant fireworks display.
Bookings must be made on or before 30 November 2015, so make your bookings now!
We have an updated post on our recent visit to Montigo Resorts's One Bedroom Villa here!