Singapore – Premium gelato brand Momolato has upped the ante in the healthy lifestyle ice cream game with a new late-night, 18-seater, eco-friendly gelateria in Kampong Glam that exudes tropical style and offers mind-blowing artisanal flavours.
The gelatos available are exquisite and inspirational and backed by Momolato's deep experience as Singapore's premium gelato maker. Started by former investment banker Sharon Tay, the company is best known as the 'gelato brand behind the brands', having supplied many of the island's best restaurants for years.
The Momolato gelato range changes weekly and offers a cornucopia of creations that draw upon the world's best ingredients. Now you can choose from 18 exquisite flavours with the choice of Keto, Signature or Premium ($4.90-$8). Enjoy gelato in a pandan leaf-wrapped cone ($1.50-$3), with waffles or croffles ($6.60 to $12 for Keto) or tuck into a Keto, sugar-free, diabetic-friendly smoothie range that includes Mango Yoghurt Pomelo flavour, Avocado Coconut or Strawberry Cheesecake ($8).
Popsicle Spritzers are great for cooling down on a hot day. Choose from Watermelon Mint and Watermelon Kiwi Pop, Coconut Water Lychee pop or Mango Coconut and Passionfruit Pop ($8).
Momolato's super pure gelato uses only the best natural ingredients without additives or artificial flavouring. The range features unique flavour fusions and culinary complexity that matches today's market for guilt-free gourmandise with seasonal signatures and delicious disruption. Notable must-trys are the Premium and Signature flavour range of Kochi Yuzu Shiso from Japan, Chocolate Arabica Coffee from Ecuador, Roasted Sicilian Pistachio and more locally Mao Shan Wang durian flavour, Oolong Hojicha Tiramisu and Ondeh-Ondeh Sweet Potato Swirl ($4.90 – $5.90 per scoop).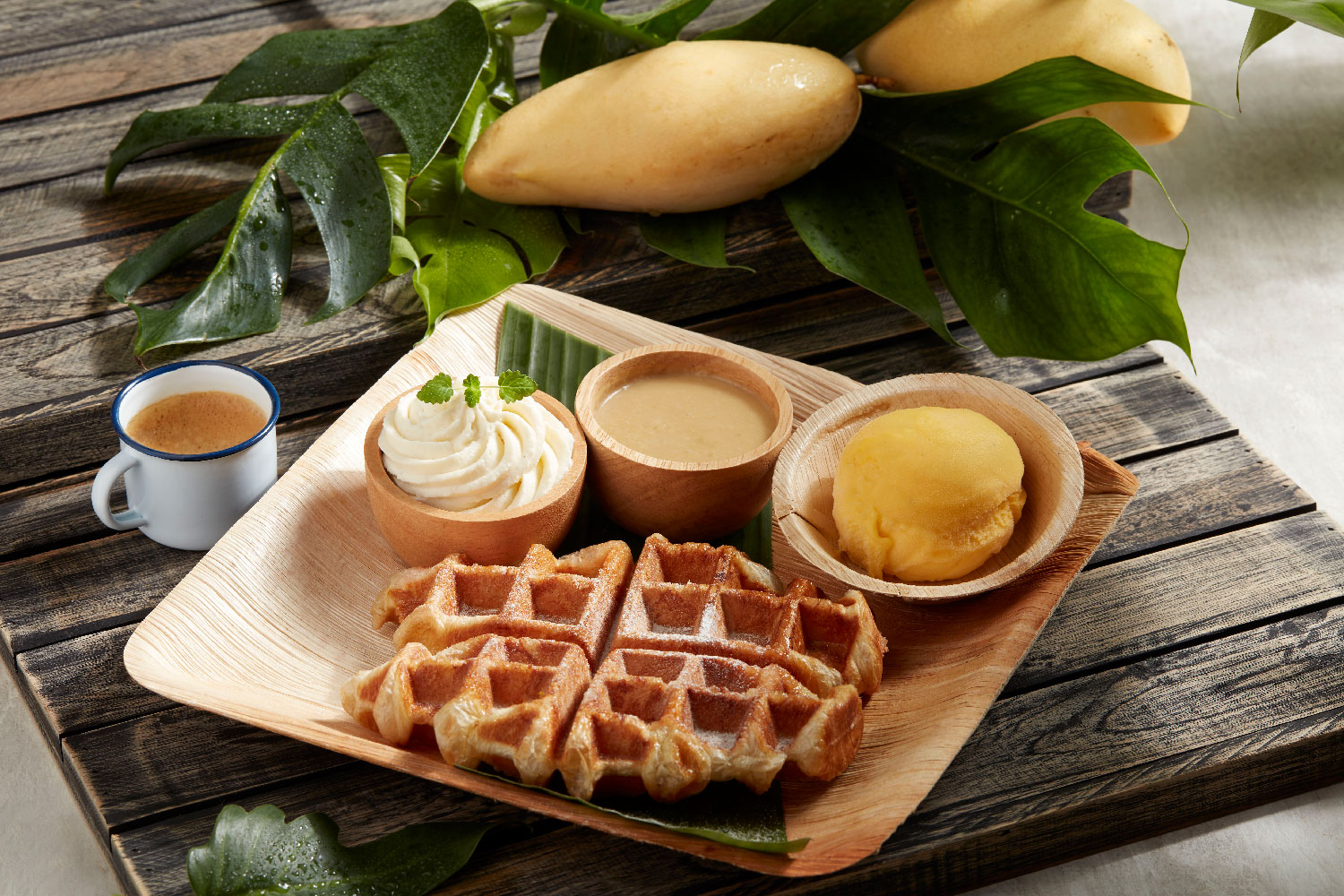 Momolato's Keto gelato range is sweetened naturally using monk fruit extract, stevia, erythritol, and allulose, ingredients that are not absorbed by the gut and are diabetic-friendly. Says Tay: "Our philosophy can be succinctly summarized as this – we'd not make and serve gelato that we do not want our loved ones eating. We make our gelato using only clean, natural and wholesome ingredients. No nasties allowed." The company has handcrafted more than 240 gelato and popsicle flavours since it started in 2014.
Drawing inspiration from its location on Haji Lane, Momolato's new venue reflects a modern kampong atmosphere with hand-crafted rattan boards, botanical palm design on the walls and a corrugated iron bar reminiscent of kampong rooftops. Late-night date nights will never be the same, the new gelateria, – open until 2am – offers a fresh tropical vibe with Peranakan tile accents and tableware made from biodegradable fallen Areca leaves that reflect the area's kampong culture.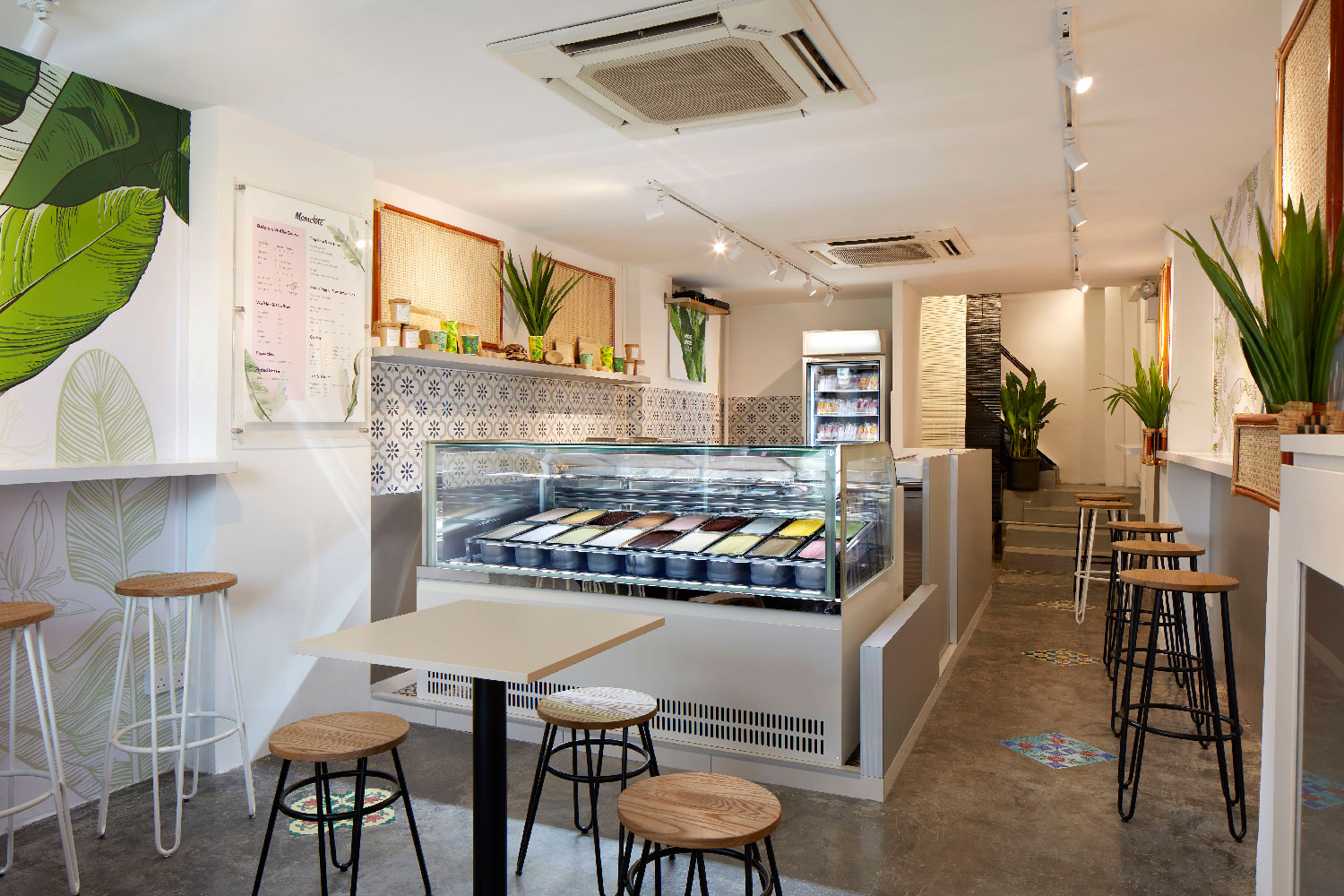 Owner Sharon Tay says of her gelato range: "My intent for Momolato is to create inventive, not-too-sweet gelato flavours that capture the essence of exquisite ripe fruits as well as various gourmet and natural ingredients. My focus is on using minimally processed, fresh, whole ingredients as well as simple, clean methods to churn out fresh, locally made gelato daily."
The Momolato Café is NOW OPEN and serving!
Enjoy your complimentary beverage with every double scoop of gelato from now till 12th May, 8pm to 10pm, daily.
Momolato Cafe
34 Haji Lane S189227
Opening Hours:
Sunday to Thursday noon to 11:00 pm
Friday and Saturday noon to 2:00 am
+65 8883 7968
Instagram: @momolatosg
Facebook: facebook.com/momolato
Website: www.momolato.com