Recent reports warn of rising obesity rates in Singapore, especially amongst young adults who face a big drop in physical activity when they start working, but continue consuming the same or even higher amounts of food. Against this backdrop, Mission Foods Singapore, the world's largest flatbread producer and makers of the well-known and loved Mission Wraps, has stepped up to spearhead a mission to promote active change in the way Singaporeans live and eat.
Research shows that it takes 21 days to create a new habit or change an old one for a lifetime. Inspired by this insight, Mission Foods Singapore has teamed up with Fitness Guru, Dave Nuku and Celebrity Nutritionist, Alexandra Prabaharan to create an exciting yet simple to follow 21-Day programme called #The21DayMission.
#The21DayMission was developed with the singular aim to educate the general public that leading a healthy, active lifestyle can be simple and easily achievable without being too time-consuming when one has the correct meal plan and fitness guidance. The programme, which went live on 9th May 2016, features daily fitness and recipe videos that are sent to subscribers. Subscription is free and can be done easily through the Mission Foods Singapore Facebook site. Once subscribed, followers are sent links to the videos and meal plans in advance to be able to prepare for their 21-Day Mission.
#The21DayMission is a collaboration between Mission Foods Singapore and fitness guru, Dave Nuku, a certified personal trainer and international presenter on health and fitness issues, who was also one of the main trainers on The Biggest Loser Asia TV series. Dave has dedicated his life to helping people achieve their goals and transform their lives through achieving a healthier body, mind and spirit.
For the nutritional part of the programme, Alexandra Prabaharan, a renowned nutritionist, has created a delicious meal plan including breakfast, lunch and dinner recipes which complement the fitness regime. All the recipes are designed to be simple to prepare as they use easy-to-find ingredients and deliciously versatile Mission Foods products including Wraps, Pita, Naan and Tortilla Chips.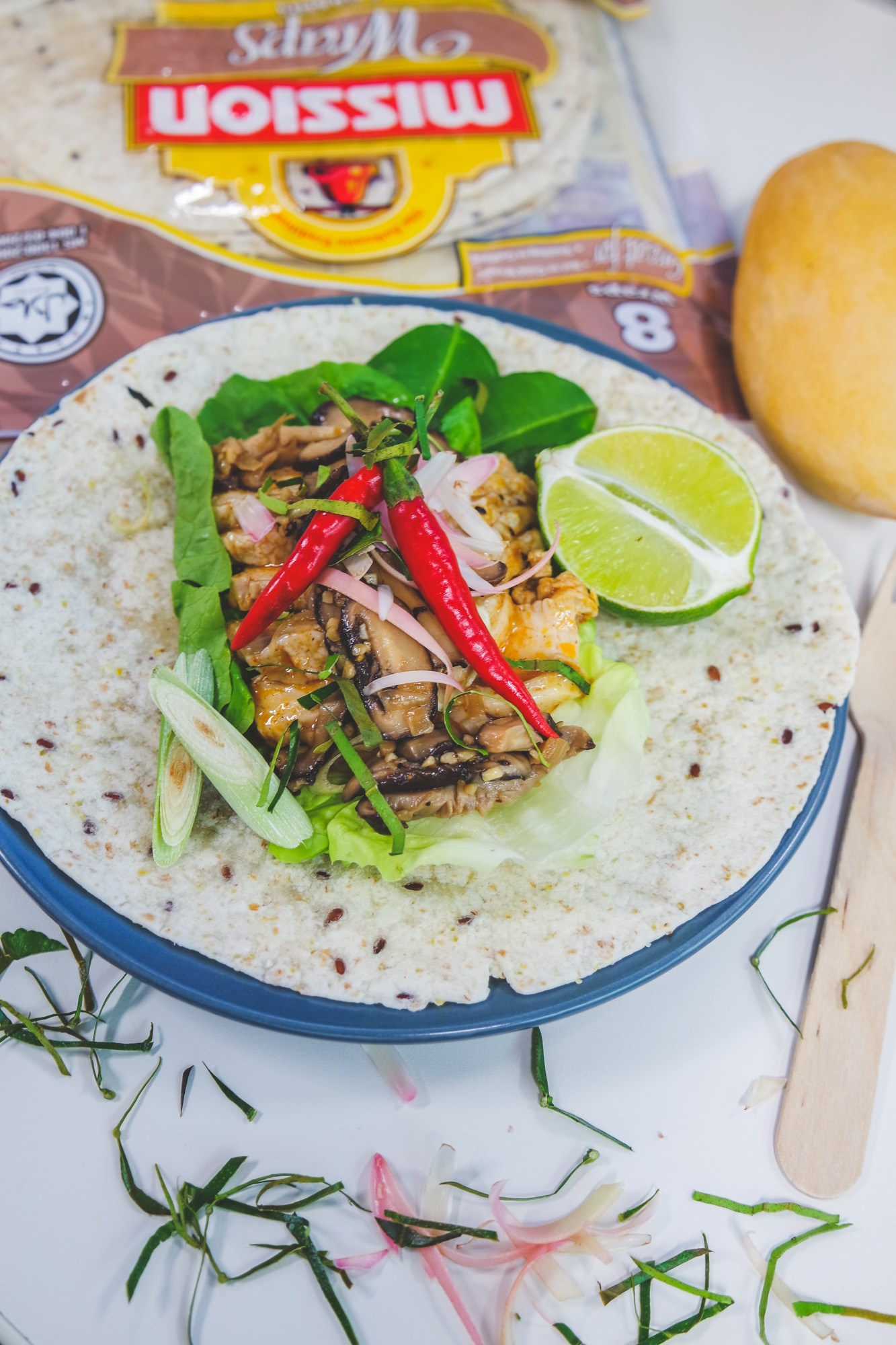 TOM YUM CHICKEN WRAP
Ingredients :
1 Chicken Breast
2 Tbs tom yam paste
4 pcs button mushrooms
1 tbsp bunga kantan, sliced
1 tsp lemongrass,sliced
1 tsp kaffir lime leaft, sliced
Mixed Salad
1 lime juice
1 Mission wholemeal wrap
METHOD:
Marina chicken with tom yam paste for 15 mins
Bake in the oven at 170ºC for 15 minutes till cooked
Slice chicken when cooked
Sautee button mushrooms
Place mixed salad on Mission Wholemeal Wrap
Sprinkle on bunga kantan, kaffir lime leaf and lemongrass
Add on sliced chicken and mushrooms on salad
Squeeze some lime and wrap up.
For more information on #The21DayMission, follow facebook.com/missionfoodssingapore or instagram.com/missionfoods.sg
To sign up for #The21DayMission and receive free fitness videos and recipes, kindly click on this link.