Alright, wasn't able to update last night so update now..
did auite alot of stuff on monday.. went for a run in the morning, followed by going over to compasspoint to pay bills, do laundry, iron clothes, fold incense paper, mop floor.. haha.. was surprise that i did so much stuff that day..
ard 7+ meet yy to dia house to fixed ah mei com.. reached there ard 7.45 to 8.. haha.. the cpu din work at first and we thought that it maybe ah mei's monitor that's faulty. so we tried the cpu on dia's com and it works. and after that, we fixed it with ah mei's monitor and it works haha.. heng ah.. so she should be happy now that she can goes online once again.. haha
ard 8+ dia and zw came home.. then we left for dinner at ard 9+.. zw drove his van back home and changed to another car and we proceeded to serangoon garden for dinner…
managed to get a seat rather fast there.. guess who we saw.. the "Yong Bu Yan Bai" champion and the "Star Idol, Ming Xing Ou Xiang" champion, bryan there.. with their frenz haha..
me, zw, yy ordered porridge and dia ordered zui kueh.. after that we ordered some dessert.. dia and zw shared one strawberry and nata de coco ice, yy ordered mango longan beancurd and i ordered mango nata de coco ice.. not bad.. quite nice.. haha.. then i ta bao a packet of hokkien fried noodle for my mum..
reached home ard 11.30.. haha thanks to zw for been able to get me home by 11.30 cos the next day is lunar 15th, and my mum dun eat meat on that day.. so gotta reach home by 11.30 haha..
the next day went to my ah kim house to bai bai, and my mum took a day off tat day.. played with the kids that my ah kim took care of.. got back home at ard 5+ and watch tv.. kang xi lai le was S.H.E haha..
woke up early today, 7+ and left home with my mum to paya lebar to visit someone. aa how to say lei.. she's one who treat my mum very well when she's young and her daugther are my mums good frenz.. i call her lao sim la.. my mum and i reached first, then followed by my aunt. then we went over the the temple beside the old folks home. go there bai bai and did some chanting for chao du purposes cos my aunt got register for those events where the temple and monks will pray and provides offerings all this during the 7th month for my ah gong and great granny..
pic taken at the old folks home.. she's the one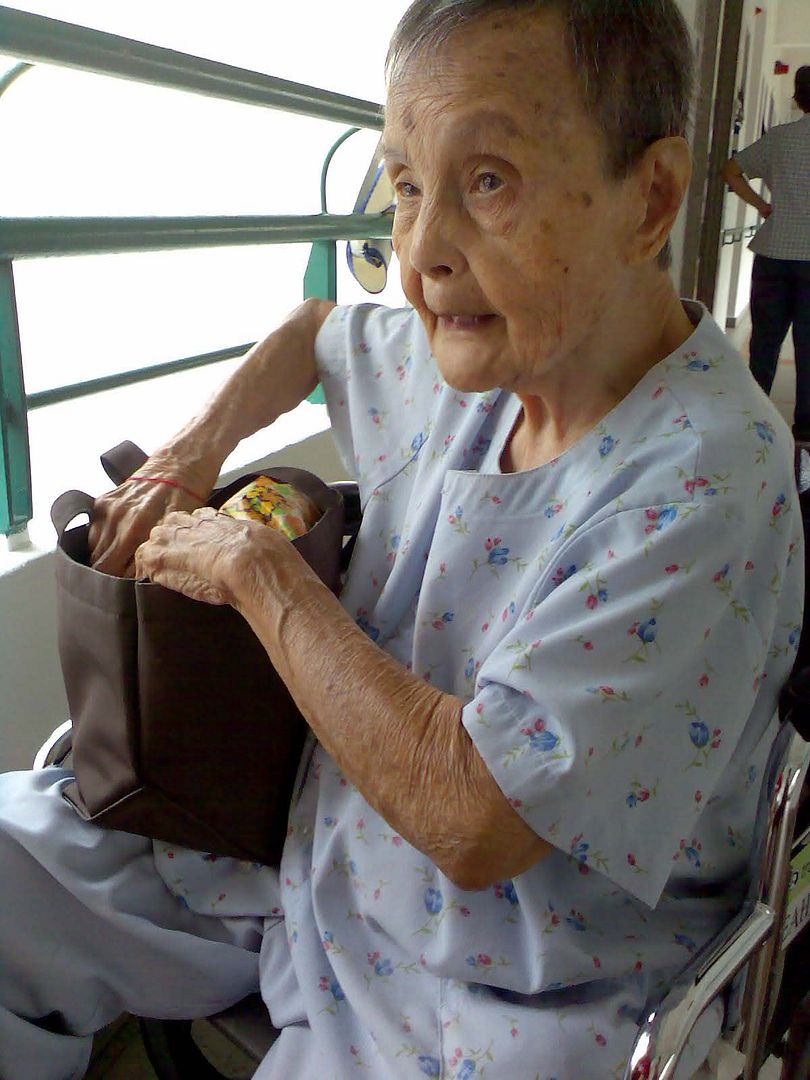 proceeded to my ah ma house after tat.. it was like 12+ when i reached amk. so slack there lo.. watched tv etc.. was waiting for yy call to see if he's going out ma..
had my dinner there and went home after that..
bath, and watch tv, kang xi lai le S.H.E part 2…
now so sianz.. sooooooo sianz…
grhz….
the sky is so nice.. taken at my ah ma hse by reaching my cam hp out of the window and snap it… lol~