Are you a ice cream lover? If you are, and if you love Magnum's ice cream, i'm sure you will love their newly launched ice cream, Magnum Black and Magnum Pink!
Was invited to the opening of MAGNUM SINGAPORE Pleasure Store and the launch of Magnum Pink & Black located at Clarke Quay Central fountain.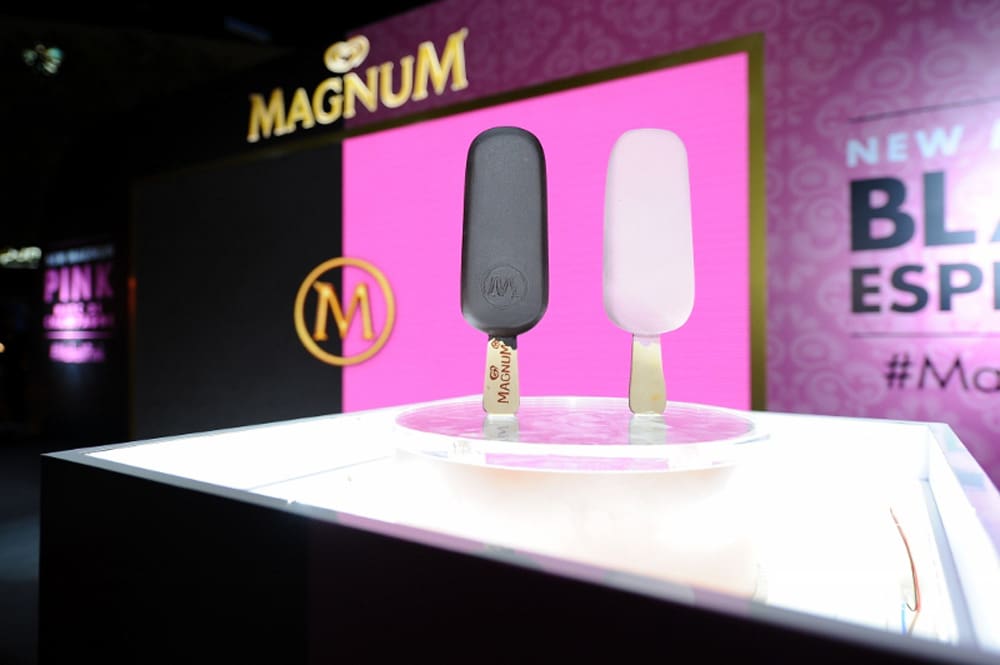 Love the new flavour! It's GOOD! and personally i love the Magnum Black which contain intense black espresso coffee swirled in a smooth, creamy vanilla ice cream, covered in the signature thick layer of crackling dark Magnum chocolate.. AWW~ soo GOOD! If you prefer something more sweet, go for the Magnum Pink, with pink Marc de Champagne ice cream and sauce coated in a premium pearlescent pink layer of crackling Magnum chocolate 🙂
Other than the launch of the Magnum Black and Pink, it's also the grand opening of the Magnum Singapore Pleasure Store !
What you can experience at the Magnum Pleasure Stores is that you are able to design your very own Magnum! Starting with an uncoated Vanilla Magnum, you will go on a unique 6 steps journey, indulging in the senses of sights, sounds and smells of Magnum chocolate and ice cream in desiging your very own Magnum!
On top of that, MAGNUM SINGAPORE Pleasure Store also serves up exquisite and sumptuous Magnum desserts and cocktails long into the night. The menu of remarkable pleasures includes beautiful Magnum dessert creations such as "A Midsummer's Night Dream", created from edible flowers, assorted fizzy berries, white chocolate sheet and a Magnum.
With Juliana at the party 😉
Enjoying my MAGNUM BLACK ;P
and MAGNUM PINK as well! 😀
Glad to meet the other bloggers there too and we had lots of fun camwhoring together!

Credits to HP
The new Magnum Pink and Magnum Black will be available island wide on 1 st August 2013. The MAGNUM SINGAPORE Pleasure Store will be roving around Singapore, with the first stop at Clarke Quay Central Fountain from the 27th of July to the 26th of August and will be open daily, from 12pm to 11pm.
For updates on the next location of the Magnum Bar, please visit our Facebook page at www.facebook.com/MagnumSingapore.
Ending off with my outfit of the day. As requested, dress code to be either black or pink, and i can't decide which to go for, i went in both colors 😛