Listening to now: Liu Xing Zhu Jiao ( JJ Lin)
wake up early as usual. left home at around 9.50am. thinking if to take bus anot cos lesson at 11.00am. but in the end, i still take a bus haha. when i boarded the bus, smsed tina and asked if she've wakes up. and to my surprise, she's having breakfast with her ex le.. haha wat a QI JI~! i soo hungry lei.. haha. luckily still manage to reach school on the dot. just nice =)
then Pris brief us on our final assessment stuff anf grad show thingy and one more thing which is the release of result for our 2nd assessement. got 20/30 for 1st assessment and 22/30 for second assessment. added up to be 42/60 for the 2. final consist of 40%, hope can do reall well.
after that james came in and tok about the board game thingy whereby we're not involve in., but we're still there since he never ask those never involve to leave first.
after tat when for lunch at burger king cos tina got the coupon. Damm nice. American Chicken Breakfast Burger. ( aka something lidat). After makan, we went to OG as tina shoes makes her feet feels terrible, she's looking for those plaster thingy for shoes de. then walked along bugis village. saw a few stuff and quite like it, got the urge to buy but still going through careful consideration so as to make sure i really buy those that i need first.
was at this shop whereby there's this dog that is soooooooo CUTE~! alot of pple was attracted by it. so me tina and dia was like taking pic of the dog non stop lor. haha reallly very cute. and surprising diana finds it sooo cute that she actually carried the dog up and each of us took pic wif it.. Dun believe me..? GOT PIC de lOR~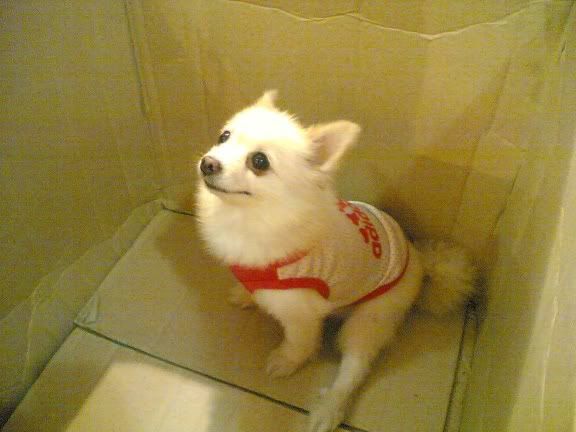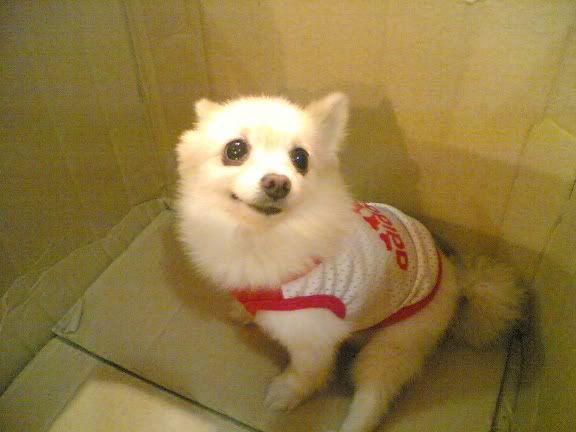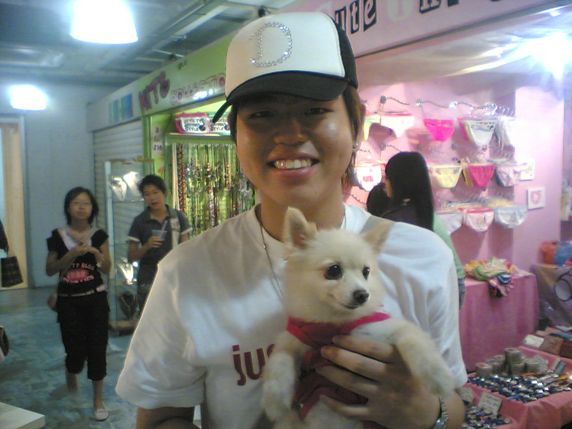 CUTE right~? haha xD
after that never manage to get ah mei present so we went bugis to search instead. we saw irene ang and mark lee there shooting a variety show on channel 8 de. dunnoe wat wang pai thingy.
then we walked around and dia manage to buy a necklace from 77th street and tina bought a jacket from JOOP. haha and me also got a shou huo la. a cap from S & K hehe. after that go coffee bean for coffee and chit chat session. chatted alot but think dun wanna post here le la. not something happy or exciting about. finish session at 6+ then we all went home.
hehe. while at home listening to JJ song, zhi dui ni shuo and shou neng sheng qiao. Jay de feng also. practicing them for K BOXIN session. WHEN CAN WE GO~!! SOO DAMM TEMPTED LOL~!
that's all for today =P