Hooray! Finally done with my day 1 pictures of my recent taiwan trip with my parents! 😀 and here you go, presenting you : 來去台彎走一走!: 台中半日游 Half Day Tour in Tai Chung !
As usual, we took the flight from jetstar but something different this time round as usually, there's only a morning flight there but surprisingly this time round, i managed to book a midnight flight there! which means you will have ONE FULL Day in taipei! 😀
Flight was at 1am and we will be arriving taipei at 6am in the morning (i know it's freaking early la~).
while waiting to board, we camwhore alittle ard the airport 😛
mum with her hello kitty passport holder which i bought for her..
and me with my polka dot passport holder 😉
Boarded the plane and i don't if its just me or wat, but i felt that the seats are slightly more spacious leh~ or isit because ive slimmed down liao :X hahaha~
since its a midnight flight and we will be reaching there early in the morning, its good to make use of the time to sleep right? but my parents didn't managed to sleep much la.. guess they are not used to it.. :X
When we were about to reach taipei, this awesome view greeted me GOOD MORNING!
AWESOME RIGHT?!
Upon arrival at the airport, the time was 6.05am in the morning. We decided to cab down to our hotel, located at xi men ding instead of taking the freego bus as it's much faster and my parents can take a nap in the cab as well. It's more expensive as it cost us ard NT1200 but okay la~ more comfortable ma~~~
After leaving our luggage at the concierge, we went for breakfast at my favourite Yong He Dou Jiang! 永和豆漿 !
蔥抓餅,豬肉飯糰,蘿蔔糕~~~ woo my all time FAVOURITE! 😀
Xi men ding early in the morning… so 冷清~~~
After breakfast, we took the metro to taipei train station 台北車站 to transit into the 高鉄 (Bullet Train) as we are leaving taipei and heading down to tai chung 台中 ! 😀
There are a few categories of tickets. The most expensive one will comes with a piece of cake and a drink while the economy one will not have that. But there will be train attendants selling food onboard the train 😉
One ticket cost NT700 which is approx 30SGD for one trip.
and approx 45mins later, we arrived at taichung 台中 !
here's how to train look like.. the ride was really a pleasant one. the seat was very comfortable as well. 🙂
Souvenirs shops can be seen everywhere at the train station…
the smallest 7-11 ?
Upon arriving, there will be a few taxi driver waving their hands to you. What i suggest is to hire a taxi driver to bring u around taichung as some of the places are really hard to get to if you were to take public transport.
The prices range from ard NT3000 to NT4000+ to hire them for a day. Some will go by hour, whereby they charge approx NT800 for a hour.
Luckily i managed to bargain with this taxi driver as we will not be staying there for one full day and the price we got was NT2400, where he first quote us NT3500. 🙂 SO do remember to bargain!!!
The first stop we are heading to is 紙箱王, whereby most of the stuff you see over there are made of cardboard boxes.. very interesting! but there is an admission fee of NT100 which will then be converted into NT100 voucher for you to make purchases in there.
paper 天燈~
Other than those miniature ones, there are HUGE paper sculpture outdoor!
ba ba white sheep, why u dun have any wool~~~
super love this pic!! 😀
and this as well! 😀
my dad made a new friend there too!~~~
can you believe that these bags are made or recycled boxes and they are WATER-RESISTANT?!!!
lots of hello kitty cards.. from wedding to birthday and many more!
dad couldn't believe that the stool made of card boxes can hold his weight.. lolx~~~
these sculpture with lights are sooo BEAUTIFUL~! i simply couldn't resist my self from not getting one home!
It's Lunch time! the taxi driver brought us to this little stall along the road which i supposed its quite well known as the business was really good! 🙂
We ordered pig skin with toufu…
my favourite lu rou fan 魯肉飯..
and gong wan soup 貢丸湯
a plate of spinach to go with the food 😉
After a satisfying lunch, we proceed with our journey to the next destination, the lavender forest! 薰衣草森林
As usual, we need to pay for a admission fee which will be converted into vouchers for use in the compound. 🙂
Dad seems to fell in love with the teddy bear liao wor~ hahahaha!!!
mum as well!!!
and eventually i fell in love with it too~ MUAHAHAHA~
the admission "vouchers"
giving ourselves a lavender bath with it's lavender scent mist spray 😉
hmm maybe i spray too much.. it's getting alittle TOO misty~~ lolx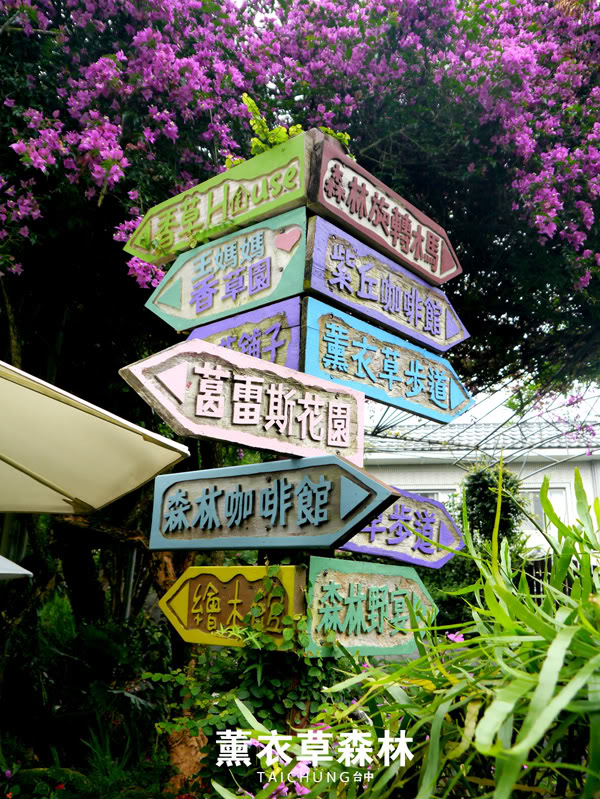 super cute pic la~ hahaha~
there's lots of interesting stuff in the shop. from tea to cookies, bags, pouches, perfume and many more!
these are actually hand made soap which all looks so "YUMMY" !
The shop also sell stuff like t-shirts, wallets and bags!
here's where the lavender are planted 😀
There's even a carousel in the middle of the plantation! 😀
It's ard 3 plus in the afternoon when we are done with the visit, so we headed back to the train station to take the 高鉄 back to taipei.
along the way back, see what i spotted?! 😛
bought a box of 台鉄便當,the famous railway bento to try onboard the train 😉 there's a variety of 3 bentos for you to choose from. Pork ribs, drumsticks and cutlet!
bought the cutlet one as its the most easy bento to eat. NO BONES! hahaha ;P
Now introducing you our accomodation for our trip! HOTEL PURI, located just 5 mins walk away from ximending station! 😀 wonderful location!
Special thanks to HOTEL PURI for the special rates! 😉
We got ourselves a family room with a queen bed and a single bed. Overall the room was cosy but a little too squeezy for a family of three, especially when we have huge luggages 😛
Though its alittle packed but they have all the things u need! tv, mini fridge, hair dryer, electric kettle..
Toilet area is separated from the bath room so your toilet can be kept dry all the times 😉
After resting and washing up, we head off to the night market which i always visit whenever im in taiwan, Shi Lin Night market. 士林夜市.
SHOPPING TIME!! couldn't imagine myself spending so much in the first shop i entered. lolx~bought quite a few sets of clothings here 😉
Recently they shifted their food court to another new area whereby its more spacious! In the past, it's located opps the train station. Now its located in the night market itself. Its not hard to find as there are lots of signage leading you the way 😉
Ordered a 肉燥面 for dinner…
while my mum ordered bee hoon..
Usually i will go for the 豪大大雞排, but this time round i decided to try the 灑尿雞排 which i think it taste really good. the chicken are so juicy and it just burst it in your mouth when u bite one it. Which explains why the name 灑尿雞排 😀
Bought a few more street food back to our hotel before we end the night for an early rest. It's been quite a tiring day actually but FUN as we managed to visit quite a few places 😉
Coming up next : 來去台彎走一走!: 十份瀑布放天燈 !Shifen Waterfall & Kong Ming Lantern aka Tian Deng
you might be interested to read about :

Let's Go Taiwan! 來去台彎走一走!: 登上台北101! Taipei 101+Shopping Loots!
[Darren Bloggie 台北直击] S.H.E.Reunite! 强势合体,出席Top Girl蝴蝶起飛公益記者會!*附完整视频*
————————————————————————————————————————–
*nothing related to this entry but if you love reading darren bloggie, do show your support by voting for me in the Singapore Blog Awards 2012!! 😀 thanks!!!