Jumpstart your shopping engines with exciting events and chances to win attractive prizes at VivoCity this Great Singapore Sale!
POWER UP TO BECOME A NEXO KNIGHTSTM HERO
1 JUNE TILL 19 JUNE 2016, CENTRAL COURT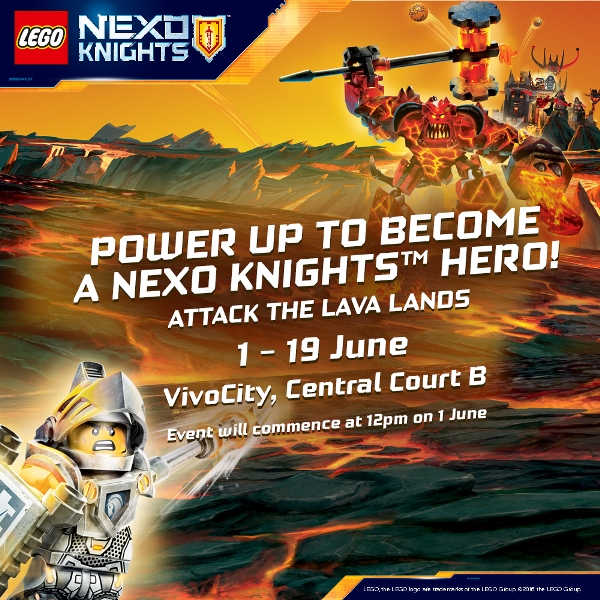 This June, the LEGO® NEXO KNIGHTSTM come to VivoCity to recruit valiant young knights to join in the fight to save NEXO KNIGHTSTM HERO Clay Moorington and be awarded with exclusive NEXO Powers, only available at VivoCity, on the LEGO® Merlok 2.0 App!
You will get to go through training in virtual reality before stepping onto the battlefield at Lava Land, as well as interact with NEXO KNIGHTSTM HEROS Clay and Lance in the daily meet and greet session.
EXCLUSIVE GSS DEALS
1 JUNE TILL 26 JUNE 2016
VivoCity brings you a power-packed Great Singapore Sale with offers* to cater to your every need! From 50% off all hardwood shoes at Camper and owning a RENOMA briefcase for $189 (U.P. $269) at TANGS, to a complimentary glass of house wine at Marché Mövenpick, keep your steps light and wallet happy with delightful deals, available only at VivoCity!
SPIN TO WIN
4 JUNE TILL 26 JUNE 2016, EVERY SATURDAY & SUNDAY, 5PM & 7PM
VivoCity takes shopping rewards to new heights with stilt walkers who will roam the mall on the weekends and present shoppers the opportunity to win over $8,000 worth of shopping vouchers! All you need to do is spot the stilt walker and present any same-day receipt for your chance to spin the wheel!
SHOP AND REDEEM
Shop between 1 June to 26 June at Vivocity and redeem these goodies ranging from a $5 GRAB Discount Card to a $10 Mapletree Voucher, as well as a Limited Edition Sunny Punch Inflatable Toy!
For more information, visit vivocity.com.sg