Was invited by COCA COLA to their 125th Anniversary Birthday party at NOMU last week together with a few other bloggers to celebrate this wonderful occasion with them 😉
Loved the deco ! everything just fit into the coca cola theme! 😀
LOVED THIS MONTAGE TO THE MAX!!!! how i wish i can bring this home and placed it in my room~
and i couldn't resist but to gather the rest for a pic with this wall montage!
grab myself a mixer while waiting for the presentation to start 😉
the emcee for the night which can sing really well! 😀
Happy Birthday to COCA COLA~!!! 😀 so cute right this pic! hahaha~
How can we not grab a bottle of COKE right?!
always Coca Cola~~~ 😀
posing with the cupcakes together with Darren (yes the one in the middle is Darren Ng! one more A and we have the same name~) and Mint!
Wrote quite a few postcards to spread the happiness with my friends! 😀 (since postage is free for all the postcards written that night hahaha :P)
Jayley aka jiaqi feeling extremely happy after she's done writing the postcards…
A pic with Mint 🙂
Oh there is this camera booth whereby we took crazy fun shots ! 😀
this is one of them which we took when we arrived.
and this is one we took just before we left the place! ALL the Bloggers ROX!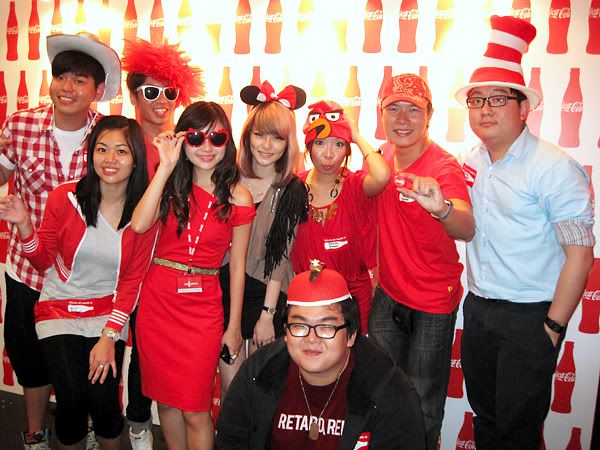 Happy ermz.. Belated Birthday to COCA COLA!
(cos i was a little too slow in publishing this entry, muahahaha~ :P)
*Special photo credits to Mint and Darren ;)*