The mythical Merlion, the explorer prince Sang Nila Utama, Badang the strong man and the filial princess Radin Mas – see how these colourful characters of local legends are brought to life with the help of more than 8,000 orchids and plants in the floral display, "From Tales to Legends: Discover Singapore Stories". "Singapore Stories" is just one highlight of the SG50 celebrations at the Gardens. For the first time, the iconic Supertrees will be transformed by stunning laser imagery in a special edition of the nightly "Garden Rhapsody" show. Topping off the festivities is ticketing promotions for both Singaporeans and overseas visitors.
"Singapore Stories" Floral Display
31 July – 13 September 2015
Flower Dome
Be wowed by a floral interpretation of 10 local legends – Tanjong Pagar, Redhill, Sisters' Island, Bukit Timah, Pulau Ubin, Kusu Island, Sang Nila Utama, Radin Mas, the Merlion, and the Singapore Stone – designed by award-winning Singaporean landscape architect Damian Tang. Taking place in the Flower Dome, the beauty of more than 8,000 orchids and plants in a plethora of colours is juxtaposed against intricately-carved wooden sculptures and structures, such as the tornado the Merlion battles against that is made up of banyan tree roots stacked up to 10 metres. As they view the floral display, visitors can also take a walk down memory lane with scenes from the past that pay tribute to the unsung heroes who helped build Singapore.
Visitors to Gardens by the Bay can enjoy the following ticketing promotions:
Local residents enjoy 50% off tickets to Conservatories during the Jubilee Weekend from 7 August to 10 August.
Local senior citizens (60 years old and above) enjoy free admission to both Conservatories when they visit anytime between now and 31 August 2015. One accompanying caregiver can enjoy 50% off the ticket to both Conservatories as well.
For tourists, one child enjoys free admission with every two Adult Standard Double Conservatories tickets purchased when they visit anytime between now and 31 December 2015. Guests have to print out the offer from Singapore Tourism Board's Golden Jubilee page in order to enjoy the promotion.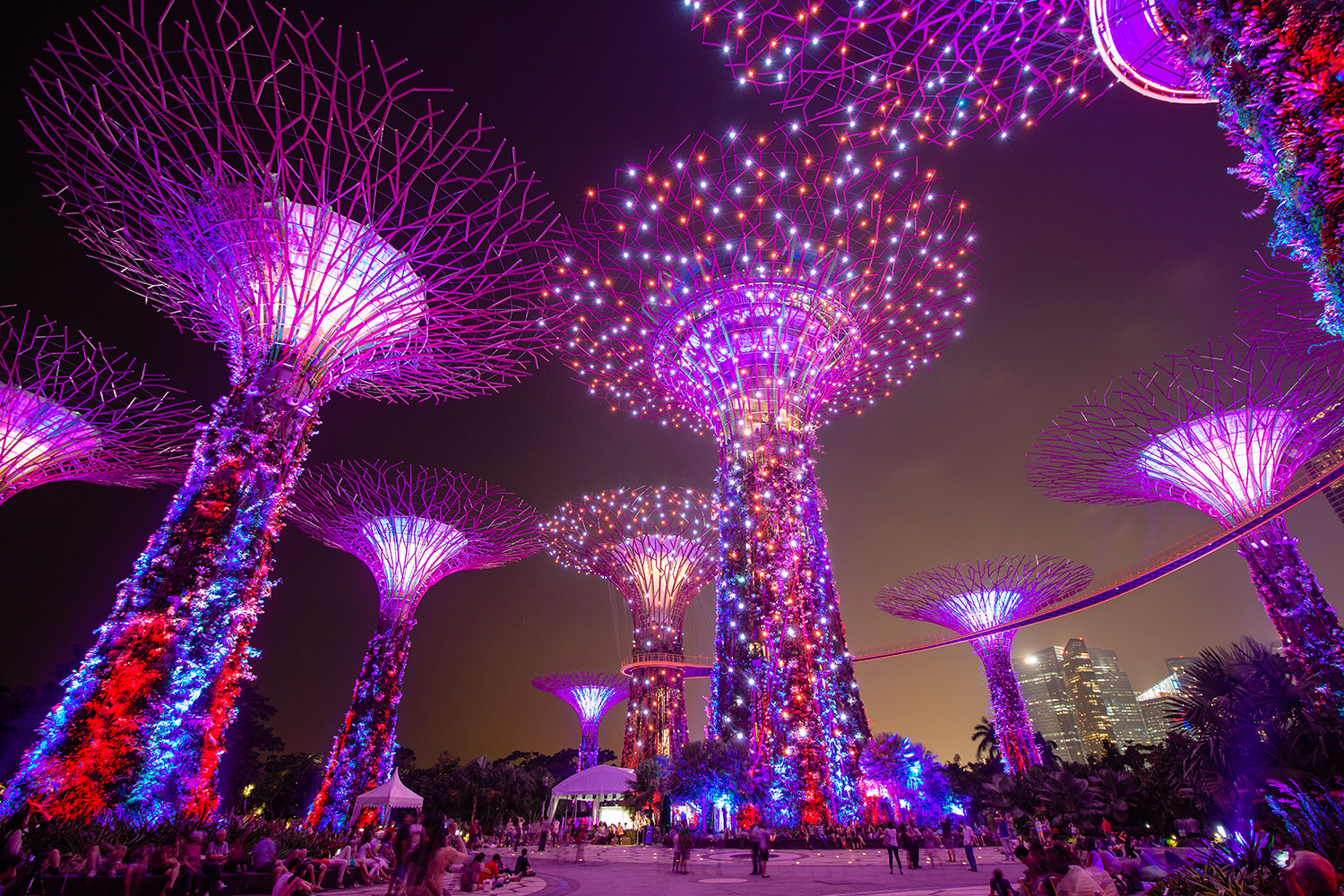 "Garden Rhapsody" – SG50 edition
6 August – 10 August 2015 (with laser imagery)
7.45pm, 8.30pm, 9.15pm and 10pm
Supertree Grove
For the first time, laser imagery will be used on the Supertrees in the SG50 edition of the nightly "Garden Rhapsody". The Supertrees will light up with accompanying music composed and arranged by Bang Wenfu, and vocals by Singapore's most prominent and popular musicians Robert Fernando, Rani Singam, Benjamin Kheng of The Sam Willows, iNCH, Nathan Hartono, and Singapore's future generation of musicians, Lou Peixin, Miin Tong, and Glory Ngim. Held at the Supertree Grove, the SG50 edition of the Garden Rhapsody is free for all to enjoy.
Fireworks & Black Knights Aerial Display
1 & 9 Aug 2015 | Various Locations
Aerial Display | 6:10 PM – 7:05 PM
Fireworks | 7:30 PM – 8:20 PM
Gardens by the Bay is also an excellent vantage point to catch the spectacular fireworks and aerial displays performed by the Republic of Singapore Air Force on 9 August during the National Day Parade.
For more information, visit http://www.gardensbythebay.com.sg/singaporestories !