Brewerkz, Singapore's longest-running craft brewery experience, opens the doors to its brand new Brewerkz Riverside Point outlet. The 6,000 square-foot restaurant boasts Singapore's only handcrafted copper bar with an amazing display of twenty taps lining the wall. With a carefully curated menu featuring new creations as well as old favourites, the flagship restaurant is a sign of the brand's dedication to constantly improve and redefine what it means to enjoy delicious food, great beer and good company.
"For the past 22 years, Brewerkz Riverside Point has been a landmark and a long-time Singapore institution along the riverside. In remaking our flagship outlet, we wanted to deliver a contemporary update yet stay close to our heritage of craft. We are very proud of the results and know that our customers will love it. You'll just have to come down to experience it," says Tan Wee Han, owner and CEO of Brewerkz.
Brewerkz is incorporating their own craft beers and fresh local flavours into the contemporary western and Asian-inspired menu. Long-time fans can look forward to a new refreshed menu, such as the new creation of Oatmeal Stout-soaked Beeramisu, the Waygu Braised Beef Short Ribs drizzled with a flavour-packed India Pale Ale reduction, local favourite Cempedak Chendol and the vegan-friendly KFC (Korean Fried Cauliflower). There will be brand new brews, such as the Resin Bomb, a full-bodied, fruity double IPA, and Oktoberfest, a copper-tinted delight with bread crush aroma and hazelnut overtones.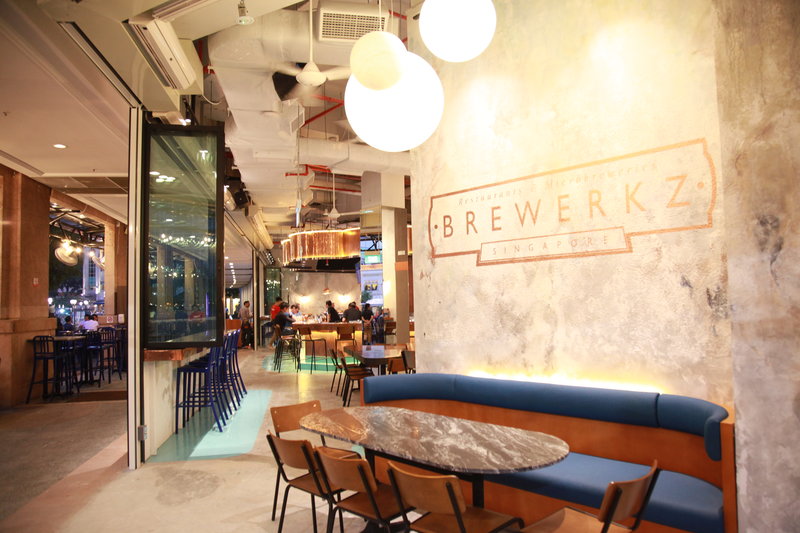 The stunning bar features hand-treated copper in a cloud-like shape with organic curves inspired by traditional beer making equipment and the modern beer can. The effect is an eye-catching centrepiece for an awe-inspiring first impression. Around the restaurant, bubble lights echo the refreshing effervescence of a perfect pint.
The design is led by award-winning firm WEIJENBERG who was mandated to create a contemporary restaurant that is airy, yet warm and intimate while paying homage to the craft of beer brewing. A local mural artist was also commissioned to decorate the interior walls to create an aged lived-in effect reminiscent of an inviting craft beer hall.
The new Brewerkz Riverside Point invites craft beer and food lovers alike to share in the celebration of a refreshed craft brewery experience. Don't just drink it, experience it!
30, Merchant Rd, #01-07
Riverside Point, Singapore 058282