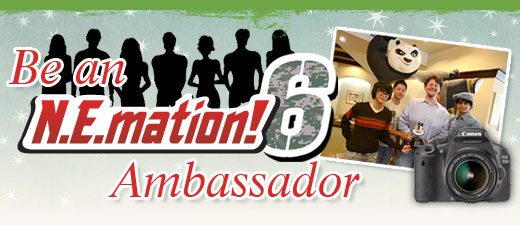 Have you heard of the N.E.mation! 6 ? If you've not heard of it, then it shows that you've not read my blog, follow me on facebook and twitter yet (乘机打广告). You can read about it over here…
BUT, if you are too lazy to click that link, here's a short introduction about the N.E.mation! 6
N.E.mation! is a competition for youths to express their notions on Total Defence through animation. Encouraged by the success of the five TD animation clips featured in the National Day Rally in 2006, Nexus has organised N.E.mation!
Winners get to win attractive prizes like :
Fully sponsored trip to USA to visit DreamWorks Animation SKG worth more than $15,000. Get to see first-hand how films like Kung Fu Panda, Shrek and Shark Tales were made.
Or
Fully sponsored trip to visit a renowned animation studio in USA worth more than $15,000.
Privileged screenings on major TV channels
AWESOME MUCH right?! If only i can take part in it as this competition is open only to Secondary School, Junior College and Centralised Institution students who are Singaporeans and Singapore Permanent Residents.
BUT!!! I can still win a chance to follow the winning team to USA!!!
Be An N.E.mation! 6 Ambassador!
For the very first time, N.E.mation! will be selecting their very first ambassador this year, which will be taking charge of the coverage for the whole campaign! including flying over to USA with the winning team!
Imagine if i'm selected, you readers will get to read and see awesome pictures, videos (if possible) and get to know more about the whole process of how an animation is created, plus some fun moments of the teams at work! (obviously you will also get to see my pics in USA if i get to go ~ ;P)
Perhaps you will get to see a picture like if i get to go?
SO… Do you think i have what it takes to be the very first N.E.mation! 6 Ambassador?