ohh.. new year coming soon le.. time for a new hair cut le.. meet tina in school yesterday as 13 was the dateline for the misc fees tat we're supposed to pay for our grad show de. told her the night before to meet 12.30. the next day morning tried smsing her and no reply was given by 11.30~.. -_-" at around 12+ she replied. saying meet 2.. ok.. i slowly use my com and watch S.H.E clips i've dwloaded. got myself ready at 1.30, so thinking if to take bus or train. so i sms her again. she say she'll be late. meet 2.30.. ok. so i left home at 2 and i took a bus. and i reach sch at 2.45 which was like 15mins later but guess wat, she's still late. came at ard 3.15.. -_-" tina u power lei.. haha..
after that go ps wif her to look for her boots. then never manage to get one.. then she said she was hungry so she treat me for pasta mania… soo good haha.. order a 7inch pizza to share.. taste great that pizza, haah..
proceed on to far east and she finally got her boots.. looks great. and i went for my haircut.. the hairstylist joked a lot wif us and was very fun throughout the whole hair cutting process. pic below.. got diff ma?
before i cut my hair….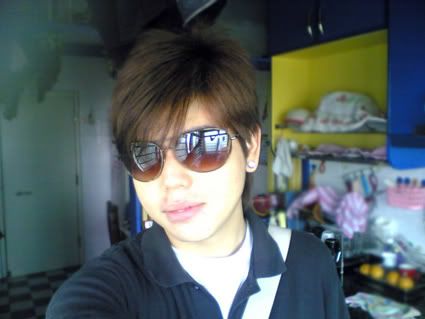 and after i cut my hair……

haha…
today went k boxing wif marlene, yee joo, eunice, daisy and trina.. sang alot of s.h.e songs and danced super model and bu xinag zhang da.. lol~ was soo fun.. haha.. sang other songs like shang hu hai, jian ou, bei fei chui guo de xia tian etc.. yee joo "Selina" voice was cool and great lol.. really enjoyed.. ended the session wif superstar.. daisy and i was the vocal and the rest sang toegther .. totally OUT OF CONTROL.. just like having concert lidat.. DAMMM HIGH ~! lol
after tat went back sch awhile and meet my mum and aunt. helped my mum hunt for her CNY clothes and got her a few clothings.. looks really great haha.. she also very happy with it.. haha
that's all for my friday and sat… now abit tired le.. tml continue blogging hehe..
ANyway, will really appreciate if u guyz can vote for my film on project pilot, that was telecast on arts central on wed.
simply key in this : M3(space)NAME(space)NRIC and send to 72888. each sms is 20cents..
THANKS lotZ GuyZ!