Sponsored Trip By Korea Tourism Organisation & Wah! Korea Club
After bidding goodbye to Gyeongju, i'm back in Seoul after a 5 hours ride. Upon reaching back to the Korea Tourism Organisation HQ, bid goodbye to the friendly staff and i'm now officially ALL ALONE in KOREA! this is my very first time traveling ALONE and what i can say is that it's really a unique experience for me! ahahaha~
So with the aid of the street view from google map, i managed to find my hotel without any help from the local. 🙂 Booked a night stay at the KPOP RESIDENCE II, located right in the heart of Myeongdong.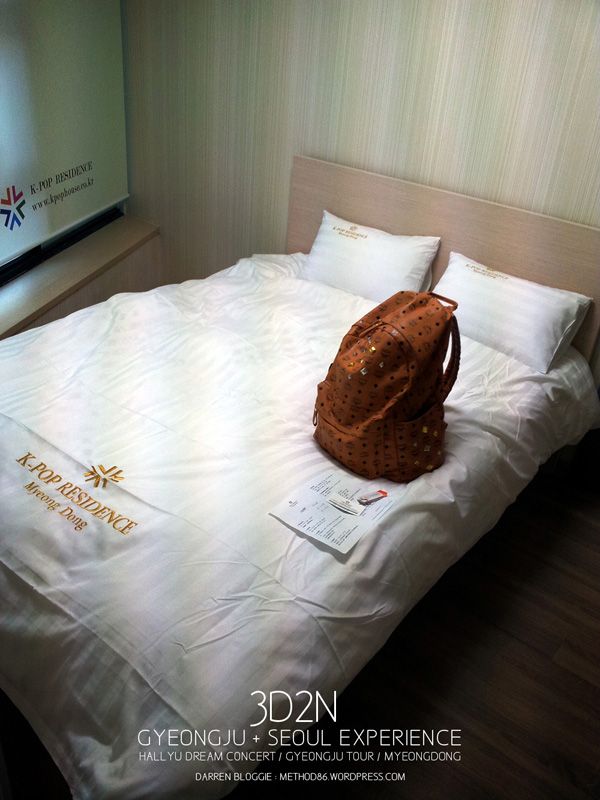 Rooms are not very spacious but it's more than enough for a single traveler like me as i still have space to move ard after placing my luggage in the room. But overall it's clean and i enjoyed my stay there. Staff are friendly and they can speak in chinese and english 😉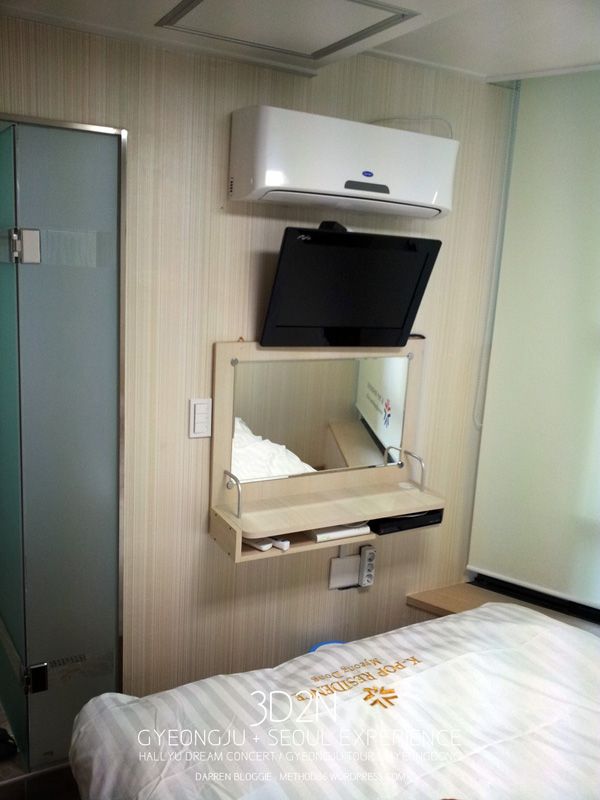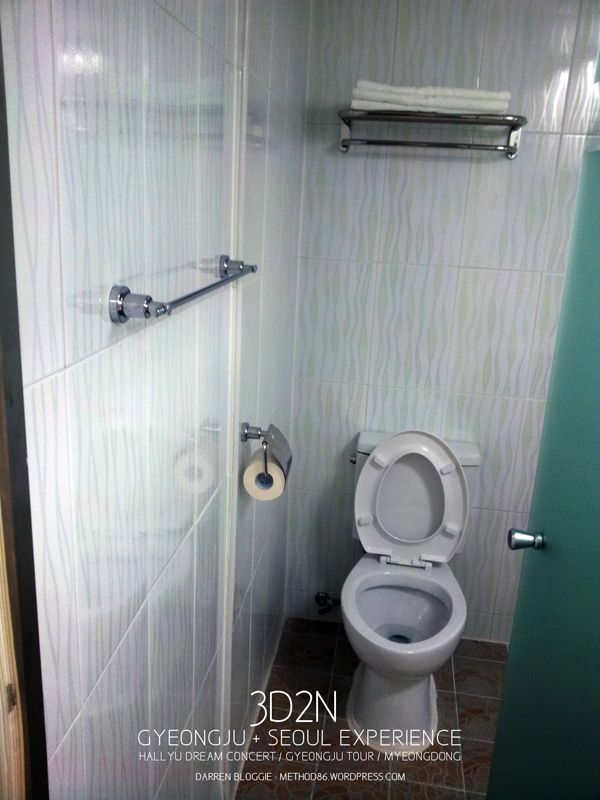 Thanks to the FREE WIFI provided, i managed got to know that one of my fren is actually in SEOUL as well! 😀 so we decided to meet up with each other for some shopping and dinner! ;D
Myeongdong is one BIG shopping district whereby you can find lots and lots of shops selling lots of stuff, ranging from beauty products to clothes, bags, shoes and many more! Brands like H&M, Zara, Forever 21, Uniqlo etc can all be found here! 😀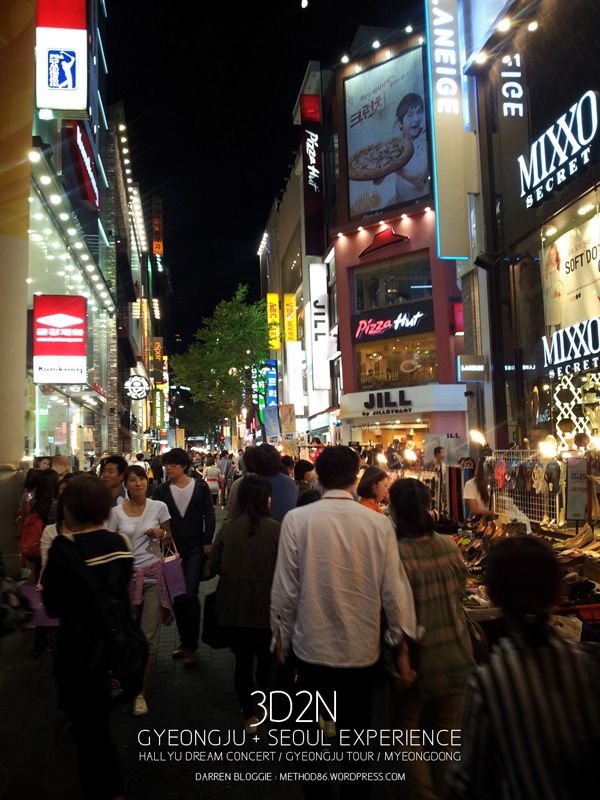 There are also lots of "push cart" stalls set up along and in the middle of the street whereby you can try bargaining with them when you intend to make purchases from them.
After meeting up with my fren Cherie, at the train station, (yes it's just within walking distance from my hotel) we went for some local food at this stall with no exaggerating decor, no big neon signboard, but just simple menu with images on it.
It's filled with lots of local and we are sure it's gonna be good since the stall are patronize by the locals instead of tourist. Which also means that price should be quite reasonable too! 😛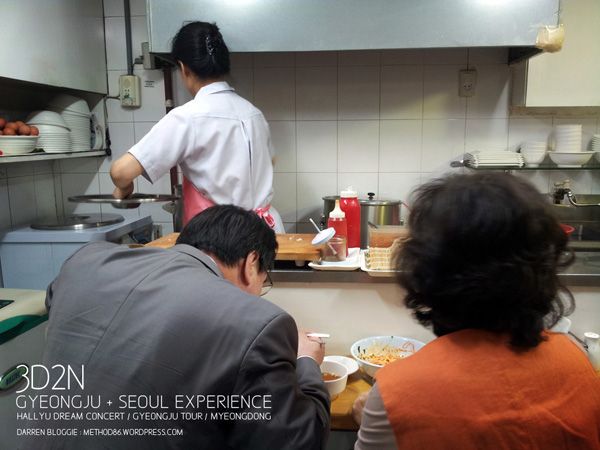 a pic with Cherie while waiting for our food.
complimentary side dishes is a must when you dine in korea.. 🙂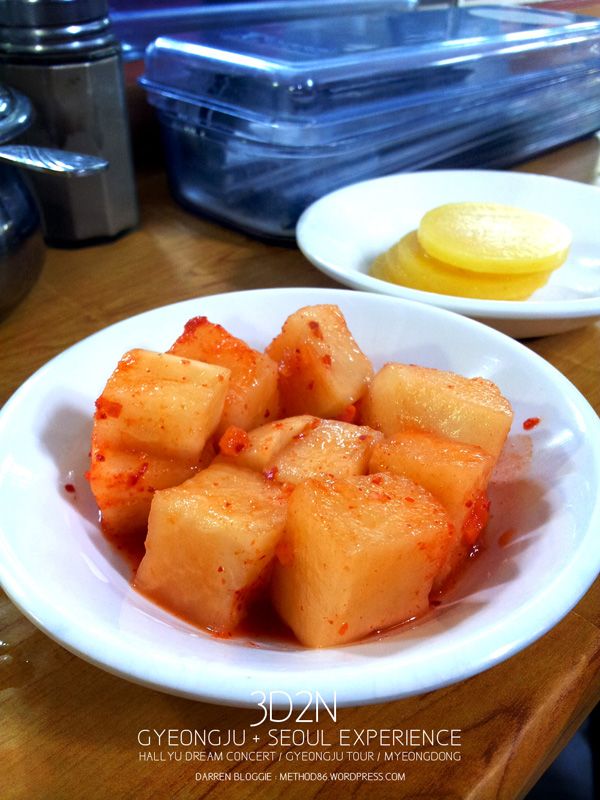 Cherie ordered this noodle with rice cakes in it..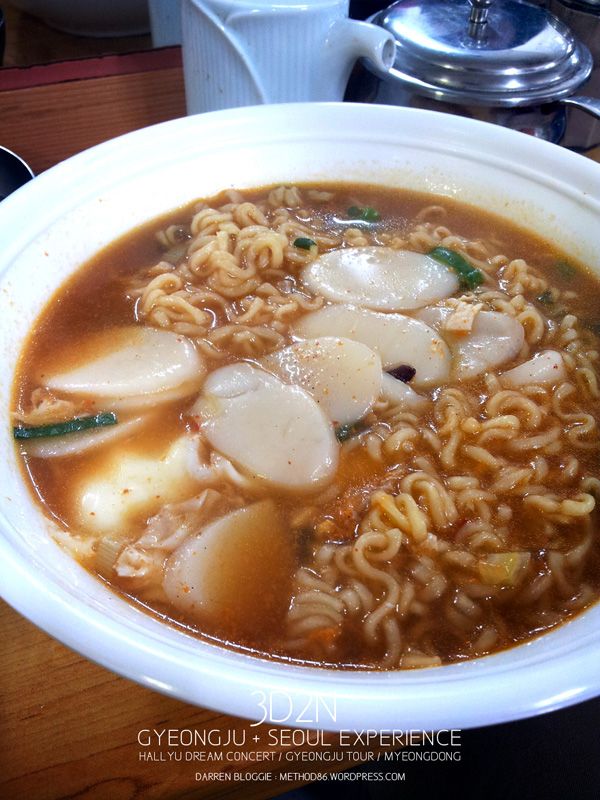 while i ordered the signature noodle with clear soup and fishcakes. It might not look very fantastic but it taste really good, with a tinge of spiciness in it 😀
Each bowl of noodle cost us ard $5 SGD…
After dinner, it's shopping time!!! 😀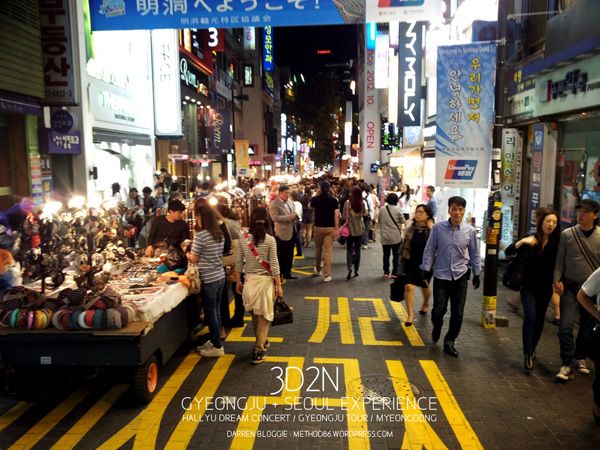 Nature republic flagship store!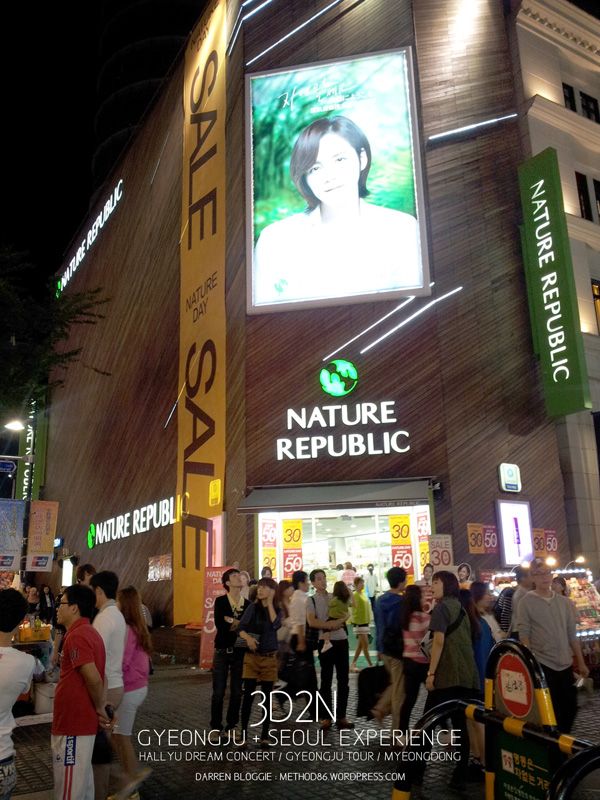 totally went crazy from the offer and sales ongoing in there and i spent $100 plus on masks~!!! lots and lots of MASKS!!! facial masks, foot masks and hand masks~ lolx!!!
OOTD taken from the full length mirror in Uniqlo…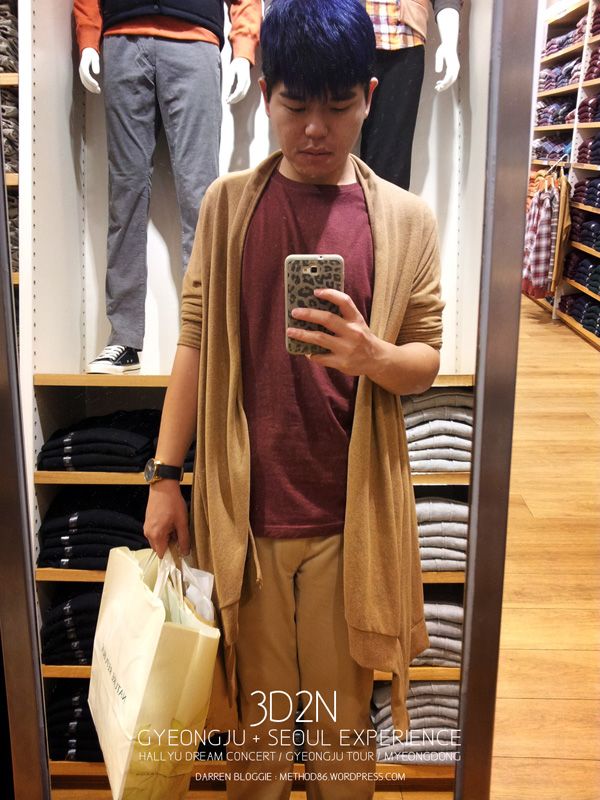 We totally lost track of time shopping till we noticed that the whole store are left with only the 2 of us! roflol~ despite the announcement being made several times. Cos it was in korean and we don't understand what are they saying..
It was really a great time spent shopping with my fren and it was so hard to meet up with her in singapore as she flies tooo often, we only managed to meet in korea ! ahaha~~~ After sending my friend to the train station, bought my fav banana milk and chips to chillax in my room for the night 😉
Rise and Shine!!! 😀 Camwhoring while still in bed 😛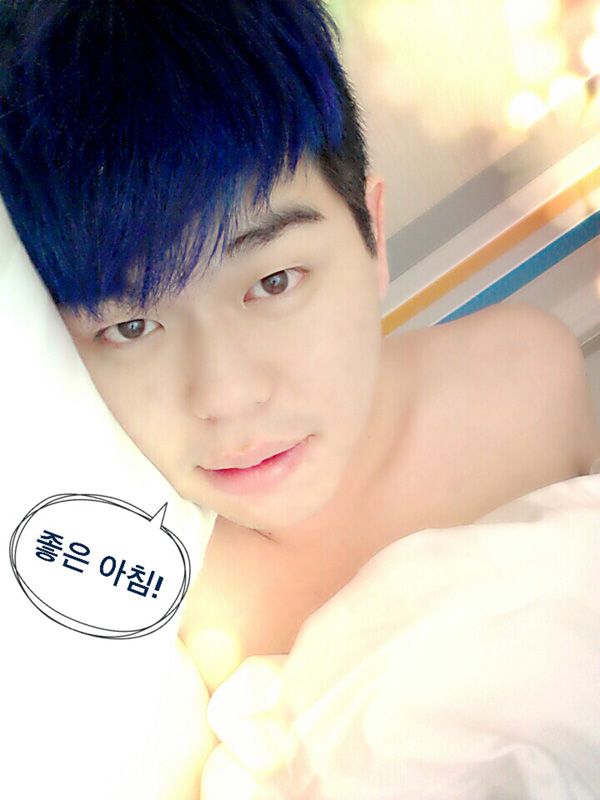 as my flight was in the evening and i'll only need to be at the airport in the afternoon, i have some time to spare in the morning, so i went out for more shopping!!! 😀
Spent quite some time in H&M as they have really nice clothings!!! mostly for the autumn and winter wear. So tempted to buy but come to think of it, will i get to chance to wear it in singapore?
Tried on this outfit and i super loved it. BUT i only managed to purchase one item from this outfit. Guess what i bought?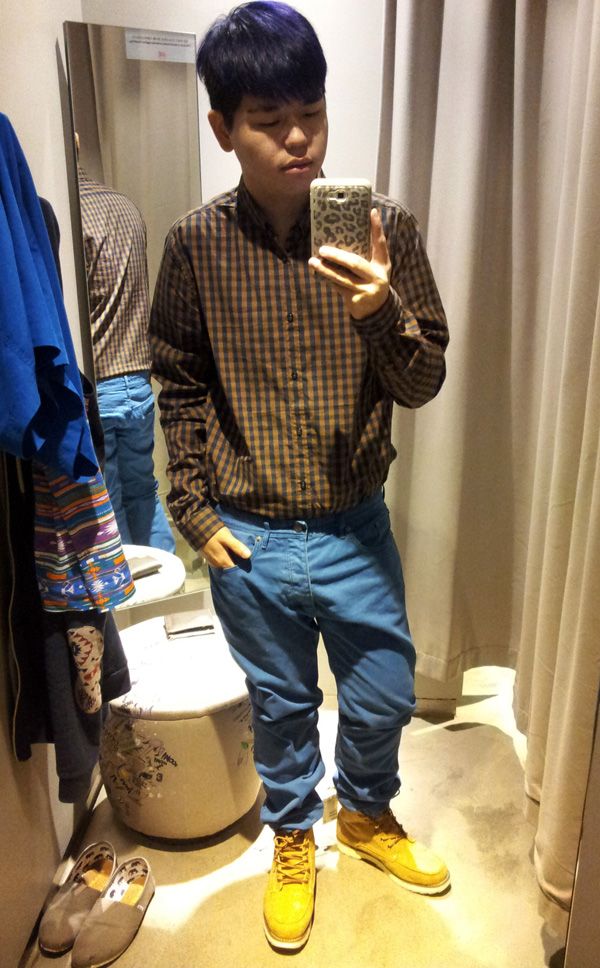 After strolling along the streets, visiting store to store, i bought instant noodle back to the hotel for my brunch before doing my final packing.
So~ here's my loots from this trip! I would say it's the least i bought hahaha~ but im satisfied with it 😉
last camwhore pic in the room before checking out.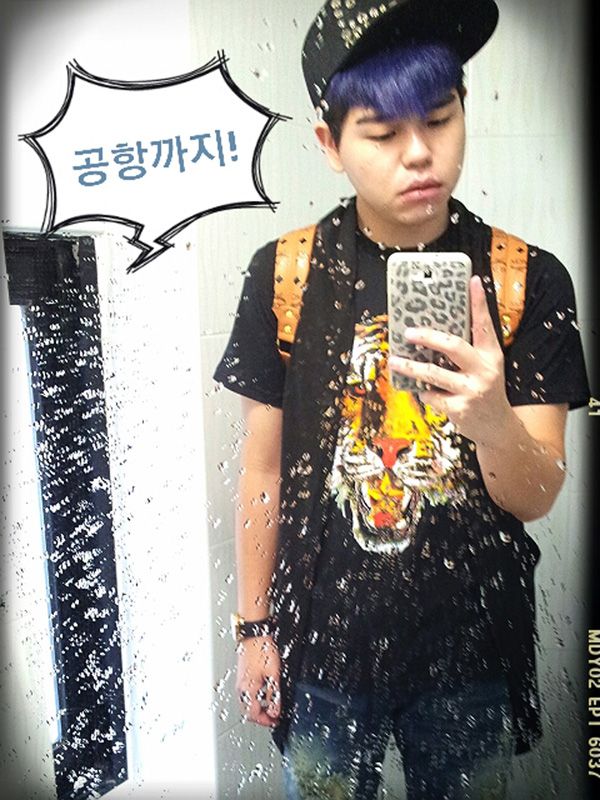 As usual, i went back to the lotte hotel for the Korean Air Limousine to the airport…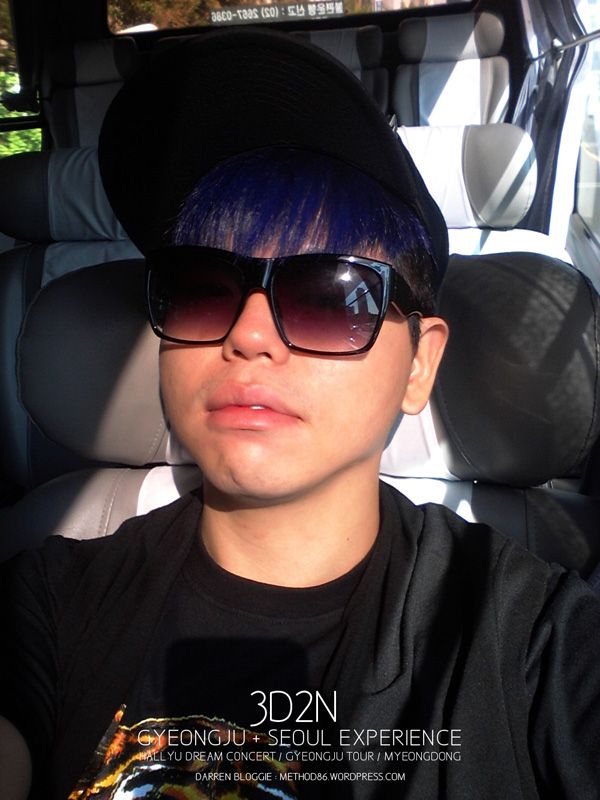 With my outfit of the day, i was mistaken as a korean when i approached the staff at the check in counter. she spoke one whole chunk of korean to me and i go huh? ermz english? and she go.. OH! sorry. i though u are from korea! lolx~~ *got an shuang dao ler~ *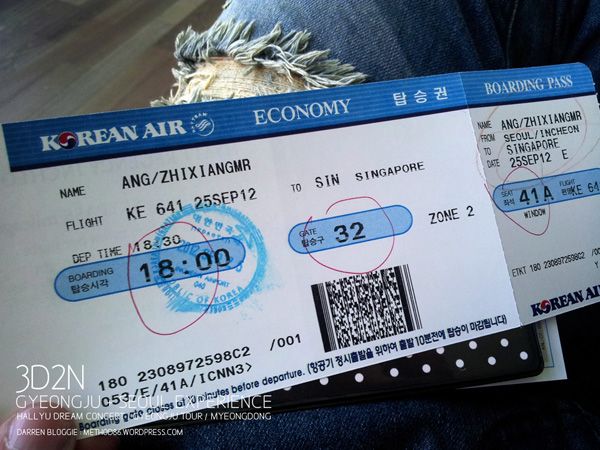 as im still early, i visited the duty free shop and bought kimichi back for mum as requested by her. Grab a cup of iced latte and enjoy the free wifi, chilling by the viewing gallery, waiting to board the plane.
A BIG THANK YOU to the Korea Tourism Organisation & WAH! Korea Club for this trip! whereby i get to experience the heritage culture in Gyeongju, and experience my first ever outdoor concert, featuring so many Kpop artistes!! 😀 THANKS!!! and i hope you guys enjoy reading my travelogue 😉
I've also brought back something to give away! I've 2 copies of the KWave Magazine for you guys! Featured on the cover is WONDER GIRLS! 😀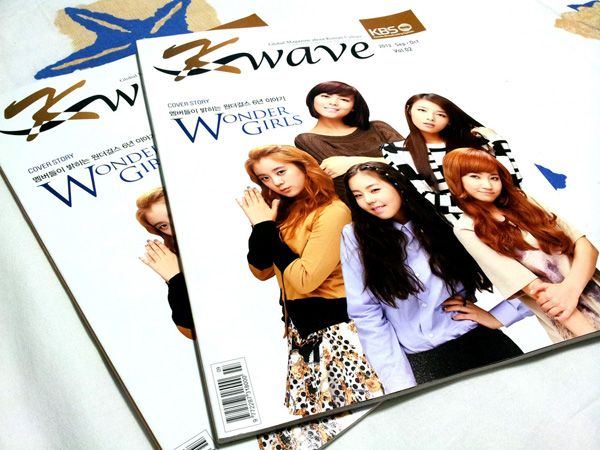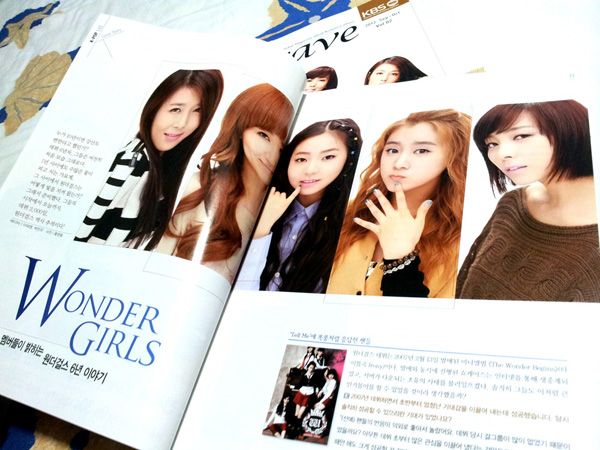 Other than wonder girls, there are other artistes in it as well, one example will be INFINITE!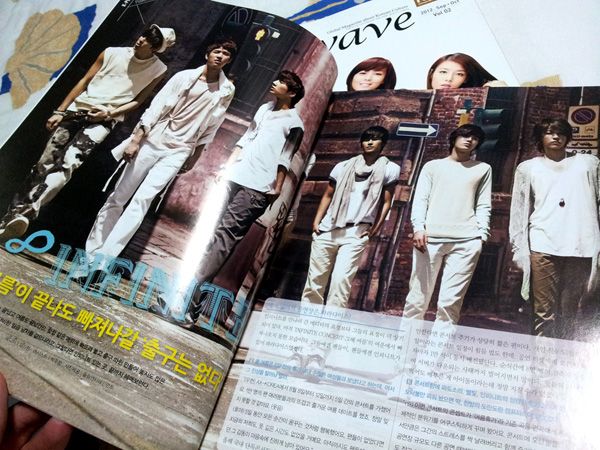 There's also a A3 size Wonder Girls poster attached to the magazine! 😀
Here's how to win!
1) Like Darren Bloggie facebook page or follow me on twitter.
2) Answer these 3 questions :
What airline did i took for this korea trip? (Hint)
Name me any artistes that perform in the Gyeongju Hallyu Dream Festival Concert. (Hint)
Name me on of the temple which i've visited in my half day tour in Gyeongju. (Hint)
3) Leave a comment below together with your answers, name and email address so i can contact you for your mailing address.
* Terms & Conditons : 

Contest start from 15th Oct 2012 and ends on 19th Oct 2012 at 11:59pm.
Winners will be announced on Darren Bloggie, Darren Bloggie Facebook Page and notified through email.
Winners are to reply back with their particulars upon notified and any winners whom failed to reply back the email within 7 days will be forfeited. Another winners will be picked from the participants again.
Happy hunting for the answers (it's not that difficult~!!) and Good Luck! 😀
Ending with a camwhore pics taken onboard Korean Air! (ops~!)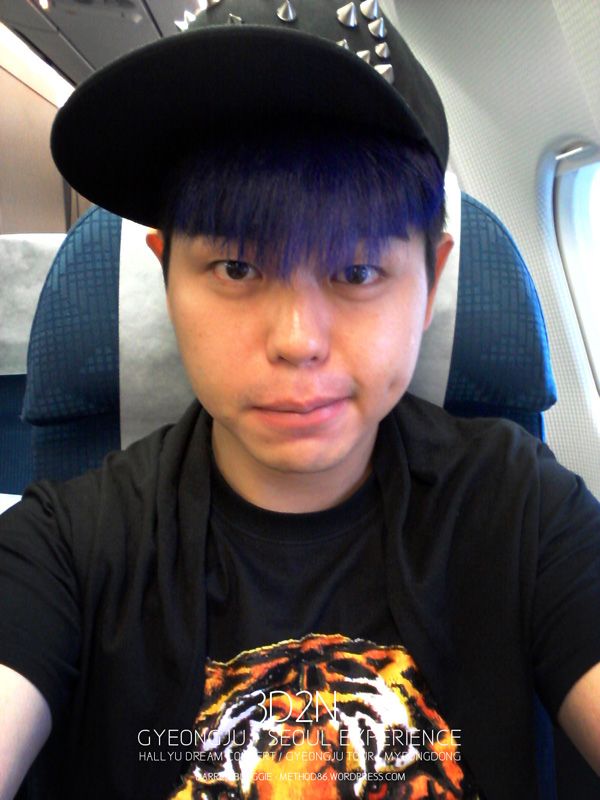 You might be interested to read about :