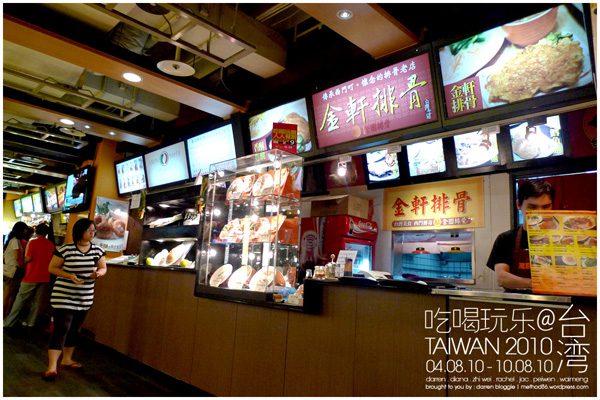 sad to say, it's our day 7 in taiwan, also our last day in taiwan… 好舍不得哦!but what to do? still have to go back to reality ma LOL! ok.. pardon me for my emo-ness~
our last day in taiwan, we went for our lunch at this food street, somehow similar to our food court in singapore. There are alot of varieties to choose from… be it local taiwanese delicacies, to korean bi bim bab, tepanyaki and many more!
both me and peiwen decided to try out this pork ribs set meal. which comes in real huge portion and the price is pay is ard the same as in singapore.

extremely worth the price for such huge portion!!
after lunch, we went back to mirada to do our last minute shopping before heading back to our hotel and collect our luggage…
looked at the no. of luggages / stuffs we have!!
camwhoring while waiting for our bus to arrive… 🙂
camwhoring continues after boarding the bus ! XD!
the last few shots of the streets scene…
Arrived at the Tao Yuan International Airport 桃园国际机场… 3 trolleys needed for our luggage 😛
we are still early so we ate our early dinner at burger king as jetstar doesn't provide us with food onboard…
check in our luggage and luckily it didn't exceed our total baggage allowance.. phew~~ (should have bought more then! tsk~!)
with my boarding pass…
while waiting to board…
we camwhore again… 😛
and that's the end of our taiwan trip! bye bye taiwan~!!
ending my post with the last video montage for this trip…
Enjoy~!
[youtube http://www.youtube.com/watch?v=R-GoIr3KPJE&w=600px&h=360px]
end with love ~
your might want to visit :