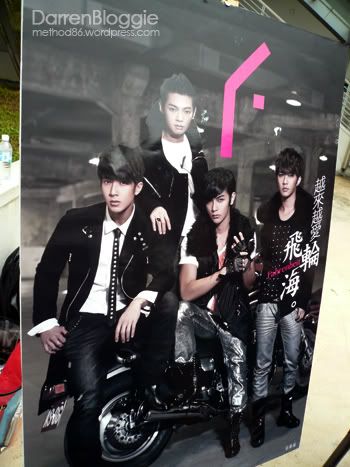 On Friday (19/12), claimed my half day pm off and went over to the indoor stadium to help out in the Fahrenheit poster exchange event.  Left the office at ard 3pm and reached there at around 4pm. To my surprise, there wasn't a lot of people queuing up for the poster exchange.. so, was rather relaxed when i reached there haha.. slacked awhile, chi chat, take photo.
testing out the anti shake function of samsung pixon phone.
At around 5+, we're given task to do. was assigned at the new album pre-ordering booth and was told to shout to attract public to pre-order the new album.. at first was very reluctant to do so, but later on, after dinner, which is chicken rice, a few of us started with the shouting and cool, we got a hang of it.. ahahahaha, and true indeed, it attracts and boost a lot more sales that there wasn't enough pre-order slip and receipts to cater to the public. they even had to return back to the store to grab more.. hahhaa…
At ard 8pm, we stopped work as most of the public are on their way to the entrance. saw andy lee, quan yi fong, and felicia chin. gotten out complimentary tics and bought a light stick to use for the concert, if not i'll fall asleep for sure..
i would say the concert stage was quite nicely arranged and designed as there's this extension stage towards the public for more interaction purposes. lighting, fireworks, not bad…
was waiting for liyang appearance and was so high when she sang "TiAmo" with yalun and the remix song of hers.. High !!!
and the other high thing that we did was during the encore.
the encore drums goes "DOM" "DOM" "DOM", and we go "S" . "H" . "E"…. haha.. high right? and guess Wat, Fahrenheit actually sang 美丽新世界 lo.. we sang along and i supposed that was the most high we got throughout the whole concert.. LOL!
After concert, we went back to the entrance and sell the albums.. as usual we took the big poster and walked ard in the crowd, shouting : "预购专辑送海报", "只限今天","一张$20"… hahah.. so fun.. after that, we took a bus to dobbhy ghaut to catch the last train back home.. and guess what, just at the very moment me and jiaxin reached the gantry, it says no entry, and the station announced : "the last train to punggol had departed."… wth! -_-" so, we have no choice but to share a cab back home… reached back home as was so tired that i bath and went to bed immediately…