It's BACK again! The Singapore Entertainment Awards 2011 !新加坡e乐大赏2011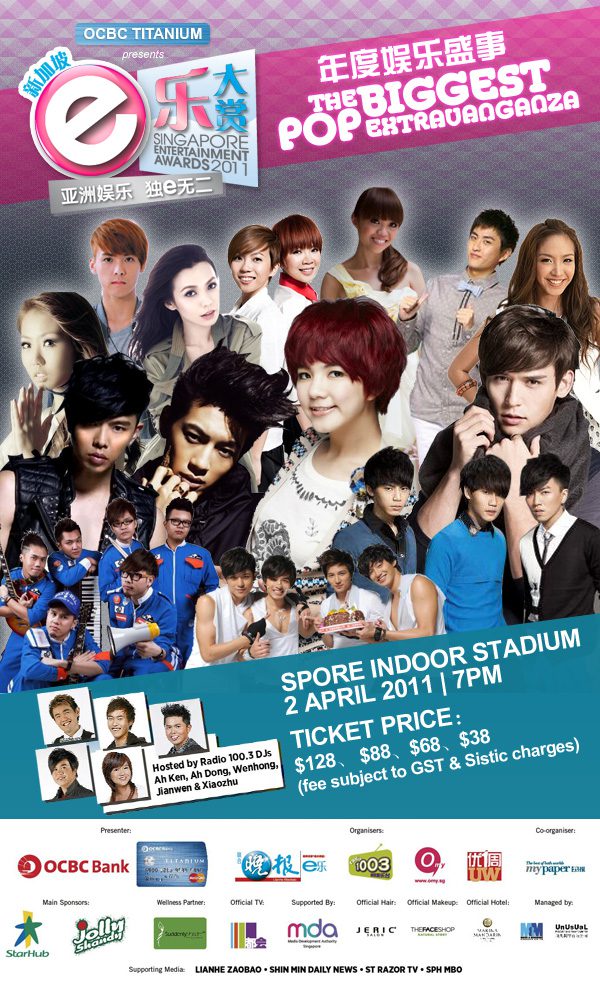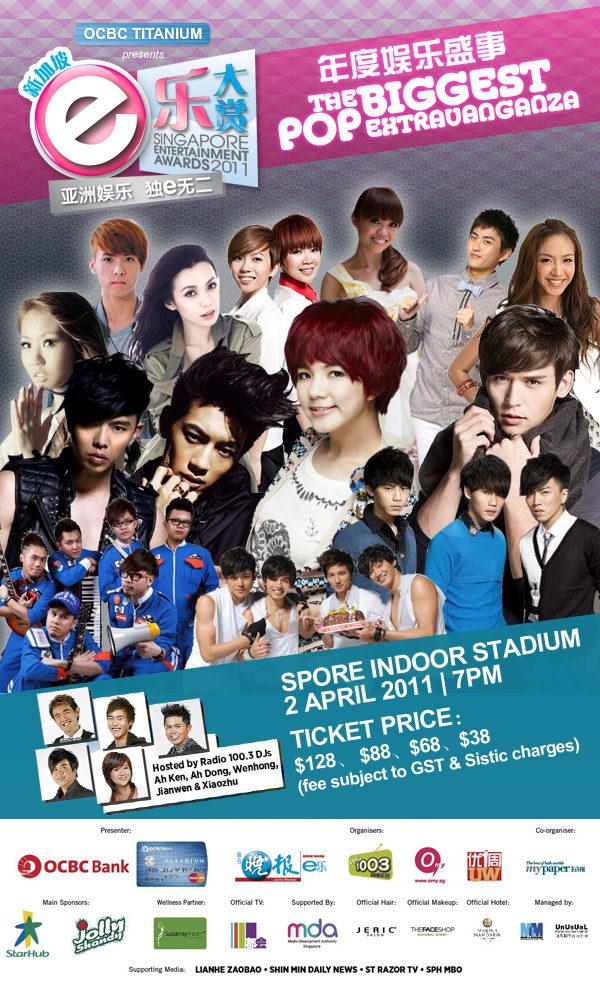 *Please credit accordingly if u intend to use this poster above. Tks!*
Still remember how i walk through this journey with the singapore entertainment award since its debut in 2009! *ahem clear throat* not to mention that we are also the winner for the BEST FC award in 2009 ;D hahaha!!!
The first 2 year, the award ceremony was held at the marina floating platform and one of the thing that i guess everyone was worried about is the weather! it's a rain or shine event and if it rain ah… HOU SEI LIAO!
BUT you don't have to worry this year as its moving from the marina floating platform to the Singapore Indoor Stadium!!! sounds so COOL right!!!
This year is a very special year again as you know what?! ELLA is attending the ceremony! though selina and hebe are unable to come.
OK from the poster above you can tell how biased i am le right? haha.. guess her pic is the LARGEST liao!
Other than Ella from S.H.E,  there are also other artists attending as well! Like…
Se7en from korea, Kit Chan陈洁仪, 黄鸿升(小鬼), Anthony 倪安东,黄靖伦,Lollipop F,Derrick Ho 何维健, SIGMA and many many more! you can see from the posters above la.
SO don't you think that you should go grab yourself a ticket to be part of the BIGGEST POP EXTAVANGANZA in SINGAPORE?!
Ticket Price:$128 (limited stage front standing & seated tickets)、$88、$68、$38 (fee subject to GST & Sistic charges)
Don't wait liao, JUST GO GET your tickets now at all sistic outlets!
Do join the omy.sg facebook fan page for latest news and ongoing contests.
For more information on the Singapore Entertainment Awards 2011, you can visit the facebook group page here or the official website here.