Everyone is bound to host an event, at least once in their lifetime. This process can be full of challenges beginning with the troubles of finding the right venue. Where do we find the most affordable event spaces in Singapore, with the right ambience, amenities, capacity, location, etc. And when we do come across them, how are we to reach out to the venue owners and negotiate the lowest price? Only if all of this was possible with the click of a button…
Well it is! With Venuerific, you can book your next event venue at the lowest price guaranteed! Founded in 2013, Venuerific is the largest event venue booking platform in Southeast Asia that is free to use. It allows you to find the most unique event spaces for private parties, wedding and solemnisations, birthday celebrations and more at the lowest prices guaranteed. Using their venue filters, you can narrow down your search to find the most ideal space suited to your needs. All you have to do is make an inquiry to get a quotation or choose to contact the venue directly using our website!
Let us share with you a selection of our favourite venues we discovered on Venuerific!
Birthday Party Spaces Singapore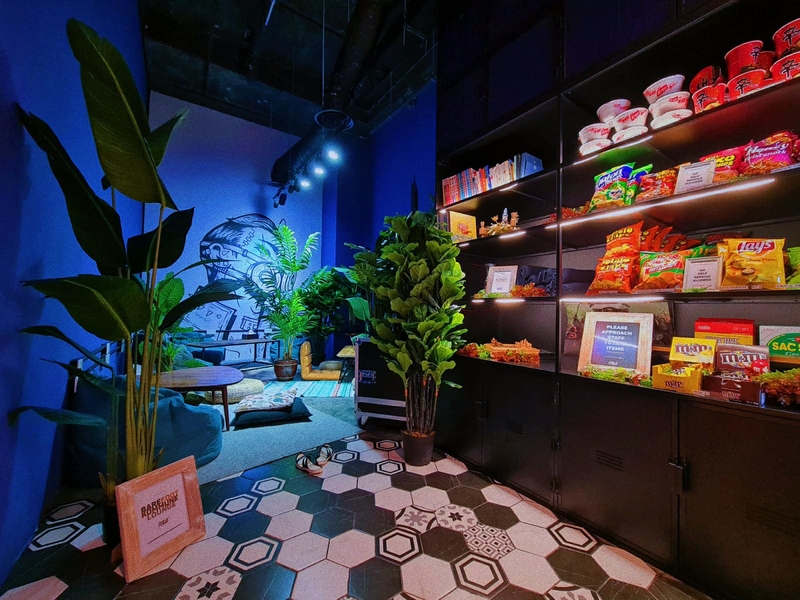 Photo credit to KOMMUNE by 82Soho
Check out this hip and trendy space at KOMMUNE by 82Soho, suitable to host a myriad of events. From private celebrations to large scale gatherings, this well-equipped venue will provide for any comfort you desire. Host your birthday party here where you can enjoy their in-house Korean Karaoke, console gaming, LAN/PC gaming! An ideal birthday venue for gamers and those who just want to have fun! Plan for a great celebration by inviting down your young-at-heart friends at KOMMUNE and have a chill time. Discover more here!
King and The Pawnis a one-of-a-kind board game cafe that will serve as a unique event space for your next birthday party! With over 300 board games to enjoy, menus lined with comfort food, beer on tap and locally-roasted coffee, King and The Pawn provides a congenial atmosphere for birthday celebrations of all ages. Once you get here, you would not want to leave! Choose between their cosy attic space or 'Snake & Ladders' function hall to host your private birthday celebration. Learn more about their unique space here. 
If you were thinking of a more extravagant hosting, opt for a yacht party with >Party Boat 1! Popular amongst those celebrating their milestone birthdays (Sweet Sixteen, 21st Birthday, 30th Birthday Party), Part Boat 1 caters for a luxurious, intimate gathering with your closest family and friends. Docked at Keppel Bay, this flybridge boat is equipped with a karaoke system and TV for your entertainment. Lounge at their saloon or deck as you embark on a quick birthday getaway with your friends. Learn about their weekday/weekend packages here!
Private Party and Social Gathering Venues Singapore
If All to Gather has been off your radar, you are missing out! Check out this multi-functional and multi-storey private event spaces, suitable for both personal and corporate gatherings. With fun amenities like a pool table, giant jenga, beer pong and darts, All to Gather makes event hosting easy! To unwind, you can also tap on their handy projector and sound system to plan your game night or relax to your favourite movies. For larger events, opt in for their event styling and videography services. Learn about this great space here!
Eat at My Kitchen presents a unique spin to a regular event space or restaurant, by fusing the main elements from both types of spaces. A configurable space with an impressive kitchen sitting at one end, Eat at My Kitchen is designed for you to host a private dinner party, anniversaries, bachelorette parties and so much more! Their premium kitchen is entirely in your hands, so play with your space however you like. Impress your guests by cooking up a mouth-watering meal or bring the in-house chefs into your kitchen for an exquisite wine & dine experience. Located in the quaint Dempsey neighbourhood, learn more about this venue space here! 
Bountie Arena is one of the more happening spaces you can find on Venuerific. A highly diverse space with a world-class stage, electronic dartboards, gaming rooms and a Coca Cola console lounge, this event space is highly sought after. If you and your guests grow hungry, you don't need to leave the venue space as they have their in-house F&B area! For larger events, we recommend their Arena stage function hall and for smaller, private events, a booking combination of the Coca Cola lounge (with a ball pit!) and the darts area spells out a good time! Learn more here. 
Intimate Wedding and Solemnisation Venues in Singapore
Photo credits to SIRI HOUSE
SIRI HOUSE at Dempsey is a more popular event space amongst couples hosting their wedding solemnisations and parties in Singapore. Due to developing such a niche, SIRI HOUSE has designed their outdoor backyard to serve as a wedding/solemnisation event ground with custom wedding package rentals. Their outdoor patio invites you to exchange your wedding vows in the lush greenery of their beautiful garden. Enjoy this unique venue's bar, restaurant, backyard and art space as you choose to book a private wedding celebration with them! Check out their wedding packages and learn more about booking the venue here.
Photo credit to The Secret Patio
The Secret Patio is one of the most stunning wedding venues in Singapore. With both an indoor dining room and an outdoor patio, this affordable venue provides ample space to host your intimate wedding bash. Since they specialise in wedding events, The Secret Patio has multiple wedding packages lined up for you. With both in-house and external catering options available, this flexible event space is likely to remove some weight off your shoulders for wedding planning. They also have a halal catering service, making this venue halal-friendly! Check out their wedding packages here.
Grissini is an Italian fine-dining restaurant located in the Grand Copthorne Waterfront Hotel. Facing a view of the spectacular Singapore skyline, Grissini has multiple private dining rooms which can be converted into event spaces! Their private rooms boast unique interiors and sleek, modern furnishing and can allow for different cocktail setups and layouts for your wedding events. A sophisticated venue especially for wedding reception parties, Grissini provides fine Italian cuisine that will leave your guests wanting more! Check out this exquisite space here.
And these were some of our favourites but we highly recommend you go to Venuerific's page to find out more! As an event organiser, you can gain exclusive promotions and discounts on venues, available only on Venuerific! Founded in 2013 in Singapore and now the largest event venue booking platform in Southeast Asia, Venuerific simplifies your hunt for the best venue spaces in the country. As a venue owner, you can also choose to list your venue at their page and join the community of venue owners receiving event inquiries daily! We are pre-approved vendors for PSG, giving you a whopping 80% coverage when you subscribe with Venuerific's CRM software. For any inquiries or questions, you can contact Venuerific directly at support.sg@venuerific.com.