Located by the river along Robertson Quay, M Social Singapore is a vibrant lifestyle design hotel, created by renowned French creator Philippe Starck. With a total of 293 rooms, the hotel thrives on an interplay of friendship, community, and new experiences. It was built with the millennial mindset by giving the best while being affordable to the mass. We had a staycation at this property and here's our review of the hotel.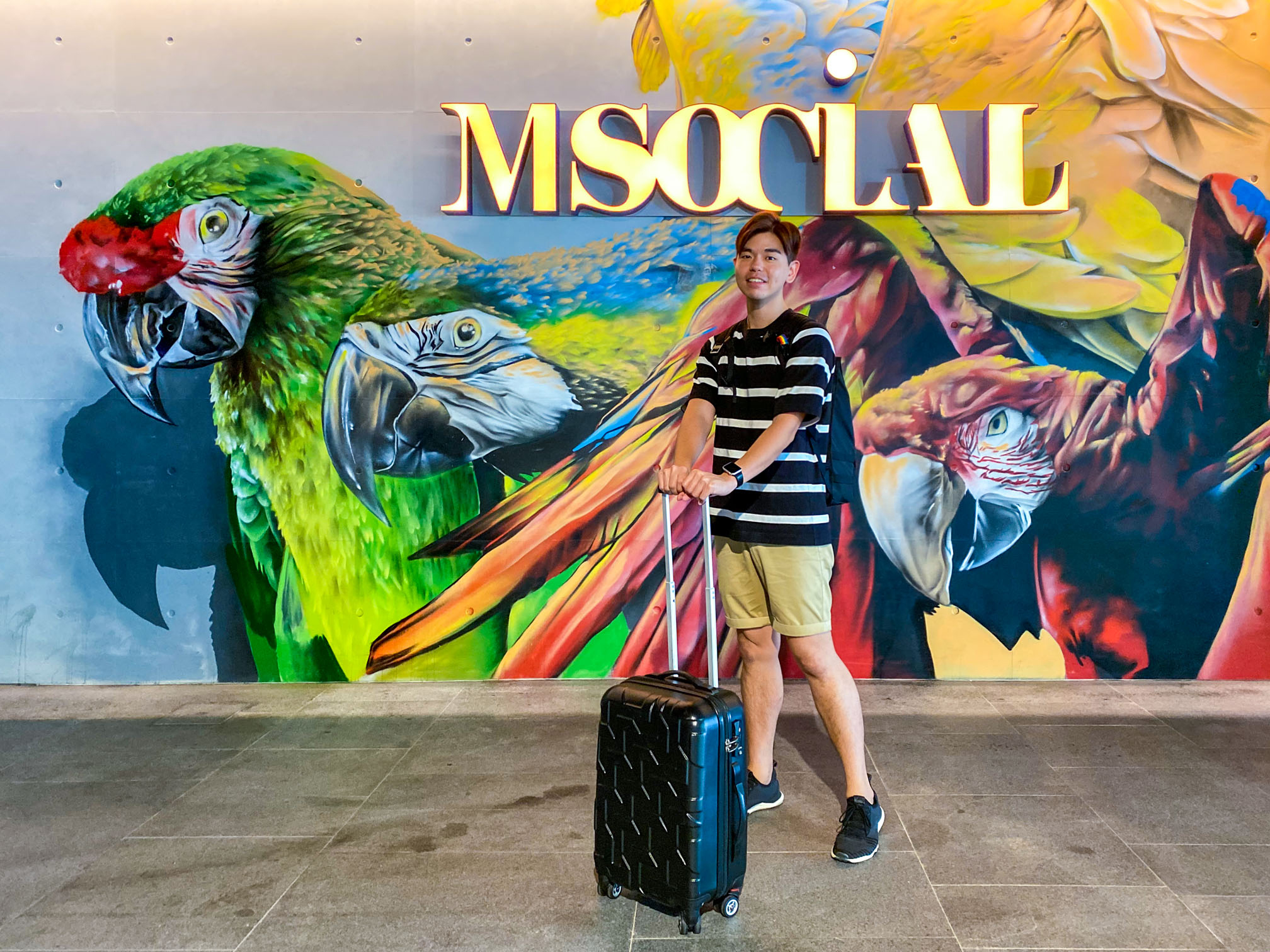 The check-in process was quite a unique experience as there are self-help counters that you can check-in on your own, without the need for assistance from the staff. However, due to the recent COVID-19 situation, the hotel had step up their precautionary measures and all guests will need to go through temperature screening, as well as filling up a declaration form.
Tucked across 10 floors are four different tiers of guest rooms available for selection. We're checked into the Loft Terrace room, which is located on the second level of the hotel, and it comes with an outdoor terrace.
The rooms are conceived to offer a comfortable and timeless elegance to the modern and avant-garde millennium tribe. Warm colour tones, luxurious pashmina throws, and thick carpets, ensconced within spaces that have generous ceiling heights of up to 5m.
The versatility of the rooms creates different spaces suitable for work, play, read and sleep. The only thing that we wished for is to have a slightly bigger bed, as you may notice that the bed is actually between a queen and a super single sized bed. Similar to Studio M, which is located within a short walking distance from M Social Singapore, both hotels have very similar room configurations.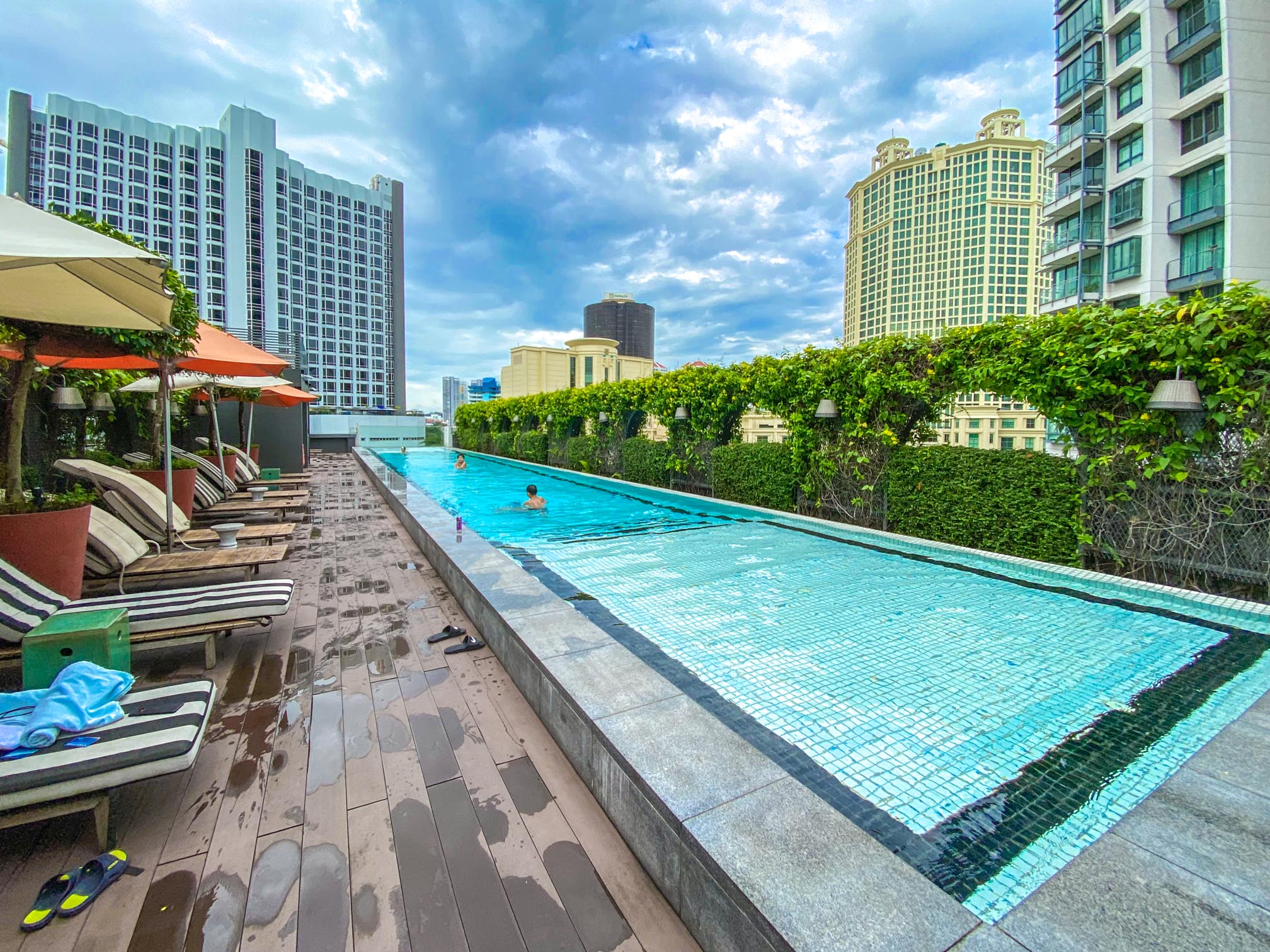 Take the lift up to the fifth floor and you will be greeted with a 31-metre long lap pool tiled with glittering blue mosaic that stretches out towards the historic Singapore River. Woven grey lampshades hang on the green wall where lush plants grow, each planted beside a wooden outdoor lounger. The gym is also located right beside the pool, where you can stretch out and get fit during your stay.
Another highlight of this hotel is the restaurant, Beast and Butterflies. This is one of our favourite restaurants as we really enjoy the food, and this is not the first time that we are dining here. Serving dishes that seamlessly meld influences from East and West, showcasing Modern Asian Cuisine, I'm sure you will be surprised by what the restaurant offer.
With an increase in health awareness due to the current situation, the bartender came out with a vitamin-infused cocktail, Elixir (a magical or medicinal potion) that is perfect to help boost your immunity while satisfying your alcohol craving. I was lucky enough to have Vlad, the bartender to demonstrate and give me a quick lesson on how to make the cocktail myself.
Double up your vitamin dosage by enjoying the refreshing cocktail and the sun at the alfresco dining area outside the resturant.
In light of the current COVID-19 situation, the hotel is taking the utmost care to establish precautionary measures, such as temperature check upon check-in and when required, providing hand sanitizer at various contact points, as well as rigorous cleaning and sanitization of guest rooms to welcome and ensure guests will have a clean and comfortable stay.
From now till 31 March 2020, sign up as a My Millennium members to enjoy exclusive members' rate and 2,000 bonus points when you book by 30 April 2020 for stays until 31 December 2020. You can also enjoy up to 20% off dining, 15% off room rate, complimentary Wi-Fi, and other bonus perks as a member too! For more information on this promotion, visit https://www.millenniumhotels.com/en/offers/asia/wecleanwecarewewelcome/
In addition, Millenium Hotels and Resorts is also offering Alfresco Dining menus and areas at all the six hotels in Singapore, including Grand Copthorne Waterfront and M Social Singapore where you can catch a breath of fresh air and beautiful sunset while dining alfresco. Check out the alfresco dining promotions at the various properties here.
Whether you're exploring the open communal spaces such as the hotel's pool or greeting the resident robot AURA, or thanking AUSCA, the robot breakfast chef, M Social Singapore is an ideal hotel for staycations and business trips.
M Social Singapore
90 Robertson Quay, Singapore 238259
https://www.millenniumhotels.com/en/singapore/m-social-singapore/
This post is brought to you in collaboration with M Social Singapore.