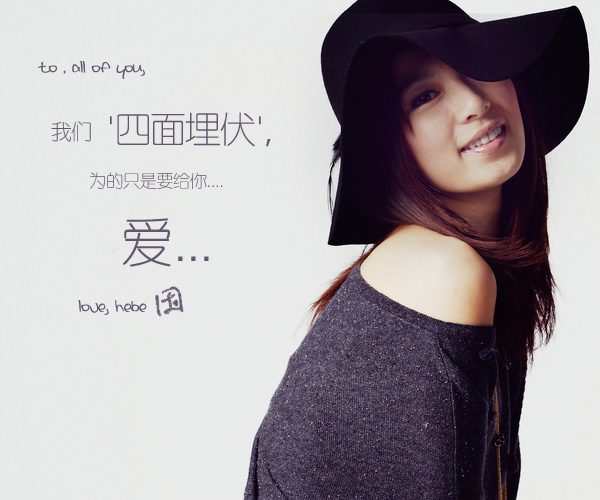 超级新人田馥甄一推出個人專輯 [To Hebe] 好評不斷, 新加坡的銷售更是供不應求, 已經斷貨啦! 在这里要恭喜她!
為了答謝大家對田馥甄的厚愛, 讓她的專輯不只斷貨, 還在全球流行音樂金榜勇奪冠軍. 這一次, 新加坡華研音樂 要和電台1003 及田馥甄的歌迷一起環島給愛~ 我們要給你限量設計的愛的鼓勵明信片, 讓你感受LOVE!
這個星期天, 中午12點, 我們會遍布全島, 在以下的四个地点同时分发愛的鼓勵明信片!
地點; 1003DJ + 歌迷 @ION Orchard
田馥甄歌迷 @ Jurong Point
田馥甄歌迷@ Tampines Mall
田馥甄歌迷@ AMK Hub
当天各位只要到以上的四个地点寻找我们的踪迹,就能上前向我们索取爱的鼓励明信片!
到時記得不要拒絕我們的 [LOVE!] 哦!
我们期待把田馥甄的"LOVE"散播给你!来临的星期天见!
*当天无需携带专辑,爱的鼓励明信片数量有限,分完为止*
——————————————————————————-
*以下的活动只限本后援会的会员们参加*
号外!S.H.E Ambience 后援会的会员们注意啦!!! 我们邀请您一同加入我们的行列,一起把田馥甄的"LOVE!"散播出去!
你只需把你在生活中所 有与LOVE! 有关的景,事,物,捕抓在镜头里,然后附上一段简短的介绍说明,(例如:一对阿公阿妈手牵着手在公园散步,或你和家人之间的感情等等。只要和LOVE有关 的就可以咯!), 外加一张你(要看得到脸的哦!)和田馥甄《To Hebe》的专辑合照,和以下的个人资料(姓名,性别,联络号码,District),电邮到ambiencefc@gmail.com给我们即可。 电邮标题请附上:"田馥甄《To Hebe》造势活动"。
我们将会从中抽出10为幸运的会员们,与我们在来临的星期天一起参与分发爱的鼓励明信片活动。而且十位幸运的会员还会获得和"田馥甄"相关的赠品哦!真的是太好康了啦!
截至日期是来临的星期五10/09/2010,中午2点钟。被抽中的会员们将会获得我们的电邮通知。
——————————————————————————-
English Translation :
To thank you for your support in Hebe's Solo Album "To Hebe", HIM & Radio 100.3 will be collaborating on a special event on this coming sunday! We will be appearing at a total of 4 locations (mentioned below) on sunday 12th Sept at 12pm to distribute out a special postcard from hebe to YOU!
Fans will be appearing at :
ION Orchard (with 100.3DJ as well)
Jurong Point
Tampines Mall
AMK Hub
SO what you need to do is to come down on any of this 4 locations and look for us to get this special postcard! You do not need to bring the album along and there are limited pieces of post cards available. While Stocks Last!
See You on this coming sunday!
——————————————————————————
*The below mentioned contest is open to S.H.E Ambience Fanclub members only*
Members!! Take note! We welcome you to join us this sunday in this meaningful event!
What you need to do is to send in a photo which tells the theme of "LOVE", and a photo of you together with hebe's album, your particulars (Name, Sex, Contact, District) and email to us at ambiencefc@gmail.com! Email subject title as : "田馥甄《To Hebe》造势活动".
We will be picking 10 lucky members to join us in this event! You will also get to receive a special Hebe-related gift as well!
Last day of submission will be this coming friday 10th Sept, 2pm. Selected members will received a email notification from us.
*Please make sure you are free on sunday at the time stated as you are need to be present at the event. If both you and your friend are taking part together and sending in one entry together, we will only be giving out one gift ONLY.*